Songs of Negritude: A Necessary Book
Photo Feature by Elio Delgado Valdes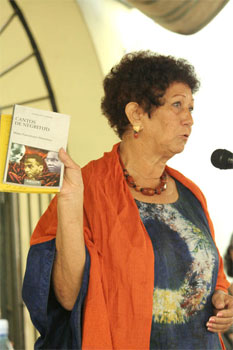 HAVANA TIMES — The book Cantos de negritud (Songs of Negritude), by Dr. Mirta Fernandez Martinez, was presented on Saturday, January 5, at the Casa de Africa Museum in Havana as part of the 17th Workshop on African-American Cultural and Social Anthropology.
When introducing the volume, Dr. Fernandez stated: "We need to break with a persistent and pervasive logic and cease articulating representations of ourselves based on Eurocentric canons that are increasingly being imposed on us as reflections of how and why we are."
"Historical memory is the opposite of obscurity, and silence is stronger than death. We must rescue the memory of past events that have something to tell us in the present, just as confronting the resurgence of racial prejudice and segregation is a vital necessity," she added.
The author also referred to two historical events: the 1812 conspiracy of free people of color led by Jose Antonio Aponte against Spanish tyranny, and the killing of the members of the "Partido Independiente de Color" in 1912.
Both commemorations were held recently and were aimed at breaking the silence and raising a deeper awareness of those struggles against colonialism, slavery, and racial and cultural oppression in which black men and women played leading roles.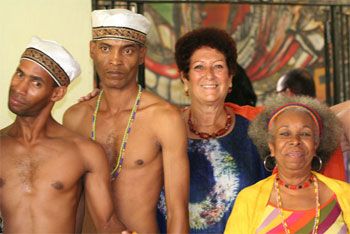 In the last paragraph of the book's introduction, the author states: "Poetry by black and mulatto poets in the period between the two world wars was a crusade against the scorn and humiliation inflicted by racism on black men and women. For this reason, and as a contribution to the celebrations mentioned above and the struggle for the elimination of racism, these are the cantos de negritud."
After the presentation of the book, a performance was given by the theater group "Espacio Abierto," directed by Xiomara Calderon, in which fragments of poetry used in Dr. Fernandez's book were presented in a theatrical montage.
Dr. Mirta Fernandez Martinez is a professor, researcher and translator who specializes in literature from Africa and the Caribbean. She has a master's degree in French and a doctorate in historical sciences.

Click on the thumbnails below to view all the photos in this gallery. On your PC or laptop, you can use the directional arrows on the keyboard to move within the gallery. On cell phones use the keys on the screen.