Comedians Compete in Guantanamo, Cuba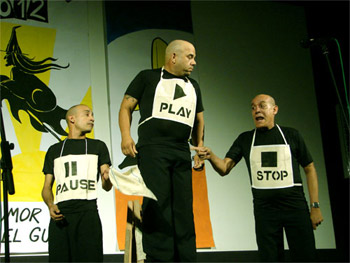 HAVANA TIMES, Feb 26 — For the first time ever comedians from the provinces of eastern Cuba gathered in Guantanamo recently in a competition that will lead up to a major national humor event: Aquelarre 2012.
Sponsored by the Centro Promotor del Humor (the Humor Promotion Center), which is a part of the National Council for the Performing Arts, the comedy show was in the hands of 25 comedians from the island's eastern provinces as they competed with their hilarious performances.
The winners will present their acts at the National Comedy Festival to be held in Havana from July 1 to 8.
It was a hard-fought competition, the perfectly staged works and the thought provoking humor proved to be an excellent show in its eighteenth edition, as was the performance by the renowned Guantanamo group "Komotu," which has been awarded in several editions of the festival.
With the aim of providing an excellent show for the fans of Cuban humor, introduces and encourages the participation of comedians from all over the country.
Comedians in Cuba routinely pack the houses from small venues to the largest of theaters.
Click on the thumbnails below to view all the photos in this gallery. On your PC or laptop, you can use the directional arrows on the keyboard to move within the gallery. On cell phones use the keys on the screen.