By Peter C. Bjarkman*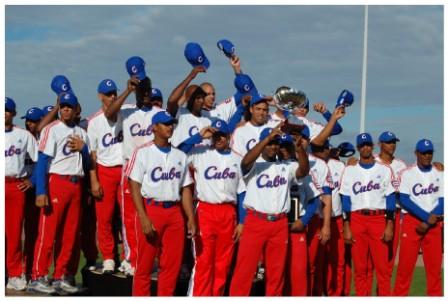 HAVANA TIMES, March 24 – The American press loves titillating stories of sensational collapses and dramatic reversals of fortunes. After ignoring decades of Cuban dominance in world tournament play, the stateside baseball press has been quick the past few days to headline what one LA Times writer termed "Cuba's rapid fall in international baseball prominence."
Thursday's The New York Times assessment (following the decisive 5-0 elimination loss to Japan) speculated on who might be the new reigning power (Venezuela? Korea? Japan?) now that "Cuba has faded from the international picture."
Fifty years with one single absence from the finals of a major international tournament and Cuba has "faded" from the world baseball scene? Such stilted reporting only demonstrates that most of the mainstream American press grasps the realities of international baseball to about the same degree as our over-valued big leaguers apparently understand the rigors of preparing for and performing in such double elimination or one-and-out international tournaments.
It is certainly true that Cuba has not dominated on the world scene over the past several years, although silver medals in the 2007 World Cup and 2008 Olympics hardly seem to constitute a disappearing act or collapse into world championship baseball's second-tier basement.
Yes, the last four major outings have brought no gold medals, three less-valued silver medallions (2006 WBC, 2007 Taiwan World Cup, 2008 Beijing Olympics), and one rude ousting in what amounts to this year's WBC quarterfinal round.
But the two games of the WBC semifinals (with Korea and Japan embarrassing Venezuelan and USA squads fortified with rosters of big leaguer stars) has already opened many eyes to the fact that the second round pool in San Diego contained the real "horses" in this tournament.
Baseball is King in Japan, Korea and Cuba
The best baseball in the world is clearly no longer being played exclusively in the major leagues, but rather is shared by the top three baseball nations of Japan, Korea and Cuba. Those are the lands where baseball is the one and only constant sporting focus, and where fan attention does not gravitate to whatever big league sporting entertainment spectacle is this current month's fare.
In those three lands the best young athletes all gravitate to the bat and ball sport, while professional domestic play always takes a back seat to preparation for major international contests. (Cuba closed down its domestic league for six weeks surrounding the WBC, and the Japanese began their WBC training in early January.) And the results of such true "national pastime" status in Asian and Caribbean lands for the one-time "American" sport is now once again being underscored in boldface with the results of this year's World Baseball Classic.
Among that trio of international powerhouses, the Asians are clearly now in full ascendancy after Korea's back-to-back Olympic and WBC triumphs, and with Japan's second straight slot in the WBC finale. But with the IBAF World Cup on the horizon for Europe in September, I would not bury Cuba's Big Red Machine either just yet.
Japan will not be quite the same kingpin during the European games early this fall since their own professional league, like the majors, will still be in full swing back home. There will be no Ichiro or Matsuzaka or Yu Darvish in the Japanese lineup in Barcelona, Rotterdam or Rimini. And one can bank on the fact that a crack Cuban squad, loaded with plenty of young talent and losers only to Japan in this year's WBC action, will be more dangerous than ever now that island baseball pride as suffered several direct hits.
Predictions of Cuba's "disappearance" are likely to prove just as far off base as have the constant North American media speculations about boatloads of Cuban stars abandoning their homeland each time the Cuban national team performs abroad.
Talk of collapse for Cuba's storied national baseball program might have held more credence if the Red Machine had been ousted from the tournament's first round in Mexico. Instead they won three straight and pounded a Mexican big-league lineup.
Or perhaps if they had been blown out in the first two outings in San Diego, then there might have been some serious soul searching to be done back home in Havana. The truth of the matter is the Cubans played in a tougher second-round bracket than the Americans and yet still posted a better record than did Los Angeles-bound Team USA.
No One Buried the Dominicans
And no one seems to be burying the Dominicans after they were twice shut down, not by the talent-rich Japanese, but rather by the poor-sister Dutch. Cuba's young arsenal has never been deeper or better-Cepeda, Bell, Despaigne, Peraza and Céspedes are the equals of Cuba sluggers of the 80s or 90s, and they work their magic with wooden bats (not aluminum rocket launchers) against big league hurlers (not collegiate all-stars).
Even if a few top prospects choose to abandon the league before the year is out, the well will hardly run dry. This year's edition played better in Mexico and San Diego than their predecessors during the 2006 pool rounds in San Juan. The bottom line was that they were not quite as lucky, having to face overwhelming Japanese pitching before they could back their way into the finals as in 2006.
It is now time for a dose of realism. The American press has been waiting for several years now to drive the final nail in the coffin of Cuban baseball. Part of the motive has been a perhaps not-unreasonable assumption that if the Cuban juggernaut is undercut enough perhaps this will itself open the door to the long-expected but never quite materializing flood of "defections" that might provide a much need supplement to the shrinking big league talent pool.
Since when do 50 straight appearances in the winner's or runner-up's circle in major tournaments over almost a half century, followed by a single slip in a final match to determined the WBC semifinalists, constitute a collapse of noteworthy proportions?
Over the same span of tournaments the Americans who claim parentage and ownership of the sport have posted exactly two victories of note (2000 Sydney Olympics and 2007 Taiwan World Cup). The upstart Koreans have won exactly once-last summer in Beijing. The Asian kingpins from Japan have yet to capture Olympic gold, while being shutout on the World Cup stage for the past three decades.
Such miraculous streaks as the one built by the Cubans certainly set themselves up for more than a fair share of attention when they end (or seem to end) even if they are back-page stories while in progress. Such is "the nature of the beast" as they say.
Headlines are no longer made if Cuba wins, for that is now old news. If the question is not "how many players will defect from this year's team?" then it has to be "when will the mighty islanders self-destruct?" The Mantile-Berra-Stengel New York Yankees of the fifties were a bigger story when they skipped a post-season date (1954 or 1959) than when they made their regular appearance in the Fall Classic.
This natural state of affairs is only dialed up several notches in today's more sensationalized press coverage, where game stories have been obliterated by instant electronic media coverage and thus where scandals, off-field high jinx, or intriguing historical story grammars become the item of the day.
There is no argument from this quarter that the Cubans no longer dominate the international baseball scene as they once did in the era of aluminum bats and collegiate all-star opposition. Nothing else could have been expected from the decade of the 2000s, when top minor leaguers and even full-fledged major leaguers began filling up American, Dominican, Puerto Rico, Venezuelan and Asian rosters.
But a single tournament slippage in the quarterfinals hardly smells like collapse, especially when the Cubans actually hit more and pitched better than they did in the first Classic. Let several years pass without a competitive Cuban team winning more than it loses before assuming the island is no longer a baseball power able to tussle with and even at times dominate countries with three, five or twenty times the population.
Don't Sell the Cubans Short
Finally proving that a Cuban national team might be vulnerable and beatable should never be confused with the claim that top-flight island baseball is now dead or even seriously wounded. There have been few cries that American baseball is on its deathbed simply because it has captured but one of five Olympic tournaments, or that the Japanese are moribund after their own five straight Olympic failures.
My contention here is that it is a huge mistake now to assume that Cuba is no longer a top contender in every major tournament it enters-and will be for some time to come. The current Cuban WBC squad was loaded with talent and clearly outperformed the version of three years back.
For WBC 2006 island expectations were set low and thus easily surpassed; this time the bar was perhaps raised a bit too high. There were no blowouts like the 12-2 drubbing suffered at the hands of Puerto Rico back in 2006, and no gift victories like the one handed Cuba by Panama in the inaugural tournament lid-lifter.
Cuba limped into round two and the finals back in 2006 when round robin play didn't demand elimination games before reaching San Diego. And they weren't matched with the superior Asian teams in early rounds last time either.
The first Cuban WBC edition reached the final weekend in San Diego solely on the strength of one improbable outing versus Puerto Rico, precisely as did the American entry this second time out. This time around the Cubans were actually better, but the road was also tougher. That is baseball-especially baseball of the international tournament variety.
Most objectionable in several post-mortems on the "Cuban dynasty" has been the repetition of an old mantra that Cuba is not bringing its best players for fear of defections, or that this "fact" in part explains the slip in island dominance. The assumption itself of course holds absolutely no water.
The charge (or assumption to be kinder) is almost always made by those who have no idea who the Cuban players on the island actually are. Who can name a better Cuban lineup than the one brought to Mexico and San Diego?
Would slow-footed Urrutia been a better outfield choice than Céspedes or Despaigne? What infielder to compare with Enríquez, Gourriel, Navas, or Olivera was left wasted on the island? If Bell was missing it was because Bell is injured.
If Jonder Martínez and Yadier Pedroso did not make the trip it was because the Cuban brain trust opted to strengthen its middle relief corps rather than carry half-a-dozen similar starters.
Since it is clear that the overriding motivation of Cuban baseball is winning these international tournaments, why would an important player be left home? What is the possible rationale behind hoarding a young star if he can't be used in the all-important tournament events?
There are two obvious reasons for Cuba's so-called "early ouster" in this year's WBC. The first of these is Daisuke Matsuzaka who has owned Cuban batters for three straight outings and has proven the biggest star of two straight WBC stages. The second is Hisashi Iwakuma, who was the equal of Matsuzaka while nailing down a second victory over Cuba that was key to a return trip into this year's semifinals.
Former Cy Young winner and current ESPN announcer Orel Hershiser commented to this writer that in his eyes the two Japanese pitching performances versus the befuddled Cubans were good enough to beat any opposition in any big league World Series.
Matsuzaka's control was pinpoint and surgical as he kept Cuban hitters off balance for six nearly perfect innings. A couple of early runs were thus all Japan needed to seal off the opening match. Yoennis Céspedes' misplay of a fourth-inning fly ball in the second encounter quickly put Cuba once more in a deep hole.
But the mastery of Iwakuma (who twice stranded Céspedes on third after booming triples) -aided by a superb relief outing from Toshiya Sugiuchi (three perfect innings with four strike outs)-never allowed the power-hitting Cuban lineup to get back into the game.
Just as the American press will over-analyze this week's Cuban losses in San Diego, the Cuban fandom will also mourn far too bitterly these two rare setbacks. The problem, of course, is that the bar was raised far too high.
Reaching the finals the first time around wrongly convinced the knowledgeable yet hyper-critical Cuban fans that the sky was the limit for their heroes. But the second trip to the top is always the toughest one in baseball just as in most other walks of life.
There will be calls for all kinds of sweeping changes within Cuban League and national team structures. This will start with endless speculation about a new commissioner (Fuentes?) and new national team manager (Pacheco?). There will be other demands, perhaps for a reduced league of eight teams (upping the strength of domestic competition), or for different approaches to preparing the national team in the run-up to big international tournaments.
Some of the changes will be merited and others may be only needless window dressing. But they will all seem like so much mere fine tuning once another international victory becomes a reality. With the World Cup looming on the horizon in September that day and that victory may not be too far down the road.
*For more coverage on the World Baseball Classic see Bjarkman's site: http://www.baseballdecuba.com/WBC.asp