Cuba First to Issue WBC Roster
By PETER C. BJARKMAN*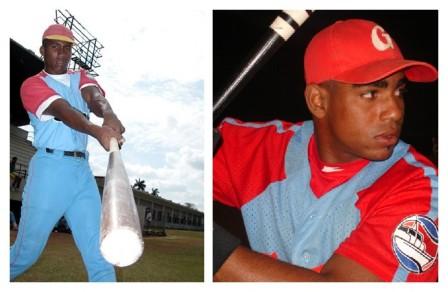 HAVANA TIMES, Feb. 19 – The last team to announce its field manager (when league commissioner Higinio Vélez was finally tabbed one week ago) has now become the first to finalize its 28-man lineup for the upcoming World Baseball Classic.
The Cuban Baseball Federation formally unveiled its star-studded "official" roster Wednesday evening, on the heels of two impressive offense-rich inter-squad exhibition matches in Havana's Latin American Stadium on Sunday and Tuesday evenings.
The announcement came only hours before the team's early-Thursday departure for final training sessions and a series of tune-up exhibitions in Puebla, Mexico.
The final roster is headed by eleven returnees from a 2006 WBC club that reached the title game with Japan, but this year's edition is also noteworthy for some surprising new faces and also some missing headliners from recent highly successful Cuban National teams. The announced roster is as follows.
Catchers: Ariel Pestano* (Villa Clara), Rolando Meriño (Santiago de Cuba), Yosvany Peraza (Pinar del Río)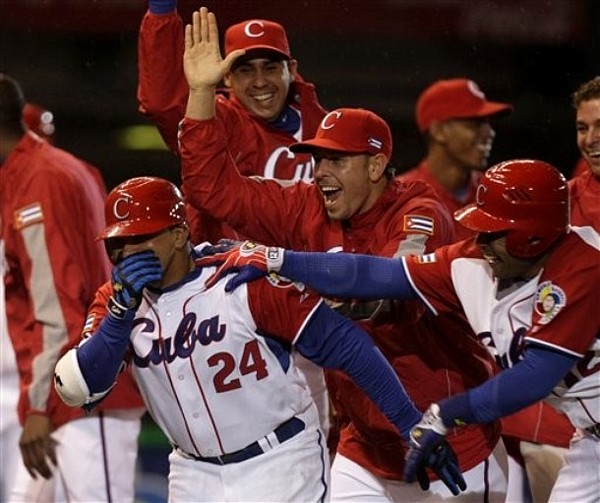 Outfielders: Frederich Cepeda* (Sancti Spíritus), Alfredo Despaigne (Granma), Yoennis Céspedes (Granma), Leonys Martin (Villa Clara), Leslie Anderson* (Camagüey)
Infielders: Joan Carlos Pedroso* (Las Tunas), Alexander Mayeta (Industriales), Yulieski Gourriel* (Sancti Spíritus), Eduardo Paret* (Villa Clara), Michel Enríquez* (Isla de la Juventud), Héctor Olivera (Santiago de Cuba), Luis Miguel Navas (Santiago de Cuba)
Pitchers: Right-Handers: Pedro Luis Lazo* (Pinar del Río), Norge Luis Vera (Santiago de Cuba), Yuniesky Maya* (Pinar del Río), Luis Miguel Rodríguez (Holguín), Miguel Lahera (Habana Province), Vladimir García (Ciego de Avila), Ismel Jiménez (Sancti Spíritus), Yolexis Ulacia (Villa Clara), Ciro Silvino Licea (Granma), Dany Betancourt (Santiago de Cuba). Left-Handers: Aroldis Chapman (Holguín), Yunieski González* (Habana Province), Norberto González* (Cienfuegos)
Coaches: Higinio Vélez (Manager), Benito Camacho (General Manager), Francisco Escaurido, Carlos Cepero, Lourdes Gourriel, Pedro Pérez, Eduardo Martin, Humberto Arrieta, Jorge Fuentes.
Notable returnees to the 2009 "Classic" edition of Team Cuba include veteran outfielder Frederich Cepeda; steady receiver Ariel Pestano; standby showcase infielders Yulieski Gourriel, Eduardo Paret, and Michel Enríquez; and veteran mound aces Pedro Luis Lazo and Norberto González. Cepeda has been Cuba's most reliable slugger in top-level international tournament play across the past decade and slugged the late-inning homer that put Cuba back in the hunt versus Japan during the 2006 WBC title showdown.
Paret has anchored the Cuban infield since the 1996 Atlanta Olympics, while Gourriel was tabbed by Baseball America as one of the top three non-MLB prospects at the inaugural Classic.
Enríquez ranks third in Cuban League history (since 1962) in career batting average with a .363 ledger (that trails only Osmani Urrutia and Omar Linares) entering the current campaign.
Pestano has caught virtually every inning in major tournaments for Team Cuba since his debut at the 1999 Winnipeg Pan American Games. Lazo has been Cuba's dominant closer for a decade (while at the same time the career victories leader in domestic league play), and the versatile southpaw Norberto González pitched brilliantly in Beijing as the Gold Medal game starter.
Also held over from the original 2006 Cuba WBC roster are first baseman Joan Carlos Pedroso (the first Cuban slugger to reach 200 career homers using wooden bats), outfielder Leslie Anderson (used sparingly in WBC I as a late-inning defensive replacement), and southpaw hurler Yunieski González (who went a perfect 15-0 in last year's National Series before being a surprise late cut from the Beijing Olympic mound corps).
Both Pedroso and Anderson have resurrected their careers with stellar performances this winter after a number of years of absence from the national team scene.
The notable (and perhaps surprising) absences from this year's squad are slugger Alexei Bell (who provided the heaviest lumber in Beijing last August, after tearing up the Cuban League in 2008 with a record 31 homers and 111 RBI), and Habana Province pitchers Jonder Martínez (last season's league ERA champion) and Yadier Pedroso (this season's league pacesetter in the same department, with a current stellar 1.39 mark).
Bell's absence is the result of a miserable first half-season in National Series #48 (he has hit only three homers so far and is batting a lame .232); the fall-off is explained in part by a psychologically damaging beaning with a Yunieski Maya fastball in this year's season opener.
Other notable 2006 WBC members eliminated from this years contingent include seven-time batting champion and all-time league BA pacesetter Osmani Urrutia (also left off the Beijing roster), Camagüey right-hander Vicyohandri Odelín (who closed out the crucial win over Puerto Rico that lifted Cuba to the 2006 semifinals), and top 2006 Cuba WBC hitter Yoandy Garlobo (also the 2008 National Series batting champion).
Perhaps the most surprising aspect of this year's Cuban roster is management's decision to enter the tournament with a pitching staff manned by only three southpaws among the thirteen hurlers. Cuba is very never short on hitting, but a sometimes shaky bullpen corps proved a major Achilles Heel in tournament loses (Puerto Rico in round one, the Dominicans in round two, and Japan in the finals) against the big league all-stars back in 2006.
This year's mound corps is nonetheless headed by some of the island's most battle-tested veterans, including Santiago's Norge Vera (left off the 2006 club, but a major force in other international tournaments), Ciro Silvino Licea (2007 league ERA champion who is finally getting a crack at a national team slot during a major tournament), and Luis Miguel Rodríguez (35-year-old veteran of 15 seasons who finally made his first international splash in Beijing last August).
The starting assignments will likely be manned by Yunieski Maya (the league's top winner so far this year with a  9-2 ledger and 1.51 ERA), Vera, Rodríguez, and stellar southpaw flamethrower Aroldis Chapman (who opened eyes as a 20-yea-old phenom in the 2007 Taiwan World Cup, and was also clocked at 102 mph in a game earlier this season).
Lazo will anchor the bullpen corps along with Yunieski González, Norberto González (who might also fill in as a starter), and 20-year-old righty Vladimir García. García has already saved 17 games for Ciego de Avila only halfway through the current 90-game National Series season.
Another notable arm is one-time hot prospect Dany Betancourt (Santiago), starter in both the 2004 Olympic finals and 2005 World Cup Gold medal match. Betancourt has been virtually unheard from the last three seasons after suffering a severe arm injury in early 2006 but now seems fully recovered.
WBC and international fans looking for unknown gems among the Cuban arsenal are likely to be most impressed next month by mammoth slugging backup catcher Yosvany "Gordo" Peraza (who blasted 25 homers in an injury-shortened 2008 season), along with a pair of slugging 22-year-old outfielder teammates from the cellar-dwelling Granma ball club. Alfredo Despaigne and Yoennis Céspedes last season became the first Cuban League players from the same club to smash 50-plus homers between them.
Céspedes is getting his first crack at national team stardom, mainly thanks to the collapse of Alexei Bell; Céspedes was a late cut from both the 2006 WBC team and last summer's Olympic squad.
Despaigne debuted with a bang in the 2007 World Cup and was considered by many big league scouts to be the most dangerous bat in the Cuban lineup during last summer's Beijing festivities. Despaigne and Céspedes should lead a Cuban slugging display (along with Peraza, Pedroso, Cepeda and Gourriel) that could carry this team all the way to Los Angeles, if only the pitching holds up even moderately well.
*Peter C. Bjarkman, author of A History of Cuban Baseball, 1864-2006, will cover the 2009 WBC II for www.baseballdecuba.com and Havana Times from Mexico City, San Diego and Los Angeles. His latest books entitled Baseball's Other Big Red Machine: The History of the Cuban National Team and Who's Who in Cuban Baseball, 1962-2007 will appear from McFarland & Company Publishers during the coming year.