Cuba Loses Prospect, Wins 1-0 vs. Curacao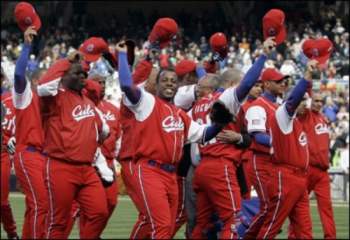 HAVANA TIMES, June 29 — Cuba barely got by Curacao 1-0 in the World Port Tournament on Wednesday but lost its rookie of the year, pitcher Gerardo Concepción, who abandoned the team the day before in search of a MLB contract, according to numerous reports.
The game against Curacao was a rematch from the embarrassing 6-4 loss in the tournament opener.  Cuba managed eight hits to Curacao's two but the only run came in the seventh inning when left fielder Yasel Puig crossed the plate on a sacrifice by pinch hitter Yordanis Samon.
Dalier Hinojosa went 7.1 innings of one hit ball with five strikeouts to get the win. Yadier Pedroso pitched the final 1.2 innings allowing one hit and striking out three.
Raydell Isabella went the route for Curacao and took the loss.
The Cubans are now in third place with a 3-2 record in Rotterdam, behind Taiwan 5-1, and Holland 4-2.  The islanders' next game is Thursday against Taiwan, which beat Cuba 3-1 in their first match up.
Meanwhile, Concepción a left-handed 18-year-old, pitched for Industriales in the Cuban league in the 2010-2011 season compiling a 10-3 record and a 3.36 ERA.
He is the last in a long string of Cuban ballplayers who have decided to go professional.  Such a decision classifies them as traitors in the eyes of the Cuban government, and their names never appear again in the state controlled Cuban media.