Cuba-Russia Split in Volleyball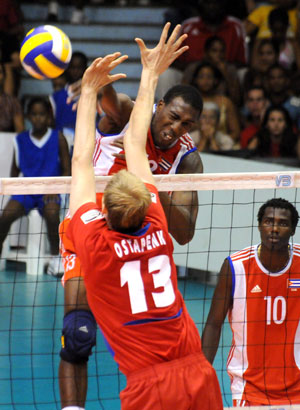 HAVANA TIMES, June 21 — Cuba managed a weekend split with the tough Russian men's volleyball team to remain on top of Group C in World Volleyball League play with a 3-1 record, tied with Russia. The games drew a packed house at the Sports City Arena in Havana.
Both Friday's 3-2 win (25-18, 25-27, 22-25, 25-23, 15-11) and the 3-2 loss on Saturday (21-25, 25-19, 25-18, 20-25, 13-15) could have gone either way with the tie-breaker sets deciding.
Cuba's next rival will be Japan —which lost 3-1 to Bulgaria on Saturday— before going on the road to Bulgaria, which it surprisingly swept on the league's opening weekend in Havana.
With both Cuba and Russia receiving their first loss, the only undefeated team in the league is now Brazil (4-0) which swept Finland in Group D play.
For more information on the World Volleyball League check out the home page at: http://www.fivb.org/EN/volleyball/competitions/WorldLeague/2009/?Tourn=WL2009