Cuba Still #1 in World Baseball Rankings
Peter C. Bjarkman (*)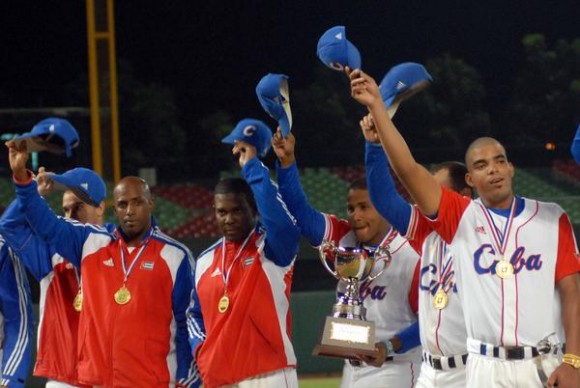 HAVANA TIMES, Dec. 8 — Coming off a successful fall and summer tournament season, Team Cuba has once again retained its prestigious top slot in the IBAF (International Baseball Federation) World Baseball Rankings. The year-end list of international baseball-playing nations was released earlier this week by the world's governing body currently housed in Switzerland.
With its dramatic gold medal victories in the final edition of the IBAF-sponsored Intercontinental Cup (Taiwan in November) and the August World University Games (Tokyo), the Cubans were able to maintain a slim lead over the rival Americans and thus protect a world baseball crown they have now held for the entire three-year span of IBAF championship polling.
The Cuban margin over the Americans has rapidly diminished, however, now slipping to a margin of only 32.67 points (compared to 108.36 points in the 2009 year-end polling). This year's results also saw Korea overtaking Japan for third slot, with a third Asian power, Chinese Taipei, maintaining its three-year grip on the prestigious fifth position.
2010 Final IBAF Rankings
1. Cuba (986.02) (2009 #1 with 1159.68 pts)
2. USA (953.25) (2009 #2 with 1051.32 pts)
3. Korea (811.34) (2009 #4)
4. Japan (799.74) (2009 #3)
5. Chinese Taipei (524.36) (2009 #5)
6. Netherlands (374.51) (2009 #6)
7. Venezuela (352.31) (2009 #9)
8. Canada (325.51) (2009 #7)
9. Mexico (287.23) (2009 #8)
10. Australia (226.83 (2009 #11)
11. Puerto Rico (213.23)
12. Italy (187.50)
13. Dominican Republic (163.02)
14. Nicaragua (144.24)
15. China (103.48)
16. Panama (86.74)
17. Spain (69.51)
18. Thailand (67.71)
19. Germany (63.38)
20. Czech Republic (53.46)
A total of 74 countries were ranked in this year's poll, with Latvia, Cameroon and Samoa bringing up the rear in a dead heat for 72nd spot. Latin American countries finishing outside the top twenty positions included the Netherlands Antilles (22), Columbia (28), Argentina (32), Brazil (36), Guatemala (43) and Aruba (46). Besides the flip-flop between Asian rivals Korea and Japan, other top ten shifts included a two-slot rise by Venezuela (number 7, from number 9 in 2009), as well as one-position slides by Canada and Mexico. The only top ten newcomer was Australia, up from number 11 one year ago. Nicaragua and the Dominican Republic also hung on to their earlier slots on the fringes of the top-ten rankings.
The IBAF introduced its world ranking system in January 2009, at that time announcing its inaugural poll of rankings for the 2008 international tournament season. Rankings are based on points earned in IBAF sanctioned events during either a four-year window or the period encompassed by two IBAF World Cup events. This means that 2010 tournament results (along with those of 2007-2009) replaced results of 2006 in this year's most recent tally. National teams earn points based on their finishes in international events (50 for gold, 40 for silver, 30 for bronze, and 15 for fourth place); those points are then multiplied by a number representing the strength of the event (for example, a 4X multiplier for major events like the World Cup or Olympics but only a 1X multiplier for lesser events like the World University Games or World Junior tournaments). Cuba has now been ranked at the top of the heap for all three years of the poll's existence, while the USA, Japan and Korea have continued to jockey for the number two, three and four slots. Also for the first time this year the IBAF has announced a women's world ranking, with Japan, USA, Australia, Canada, and Taipei (in that order) occupying the top five positions.
—
(*) Peter C. Bjarkman is the author of A History of Cuban Baseball, 1864-2006 (McFarland, 2007) and is widely recognized as a leading authority on Cuban baseball, both past and present. He has reported on Cuban League action and the Cuban national team for www.BaseballdeCuba.com during the past three-plus years and is currently completing a book on the history of the post-revolution Cuban national team.