Cuban Journalist Recounts his Interrogation by State Security
HAVAVA TIMES – Cuban journalist Luis Cino was summoned this week by State Security agents for no apparent reason at a police unit for interrogation, which was more like intimidation.
Cino writes for the Spanish language CubaNet news site which is banned to readers in Cuba on the regular Internet but is widely read through proxies and bulletins.
Here is our translation of the article describing Cino's arrest:
Questioned and reprimanded for writing for CubaNet

Captain Jorge was threatening, announcing to me that "the full weight of the law will fall on me because they (the government) are not going to let what happens in Venezuela happen in Cuba."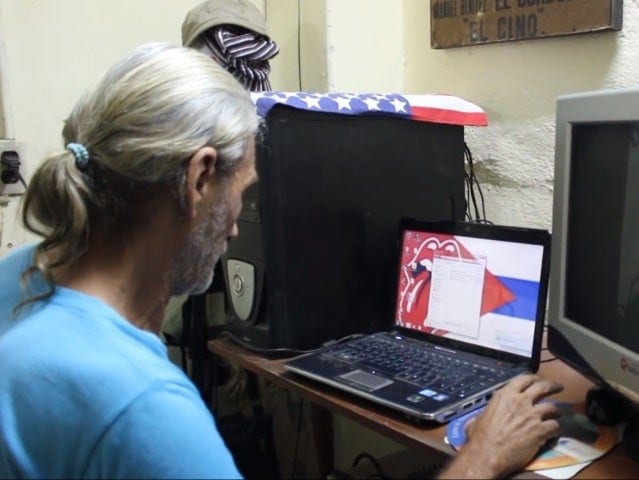 HAVANA, Cuba – On the morning of this August 7th I was interrogated and admonished, regarding the articles I write for CubaNet, by two State Security officers, at the Capri police unit in Arroyo Naranjo, (on the outskirts of the capital).
After I was arrested a year ago in El Vedado (they never explained to me why) I had not been bothered by the repressors again. But on Tuesday August 6, a policeman, uniformed and on a Suzuki motorcycle, went to my house to inform me that I had to present myself at the Capri unit at nine in the morning of the following day.
When I complained to the policeman that the summons should be in writing and with a stamp, he warned me that it would be worse for me if I didn't go.
The agents who interviewed me (if you can call the threatening sermon that they gave me an interview) in the police unit were a woman and a man, young people, in their 20s, dressed in civilian clothes, who identified themselves as the First Lieutenant Elizabeth and Captain Jorge, of State Security. They told me that they were in charge of "attending" the independent journalists of CubaNet.
The conversation lasted about 40 minutes. Captain Jorge was severe and threatening, announcing to me that "the full weight of the law is going to fall on me because we are not going to let what happens in Venezuela happen in Cuba." However, the one who took the lead was First Lieutenant Elizabeth.
Playing the role of a good police officer, the lieutenant advised me – at times even with a certain sweetness, as if she were a young girl worried about my well-being – that they knew that sooner or later I would leave the country, and that in the meantime, if I didn't want to look for problems, "I should take my foot off CubaNet's accelerator", and that I should devote myself to literature (which, according to her, fits me better than politics) and to deal more with my wife's illness and my children's problems.
I barely spoke. It was shorter than usual in those circumstances. Besides having a toothache, Lieutenant Elizabeth made me feel very uncomfortable. Maybe she noticed. I am used to dealing with the all too obvious State Security ruffians and their bravado and threats that I have had to endure for more than 20 years in Cuba. I wasn't prepared – remnants of machismo that I still have – for a pretty young woman to try to intimidate me with her sweet and seductive voice.
Since I am not going to stop doing journalism, I know there will be other unwanted encounters of this kind. Hopefully, next time, Lieutenant Elizabeth is not the interrogator. If there has to be a woman among the repressors assigned to me, let it be an older, loud, repulsive and ugly old woman, who looks like a witch. Maybe she would scare me…