Cuban Pianist/Composer Denis Peralta
By Helson Hernandez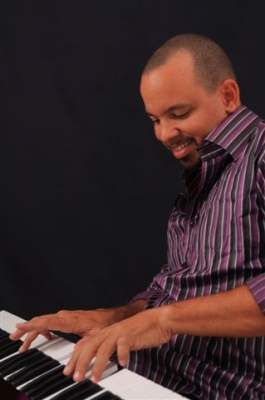 HAVANA TIMES, August 5 — Denis Peralta Amigo is a young pianist and composer who has already accumulated much experience.  He worked for nine years with the Lizt Alfonso Ballet where "undoubtedly the season in which we performed on Broadway was an awesome moment."  Since the end of 2009 he has worked on his own projects and has just finished his second university degree.
HT:  Did you finish your musical training at the Superior Institute of Art (ISA)? 
DENIS PERALTA AMIGO:  I completed my major in piano in 2003 at ISA and I've just completed another degree in composition.  I don't see this as the end of my academic training.  I would love to continue taking courses at the graduate level, perhaps getting a masters or even a doctorate in music.
HT:  Who first introduced you to music?  Does your family have a musical background? 
DPA:  The idea of me becoming a pianist was really my mother's dream, ever since she found out that she was pregnant.  She had wanted to play the piano but she wasn't able to because she wasn't a very good singer, so she concentrated all her energies so that I would become a pianist.  From when I was born she was always putting on music, and she didn't sing to me because they had told her that it would put an end to my musicality.
It seems that it was all well worth it.  When I was five I began to study the piano with Maria Matilde Alea; that was thanks to Cecilia, who's like a mother to me and has contributed to each stage of my human and professional development.  In any case, Maria Matilde suggested that I continue studying at the conservatory.  That's how my career began.
HT: You've won laurels in major competitions here on the island, both as a pianist and as a composer? 
DPA:  I'm not much of a lover of competitions.  I don't like competition, I prefer to share.  During my student days I participated in several competitions organized by the school, ones like the Amadeo Roldan Provincial Piano Competition.  There I won a third mention and a special mention for playing Cuban music.  I also won third place in the musical composition competition.  Those were student competitions.
HT:  Tell us about the international scholarship that you won in 2010.   
DPA:  Encouraged by my friends and my family, I presented my music in the hope of winning a SGAE-Berklee scholarship, sponsored by SGAE.  I was pre-selected along with six other Cubans to audition in Mexico and to compete for seven full scholarships that SGAE would grant to study at the Berklee College of Music in Boston, which is one of the most important centers of music in the world.
I didn't win any of the seven scholarships, but the University of Berklee later wrote me offering me a partial scholarship for $12,000 to study there.  I began to prepare everything but I discovered that the scholarship that they were offering was really a $12,000 tuition reduction.
HT:  Do you think that the economic issue that affects Cubans today had an influence on your decision not to take that scholarship? 
DPA:  Of course.  When I continued investigating into what I would need to study there, they informed me that the minimum cost to study for one year in that university was $52,000, from which they would discount the $12,000 that they had granted me through the scholarship.  Obviously I don't have the $40,000 necessary to pay for one year, so it became impossible for me to study at that prestigious school.  At any rate, I've continued studying and struggling to improve myself daily.
HT:  In your musical career, what has dance meant to you as a medium of expression?

DPA:  Whenever I see an artistic work that moves me, I feel music reverberating inside.  It's something natural.  I've worked with dance for a long time and it inspires me tremendously.  Today I share my life with Maysabel Pintado, a first dancer and choreographer who I admire as an artist and who encourages me to create.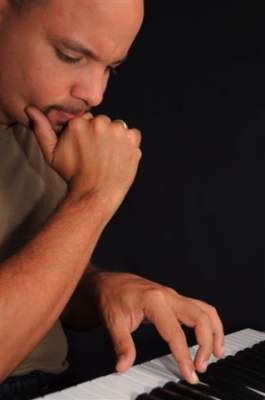 Ever since I was little, visits to the theater were a very frequent part of my life.  Every week, sometimes more than once, we would visit the main theaters in Havana, where we often saw ballet and dance performances.  All of this was forging my love for the arts and what is my principal line of work today:  musical composition to support other artistic forms such as dance, the theater, video productions and the visual arts.
HT:  How was your relationship established with the dancer, choreographer and director Lizt Alfonso?  
DPA:  I came upon Lizt Alfonso by pure chance, without having any idea of what would happen later.  In 1997 a friend who worked with that company as a pianist proposed that I fill in for her for a one-year tour of Italy that she couldn't make.  The trip didn't work out but I continued to work there.
HT:  For many years you were the pianist, director and musical producer for the renowned Lizt Alfonso Ballet Company.  But more importantly still, you composed a great part of the musical works for the shows of that dance troupe.   
DPA:  I began working as a pianist and starting in January 2000 I took on the musical director position until the end of 2009.  I experienced many challenges in this job and it became my responsibility to compose music for several productions.  The first job of importance was the ballet "Elementos," in 2002, and later a number of pieces that were parts of the company's premiering works.
HT:  With the Lizt Alfonso Ballet you were able to see the world on international stages where the company performed.  Which of these experiences had the greatest significance for you? 
DPA:  It would be difficult to choose one between so many theaters, but undoubtedly the season that we played on Broadway was an awesome moment.  Also because it was there that we opened my composition "De Novo," which was praised in the New York Times.  There were more than twenty performances to a packed theater in one of the most important centers of musical theater.  Beyond the stage, I enjoyed getting to know the various cultures and histories of the places we visited.  I liked seeing and talking with the peoples who live in the places I visit.   I like it a lot and I always try to do it.
HT:  Keeping in mind the significance of your contributions to the Lizt Alfonso Ballet, what finally made you leave the company? 
DPA:  For 12 years I was associated with the Lizt Alfonso Ballet, and for 10 of these I held the responsibilities of musical director and principal composer for the company.   Lizt and I had a very intense professional relationship from which many works resulted, but at the end of 2007 there began to appear substantial differences in our ways of thinking.
It became very difficult to continue working together.  I think we both needed a professional separation.  We're people who surrender ourselves to what we do, establishing very deep ties.  At any rate, I value all the achievements of that stage of work, and I'm aware that it was very beneficial for both of us.  Fortunately the fruits of that professional union are still there for the public's enjoyment.
HT:  Your range of musical possibilities has been demonstrated widely because of your participation with important projects that have included Cuban and foreign artists.   
DPA:  I adore challenges, and I love exchanges with other artists.  That's something I've been doing throughout my career and it's a priority for me.  I nurture myself on all artistic forms and on the diversity of culture and thought.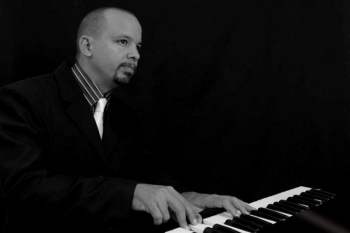 Recently I've been able to work with different musicians, like the British singer-songwriter Sue Herrod, Marta Duarte, Niuska Miniet, Synthesis, among others.  I've also worked with visual artists such as Carlos Enrique Prado and Osvaldo Gonzalez Aguiar.  In the terrain of drama I've been involved with Raydel Araoz, Abel Gonzalez Melo, Carlos Celdran and the Argus Theater, in addition to theater classes at the Universidad Carlos Tercero of Madrid.
Plus, in dance I've worked along with my wife, Maysabel, who with her work "Espectral" has used my music in everything from Danza Abierta to the Ballet Nacional de Cuba.  I've also collaborated with the choreographer Jorge Abril and Danza Contemporanea de Cuba in the premiere of "Kolpos" and later with the French director Isabelle Million in doing the music for a documentary on the staging of that choreography.
I'd very much like to continue this line of collaborations and exchanges, which up to now have resulted in some fine work.
HT:  Do you think that the fact that you don't have to dedicate your full time to a company, as was demanded by Lizt Alfonso, now facilitates greater artistic development for you? 
DPA:  Leaving the company has allowed me to be the master of my professional fate.  I've taken advantage of this time to carry out projects that were impossible while I worked in the company, because it demanded my total surrender.  Now I'm available to take on new projects while at the same time preparing for my career as a soloist.
HT:  What projects do you have on the table? 
DPA:  I recently finished my studies for a degree in composition at the Superior Institute of Art.  I'm doing musical direction for two different musical projects: one in experimental electronic pop, along with Sue Herrod; and the other with the trova group Niuska Miniet.  Then too I'm thoroughly enjoying my first son, who's my first priority at the moment.
I'm looking at several interesting proposals for creating music for visual artists, audiovisual productions and for dance as well.  On the other hand, I've begun work as a piano soloist with the recording of a selection of ten of my compositions, which I plan to circulate and present in public.