Drama-Filled Schiller Rule Lid-lifter Gives Team USA Early Advantage
by Peter C. Bjarkman* (Des Moines)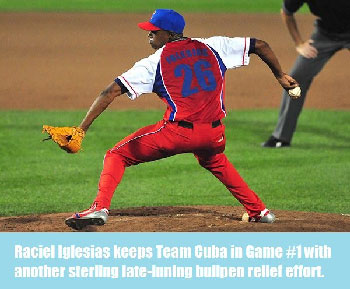 HAVANA TIMES – Finally we have escaped all the pre-series hype – all the idle chatter concerning Cuban player defections, speculations on untested potentials for major league celebrity and lavish professional paychecks, or reports of ominous packs of unscrupulous North American player agents circling a well-guarded Cuban camp – and at long last we have moved on to pure baseball as provided by the amateur sport at its very best.
USA Baseball's talent-strewn college all-stars and the most recent version of Cuba's crack national team squared off last night in this year's lid-lifter of the too-long-dormant Cuba-USA "Friendly Series" and the unfolding spectacle could not possibly have been more rewarding or entertaining.
A combined arsenal of five top Cuban aces and six "showcase' Team USA hurlers shut down the opposing offenses in a classic thriller that stretched into extra frames and eventually found the Americans coming out on top by a slim 2-1 count in a contest ultimately decided via the once-lambasted but now increasingly celebrated extra-inning tiebreaker format.
Pitching was the order of the night in Des Moines' picturesque Principal Park and one would be truly hard pressed to find a more tense battle been a dueling corps of talented arms on any professional diamond.
The Americans struck first in the third frame when Matt Chapman walk and quickly reached third after catcher L'azaro Herrera's wild throw on an attempted steal bounced astray into center field. After Chapman was questionably held at third on Austin Cousino's fly to medium center, a second outfield fly by Trea Turner brought home the ice-breaking run.
An inning later the Americans squandered a golden opportunity to open some daylight against starter Vladimir García when Kyle Schwarber (bunt single) and Michael Conforto (walk) both reached to open the frame. But Ismael Jiménez provided stellar relief by escaping unscathed from a bases-loaded one-out scenario.
Once again a short-handed Cuban pitching staff accomplished just about everything that could have been hoped for. After the pair of early-inning threats in the third and fourth, Jiménez (with a one-batter assist from Diosdani Castillo) keep the Americans at bay into the sixth before Raciel Iglesias took over and slammed the door for another three-plus frames.
But American arms (North Carolina State southpaw starter Carlos Rondon and relievers Preston Morrison and Riley Ferrell) were even more effective, allowing only three Cuban singles (two by Yasmani Tomás) through eight frames and never permitting a single Cuban base runner to advance into scoring position.
An odd note to last night's match played before a Principal Park crowd of slightly under 5,000 was the fact that the original bare-bones three-man umpiring crew was reduced even further in the top of the third when home plate official Randy Bruns was forced to retire from the scene after suffering a head gash caused by the bat of Cuba's Dairon Varona.
After a fifteen minute delay the contest continued with only two officials (one behind the plate and one roaming the infield) charged with the difficult task of manning the game's final eight frames.
Cuba's largely stymied offensive was finally able to briefly break through against reliever number three Ryan Burr (Arizona State flamethrower) in the visiting half of the ninth. With two retired Yasmani Tomás reached for the third time via a walk and advanced to second on Edilse Silva's sharp slap single to left.
Down to their final strike, the Cubans finally struck gold when José Fernández dropped a looping single into short center to plate Tomás and finally end the frustrating nine-inning draught.
Cuba suffered two crucial breakdowns (one a defensive lapse and the second a strategic managerial miscalculation) that eventually combined to cost a victory that was seemingly there for the taking. Herrera's first of two throwing errors on attempted steals had gifted the early American run that put the USA collegian in command early on.
Then, with game momentum having shifted and with Cuba leading off the first extra frame under "Schiller Rule" tie-breaker conditions, manager Victor Mesa opted to use Darion Varona and Ariel Sánchez (the number one and two hitters) as his automatic base runners and then to pinch hit for Yulieski Gourriel with Andy Sarduy.
When Sarduy failed in his assignment to bunt successfully the inning quickly fell apart as Tomás struck out and Sánchez was gunned down on an attempted steal (with Edilse Silva again at the plate).
Had Victor merely started one position lower in the lineup with his designated base runners it might have presented a scenario in which Ariel Sánchez would have been called on for the mandatory sacrifice.
Yulieski Gourriel would then have been left in the lineup to swing away with two runners still in scoring position. With Cuba failing at both of its "Schiller Rule" opportunities the game was finally decided in the bottom of the eleventh when Matt Chapman (the night's hero) lined a single into right off Noelvis Entenza that easily plated the game's deciding marker.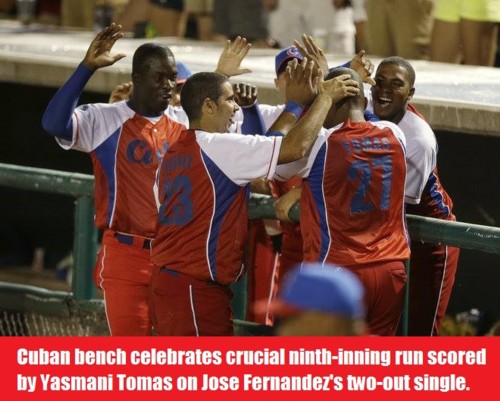 Last night's opening nail-biter seemed to signal the type of nip-and-tuck series that might well be expected from the remaining four games. Last year's series in Havana saw the Americans strike first before the Cubans took three straight in Latin American Stadium to clinch a 3-2 overall series victory.
Four of the five 2012 Series games (including both American victories in games one and five) were decided by a single tally. During two additional matches a week later in Haarlem the teams again split the results, and before the Schiller Rule extra-inning semifinal match in Haarlem (with Cuba winning by three tallies) the full seven-game series stood with the equally matched clubs exactly knotted in total runs scored.
Last night result signaled more of the same. This USA club is loaded with potential big-league arms and the Cuban squad also features more pitching prowess (even if less offensive firepower) than the one that walked off with the Rotterdam World Port Tournament championship earlier this same month.
(*) Peter C. Bjarkman is author of A History of Cuban Baseball, 1864-2006 (McFarland, 2007) and is widely considered a leading authority on Cuban baseball, both past and present. He reports on Cuban League action and the Cuban national team for www.BaseballdeCuba.com and also writes a regular monthly Cuban League Report for www.ibaf.com. He is currently completing a book on the history of the post-revolution Cuban national team.