Final Word on Cuba's Playoffs
By Peter C. Bjarkman*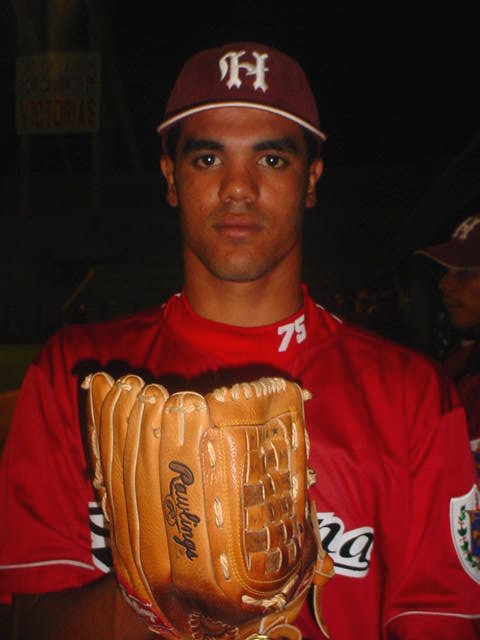 HAVANA TIMES, June 8 — The cheering has finally stopped and for only the third time in three full decades Cuba has a "first-time" national baseball champion. The Cowboys from Habana Province are the 2009 league kingpins, claiming the crown for the initial time in the team's more-or-less lackluster 32-season history.
To put things in a proper perspective, this was only the second time Habana has reached the playoff finals (losing to Santiago in the 2004-2005 National Series). The Cowboys have rarely been a league doormat in the past, but also rarely a frontline contender. In more than one-third of their previous campaigns the Habana club has appeared in post-season play, including a current string of five straight seasons, and more than half the time in ball club history (17 seasons in total) the Cowboys have posted an overall winning record. But never before did that success translated into the league's biggest prize.
This was by any imaginable measure a post-season to long remember. In the end Casey Stengel's tried and true formula for diamond success would once again prove its strange logic. To quote Stengel's probably apocryphal wisdom, baseball is 90% pitching and the other half is largely luck.
Last year, of course, the formula didn't quite pan out, since even the best-pitching ball club needs to generate some kind of offense in order for its mound mastery to translate into victory. A failure to hit in timely fashion and produce crucial runs undermined Esteban Lombillo's pitching-rich Cowboys at the end of the 2007-2008 National Series post-season when they failed to get out of their first-round match up with Sancti Spíritus.
But this time around it would be quite different, as the suddenly potent Cowboys slugged the ball effectively against all three post-season opponents. And regarding luck, the World Baseball Classic six-week suspension from mid-February to late March probably helped Lombillo's forces more than any other league team. We will return to this last theme shortly.
The unexpected and the bizarre
If this year's playoffs were highly memorable, they were also marked from start to finish by the unexpected and sometimes even the perversely bizarre. Two heavy favorites—last year's pair of finalists—couldn't make the grade this time around, with Santiago tumbling in a hard-fought opening series with surprising Villa Clara, and sub-champion Pinar del Río unable to master Habana Province pitching in the Occidental semifinals.
Villa Clara finally proved that it could shed its mantle as a year-in and year-out post-season disaster. Habana under the soft-spoken Lombillo provided us with a first-time champion for only the second time in more than a quarter-century, and the first time in seven years. Before Holguín in 2002 you have to go back to 1983 (Villa Clara, in the first reign of current manager Eduardo Martin, three seasons before the current playoff structure was mounted) to find a club debuting in the championship circle. But this is only scratching the surface when it comes to this season's major playoff surprises.
Several of this past month's oddities involved the long ball—baseball's most popular highlight moment. Cuban fans will long recall the home run magically turned into a out by an umpiring crew's inappropriate bending of the rule book, or two game-deciding long balls from the most unlikely sources—one a last-minute call-up from the Developmental League and the other a miscast "slugger" who had been homer-less for two long seasons before miraculously finding his power stroke precisely when it counted most.
It started with Danger Guerrero's weird and unparalleled fly ball non-hit which triggered perhaps the worst-ever umpiring decision in professional baseball history. To recap for those who have not been paying close attention, the setting was semifinal Game 4 in Pinar's Captain San Luis Stadium. Hitting in the eighth slot, Guerrero sparked an early Habana rally with a towering blast off the top of the left field wall which easily plated two teammates already on the base baths and gave his club a second-inning 2-0 lead.
The ball struck the top of the fence and bounded back onto the outfield grass, a play which would likely have ended with Guerrero on second or maybe even third. But a left-field umpire mistakenly gave a premature home run signal, allowing Guerrero to circle the bases unmolested with a strange three-homer.
Then the wild debate began. Pinar manager Luis Casanova immediately lodged an expected protest, since the ball never left the playing field and should have remained in play. The only possible call—the only one that might be justified within the pages of the rule book—was to allow one run, send a second runner back to third, and award the batter a ground-rule double, since the ball was rendered "dead" by the mistaken home run call.
After a lengthy delay and heated umpire conference, however, crew chief Cesar Valdes would announce a most unprecedented decision. The ruling was one that seemed to send baseball umpiring and scorekeeping reeling back toward the dark ages. Both runs were permitted, but as a compromise to the home forces Guerrero was ruled "out" because of the umpire's folly. It was most likely the first time in baseball history that a batter was officially retired by "umpire's error unassisted."
Guerrero's teammate Ernesto Molinet earlier provided his own twist on rewriting the home run record book. Molinet (who would later prove a temporary "goat" in the potential series-ending Game 4 of the finale) slugged two homers in the same inning during a quarterfinal romp over Isla de la Juventud. It was the third Cuban post-season in a row to feature such a single-inning oddity. Last year Santiago's Alexei Bell smacked three base hits in a single frame against Villa Clara. It was a feat only twice accomplished in a century and a quarter of North American big-league play. And a year earlier the same Alexei Bell had beaten Molinet into the record books with his own two-homer inning at the expense of Havana Industriales pitching.
Orta came through in the clutch
And then there were the unlikely slugging heroics of a third previously unsung Habana Province batsman. All season long Cuban fans have been debating why manager Lombillo would utilize Rafael Orta as the team's designated hitter—and especially as the clean-up hitter—on a club that also features muscular Juan Carlos Linares (usually relegated to the sixth slot despite being the club's top slugger) and Molinet (the table setter in the number three slot).
Orta is a decent hitter (he was actually the club's number two batsman this year at .336) but not a typical power source. He managed a single home run a year back and none at all this season over a 90-game campaign. But in the end Lombillo's plan seemed to work to perfection precisely when the biggest prizes were on the line. Ironically Orta would prove to have one of the heaviest bats in the lineup before Habana Provinces run to a championship had run its dizzying course.
Some of this year's oddities also involved pitching, the game's true heart and soul. Good pitching almost always beats good hitting, and that remained one of this season's central themes. But the true mound heroes were not at all the ones that almost everyone had penciled in when the post-season derby first opened for business in early May.
Villa Clara's previously unheralded 19-year-old Freddy Asiel Alvarez—coming off a fine if unspectacular 7-2 third league season—rang up three of the club's four surprise quarterfinal wins against defending champ Santiago. With that performance the slender righty seemed launched on the road to a new single-playoff record for wins, with the current mark standing a four.
But Freddy Asiel never quite got there in the end, despite the fact that he had every opportunity, since his club hung around for two more rounds. Habana's equally overlooked Miguel Alfredo González—overshadowed all winter in San José by such stellar pitching mates as Yulieski González, Jonder Martínez, Miguel Lahera, and league ERA champion Yadier Pedroso—was the novice hurler actually destined to be the new record holder. The twenty-two year-old power right hander (who owned the league's seventh best ERA this winter at 2.86) roared down the stretch with an unblemished 5-0 playoff mark, picking up one victory over Isla and twice apiece versus Pinar and Villa Clara. Miguel Alfredo put the exclamation point on his post-season MVP performance with a superb 5-hit shutout in the closeout championship contest.
The expected aces, by contrast, had a rough go of it in this year's championship derby. Pedro Lazo, laboring in what may have been his final performances of an unparalleled career, failed twice in the semifinals to garner his coveted 250th career victory. On both occasions Lazo seemed to be merely going through the motions and was treated roughly by a Cowboys lineup that is reputed to be one of the league's tamest.
And Habana's Yulieski González had his own bitter pills to swallow, though they certainly did not compare with Lazo's for tartness. Yulieski pitched as well as anyone in the finals, turning in two brilliant efforts without a victory to show for it. Yulieski was on the verge of turning in a brilliant complete-game series closer in the fourth game when he faced veteran Ariel Pestano with two out in the ninth and Habana's first title only one pitch away. It would have been a most fitting ending, indeed, given the celebrated dugout spat between the Yulieski and Pestano during the final WBC contest with Japan.
But Yulieski was simply not destined to have his sweet revenge. Pestano's weak roller to second was sadly misplayed by Ernesto Molinet, who double clutched before throwing wildly to first. The improbable error robbed Yulieski of sweet pennant clinching victory, allowed the game to roll into extra frames, and thus eventually led to Villa Clara's single triumph of the championship round. Molinet's classic "boot" was in retrospect quite unprecedented in post-season annals. The famed World Series blunders of big leaguers Bill Buckner (with the 1986 New York Mets) and Mickey Owen (1941 Brooklyn Dodgers) both occurred in games that could not have ended championship play.
Lombillo may have earned Team Cuba skipper spot
Then there were also numerous subplots involving a corps of rarely celebrated league managers. Eduardo Martin returned after a lengthy absence in Villa Clara and managed to accomplish in one short season what controversial Victor Mesa repeated failed to achieve in a dozen campaigns at the helm. Martin produced a team that actually overachieved rather than dramatically underachieving in the season's biggest games.
In only his second year at the end of the bench with perennial also-ran Ciego de Avila, Roger Machado also pasted together and then artfully directed a squad that outdistanced the entire league in the game's three major facets: hitting, pitching and defense. But then Machado seemed to pull all the wrong strings once the playoffs rolled around. Several ill-timed rainouts also conspired to largely destroy Machado's planned pitching rotation, causing him to burn up top starter Valeri García in only a few widely scattered innings.
And soft-spoken Esteban Lombillo—known as "The Professor" in Cuban baseball circles for his laidback scholarly approach to the sport, at long last emerged at the top of the heap after a couple of decades in the shadows. Lombillo may now finally have earned the rare chance to manage Team Cuba in the upcoming IBAF World Cup slated for September. Lombillo is the prototype of a true ballplayers' manager. His presence would of course represent a dramatic departure from the iron-fisted discipline under which the recent Higinio Vélez and Antonio Pacheco-managed clubs have often chafed and sometimes underperformed.
Weather also played a hefty role in the proceedings, most likely at least in part due to the WBC delays and the longer-than-normal season extension. Many on the island condemned the unwise plan for staging a post-season after the June rainy season set in, and there were plenty of "I told you so" complaints from fans and media alike in recent weeks.
One contest in Villa Clara (concluding Game 5 of the semifinals) actually took three full days to complete. Starting Saturday afternoon and finally ending late Monday night, it was easily the longest playoff game ever witnessed in any major league circuit. Once the rain-drenched, often-delayed semifinals where mercifully wrapped up, the finals slated to open on a Thursday had to be pushed back to Saturday due to unplayable field conditions in San José's tiny and somewhat dilapidated Nelson Fernández Stadium. Mother Nature this time around clearly exposed the downside of Cuba's quaint but poorly maintained retro-style ballparks.
But if there was a single eye-opening theme to this year's playoff season it was definitely the fact that virtually all the top performers came from outside the Team Cuba World Baseball Classic roster. This might have been the most noteworthy surprise of all. Three teams with hefty "Clasico" representation on their rosters (Sancti Spíritus, Santiago de Cuba and Holguín) all quickly bowed out in the opening quarterfinal round. Pinar del Río with two of the showcase WBC pitchers in Maya and Lazo failed to tame such normally light-hitting Habana batters as Orta, Guerrero and Molinet. And Villa Clara and Habana climbed into the finals on the strength of fresh blood and not old standbys like Eduardo Paret, Ariel Pestano, Jonder Martínez or Yulieski González.
Pitchers with "Classic" credentials were especially disappointing with their playoff sub par performances. Ismel Jiménez (Sancti Spíritus)—rumored to be injured in the Classic—and Luis Miguel Rodríguez (Holguín) both flopped entirely in the quarterfinals. Aroldis Chapman (Holguín) pitched a notch above the former pair but nonetheless disappointment by not matching elevated expectations.
Closers Yolexis Ulacia (Villa Clara) and Vladimir García (Ciego de Avila) were on the whole ineffective. Ulacia, especially, experienced a disastrous championship round, yielding game-winning hits to the same Rafael Orta in the first two vital games of the series. The failures of Lazo have been noted, while Maya was not much better after the opening game of the semifinals (where he won 3-0 with six effective innings before a long rain delay). And among the hitters, Peraza was stymied by Habana pitching (especially in the two games where he faced Yadier Pedroso); while Cepeda and Gourriel could not by themselves compensate for the complete lack of effective Sancti Spíritus mound work.
Both eventual finalists boasted strong WBC contingents, but that had little to do with their separate routes to success. For Habana it was Miguel Alfredo, Miguel Angel García, and even at times Jonder Martínez (now assigned to middle relief) who carried the workload—not Yulieski González (though González did pitch exceptionally well in the finals) and Miguel Lahera. Lahera, despite one relief win in each of the first two rounds, struggled in his last couple of post-season outings. Lahera appeared altogether spent and seemed to pitch without his accustomed fire.
For Villa Clara, Eduardo Paret was already gone—now in Mexico with his wife and expected soon to serve in some coaching capacity in that country. Ariel Pestano was a non-factor, as he was for much of the National Series itself. Ulacia, as noted, self-destructed on more than one occasion. And Leonys Martin performed well in spots but was used out of position at second base to make room for new outfield sensation Ramon Lunar.
Younger players took the foreground
It was not only that the biggest year-end pitching and hitting stars were all non-national team figures. They were in most cases ballplayers who have never even received a serious look when it comes to national team selections. Habana's big-three hitters were all figures long considered to be of a second or third (in Orta's case) echelon. Nineteen-year-old Ramon Lunar spent most of the year in the Developmental League and played only 28 National Series games.
Yet given a late-season opportunity Lunar made a loud statement about his status as future superstar. His dramatic homer in the much-delayed semifinal wrap-up game put Villa Clara in the finals. His timely extra-inning hit gave his team their only win over Habana in the contest extended by Molinet's fateful error. And one of his "circus catches" against Ciego de Avila will likely be talked about for years to come. And the top two young hurlers—Freddy Asiel and Miguel Alfredo—were never even mentioned in the run-up to WBC roster selections in January and February. How quickly things can change in the final three months of a single baseball season.
There may be several easy explanations for this last phenomenon. The most obvious would likely be the factor of ballplayer burnout. The Classic roster was under intense training and even more intense scrutiny for two solid months and the spotlight—especially in Cuba—takes its emotional toll. The fact Cuba's WBC players have also yet to be paid for their labors—due to political heel-dragging by the US Treasury Department—may also have dulled some enthusiasms. Yet a far better reading may be the motivational factor. Players cut from the Classic team or just now emerging as national team candidates would seem to have far more to prove on the domestic post-season stage.
Or perhaps it is just the remarkable regenerative powers of Cuban baseball, where endless supplies of new stars pop up even faster than the latest island economic woes. For the Cuban brain trust, one result is that it will now be a tall order indeed to select the national team World Cup roster. There are suddenly many more-than-worthy replacement candidates. But then how can you replace the outfield trio of Cepeda, Despaigne, Céspedes (or even Alexei Bell)—all at their prime or just emerging? And who is to be left off the current infield quartet of Olivera, Navas, Yulieski Gourriel and Michel Enríquez? It is a nice problem to have, of course. It now appears that the island talent pool has never been any deeper.
It is in the realm of pitching were we are now most likely to see some new blood. Lazo's retirement seems certain (a subject I will tackle in a separate report) and other mainstays are rapidly falling by the wayside. Norberto González is likely to follow former teammate Adiel Palma into retirement before another national series opens, and Luis Miguel Rodríguez now seems to have peaked and faded. We have almost certainly also seen the last of 2000s-era mainstays Vicyohandri Odelín, Ciro Silvino Licea and Norge Vera. Miguel Alfredo and Freddy Asiel have more than likely already stamped their tickets to Barcelona for September. And strong challenges may also come from a few other quarters—such as Pinar's Vladimir Baños. Once again Cuban baseball is demonstrating its amazing and inexhaustible capacity for constant and timely renewal.
It will be a short and lively off-season on the island. Rotterdam's World Port Tournament tune-up lays only month down the road. The bi-annual IBAF World Cup and a chance to avenge recent Olympic and WBC disappointments is now merely three months away. So let the traditional Esquina Caliente convene in every provincial capital and let the hot debates about national team selections commence. Baseball may now be over for awhile on the grass-covered island diamonds—and also for those of us among stateside fans who like their baseball without shopping mall trappings and non-stop televised commercial chatter. But for Cuban fans the national pastime will still be very much in the tropical air—just as it always is.
To read more of Cuban baseball expert Peter C. Bjarkman's stories click on: www.baseballdecuba.com