Habana Wins Seesaw Thriller
By Circles Robinson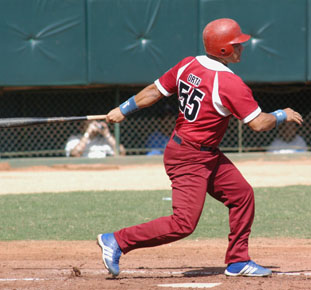 HAVANA TIMES, May 23 — On an evening when Pinar del Rio's ace Yunieski Maya and Habana's skillful Yulieski Gonzalez were expected to lock horns in a pitching duel, batters on both teams didn't go along with the plan.
Instead the game turned out to be seesaw thriller with the lead changing hands five times before Habana scored four runs in the ninth to win 10-6. The victory evened the best-of-seven Western Division championship series at two games each.
Gonzalez lasted only 3.2 innings giving up four runs on four hits and three walks. Maya stayed on for 5.0 innings allowing 10 hits, two walks and five runs (four earned). Neither had a hand in the decision, won by reliever Miguel Lahera (2.1 innings, no runs, one hit) and lost by Pinar's Yosvani Torres (3.0 innings, four runs on five hits).
A two run triple by clean-up hitter Rafael Orta in the top of the ninth proved the game decider. Habana, which scored runs in six of the nine innings, had two RBIs each from Ernesto Molinet, Michel Rodriguez, Rolando Mendez and Orta. Roberto Zulueta had a perfect 4-for-4 game and leadoff Ruby Silva had three hits in six at-bats, and Dennis Laza had two hits including a solo homer.
Pinar had eight hits to Habana's 17 and made three defensive gaffs to Habana's one. Pinar's fire power included a triple by Donal Duarte and a solo homer by Yosvany Peraza.
Game Five on Saturday at 8:00 p.m. has as probable starters veteran Pedro Luis Lazo for Pinar against Miguel Alfredo Gonzalez.
Maikel Folch Helps Ciego de Avila Cling to Life
Ciego de Avila clung to life on Saturday with an 8-2 win over Villa Clara, with three double plays that stymied rallies in several innings. The series is now 3-1 in favor of Villa Clara.
Winning southpaw Maikel Folch pitched in and out of jams, giving up six hits and two runs, striking out seven and walking three in 7.2 innings. Yander Guervara closed with 1.1 innings of two-hit, no-run pitching.
Ciego scored four of their runs on homers by Yoelvis Fiss and Adonis Garcia.
Game five's probable starters are Yuliet Lopez for Villa Clara and Alein Mora for Ciego de Avila with the hosts hoping to wrap up the series. Game time Saturday is 5:00 p.m.