Internet Outage for 96% of Venezuela with Prolonged Blackouts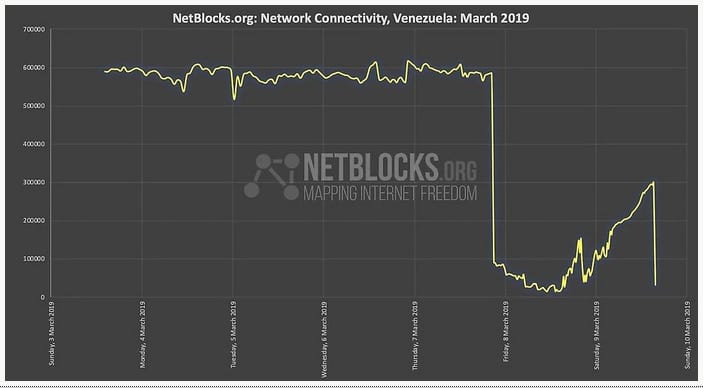 HAVANA TIMES – Venezuela has been suffering an almost total Internet outage during the last three days, a reflection of how serious the power outage is that began Thursday night and continues, despite a minor restoration that keeps suffering setbacks.
The observation website Internet Netblocks confirmed that after the second blackout on Saturday morning, 96% of Venezuela has been without service, reported Aporrea.
Havana Times contributor Caridad has been incommunicado since Thursday. She lives in the State of Lara a little over 200 miles west of Caracas.
The Internet and other communications outage aggravate the losses of food, medicines and other products that require refrigeration. Transportation chaos exists with the country's train system and the Caracas Metro out of service. Likewise, most service stations unable to pump gasoline and those that can have enormous lines.
Money is unavailable from ATM machines or banks. Hospitals have reported an emergency life-threatening situation for many patients.
Maduro blames the United States
[pullquote]President Maduro's communications and information minister, Jorge Rodriguez announced on Sunday that all workplaces and school activities from preschool to university are suspended for Monday.[/pullquote]
Venezuelan President Nicolas Maduro said on Sunday that the recent power outages in the country were the result of cyberattacks by the United States and that his administration was working to resolve the issue, reported dpa news.
"The National Electricity System has been the target of several cyber-attacks, resulting in its failure and preventing the different attempts for reconnection at a national level," the embattled president said on Twitter.
"However, we are making great efforts to, in the coming hours, restore the supply of energy stably and definitively," he added.
It is not the first time that Maduro has blamed foreign powers for the country's frequent power outages. The opposition, on the other hand, has blamed the government's sloppiness, corruption and mismanagement, reports dpa news.
Guaido blames Maduro
Meanwhile, self-proclaimed interim president Juan Guaido has been fighting for weeks for Maduro's resignation and has been leading an effort to mount mass protests against his rule.
Guaido wants a state of emergency declared in the South American country over ongoing power outages.
Germany, the United States, numerous EU countries and many Latin American countries have already recognized Guaido as the rightful transitional president.
Many Venezuelans are suffering under the catastrophic supply situation in the once rich country. For lack of foreign currency, the world's most oil-rich country, but with little other national production, can barely import food, medicines and everyday necessities for a portion of the population.