Real Madrid in Havana, The Final Blow to Cuba's Baseball
By Ronal Quinones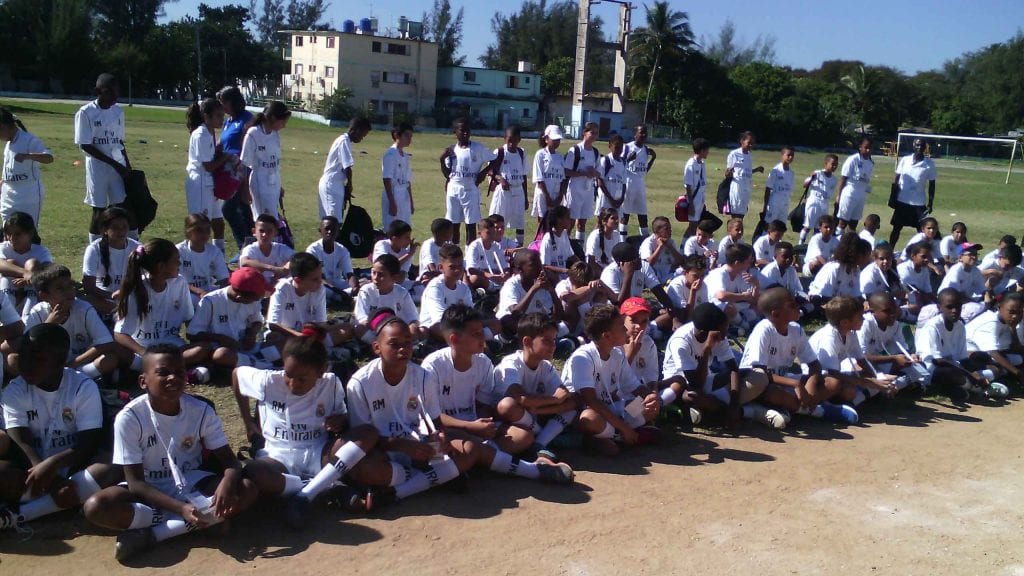 HAVANA TIMES — If something had been missing to put Cuban baseball in a coma state, it was an institution like Real Madrid coming to Havana to give it the final blow. This at least was what could be deduced indirectly from the words of "Campos de experiencia" (Fields of experience) director, Joaquin Sagues, told Havana Times.
"We know that there is a lot of interest in soccer here in Cuba. It already seems to be the most important sport here, in my opinion, on top of baseball, and we want this to continue like this. Real Madrid came across a similar situation in the Dominican Republic and in Puerto Rico, where today you can see more soccer than baseball being played."
Sagues, a self-confessed admirer of Cuba's achievements in health and education, doesn´t have a problem in openly stating that among his objectives, is "to scheme" against one of Cuba's cultural foundations, its national sport.
As if the unequal media war that exists between one sport and another here in Cuba wasn't enough, now the greatest soccer club in history has come too, which will take, this I have no doubts about whatsoever, the best talents we have in the future.
As well as the camp as such, which brought together 100 boys and girls from 10 schools in Havana, Real Madrid revealed its interest by sending none other than one of their most famous personalities, the former striker Emilio Butragueno, the current director of Institutional Relations.
Havana Times didn't want to lose this opportunity and approached the legendary leader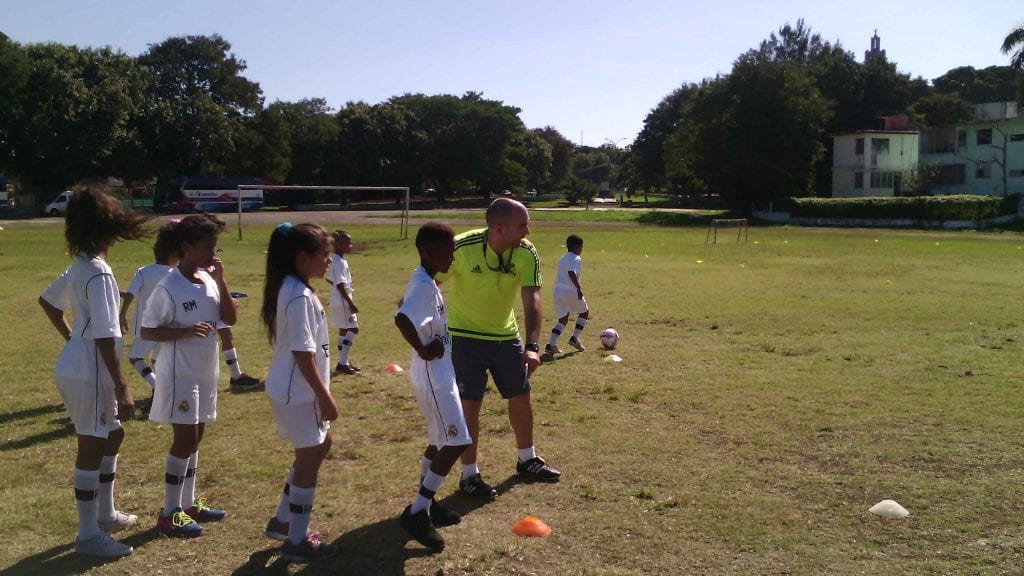 "It's a pleasure for me to be here, in such a hospitable country, in such a close country, with very good relations with Spain. I had the opportunity to come here with my family a few years ago and to see just how loving the Cuban people are for myself. I'm also extremely happy because Real Madrid has embarked on an adventure here in Havana.
"This is the first project that we've officially launched thanks to the support we've received from those at the Cuban Sports Institute (INDER). Cuba is the 73rd country we're now in, and we have over 400 social projects across the world, and we're very excited."
With regard to the interest in Team Cuba, he reminded us of the fact that the relationship that Real Madrid has with Cuba date back many years. "The team was founded in 1902, and on that first team there were four Cubans, and for that reason we've had a relationship that has lasted for over 100 years already," he explained.
"We want to use soccer as an educational tool, to transmit the values that Real Madrid have shown on soccer pitches throughout their history, such as respect, companionship and discipline, which have allowed us to win many cups, and we want to share them with the Cuban people because they will help them during the rest of their lives."
Of course, he also revealed that this could be the start of a closer tie, which could even be translated in the opening of an Academy together, the normal practice in the rest of the world of soccer.
"We hope to stay for a long time and that this might be the start of a great relationship we have with Cuban children. This is a project which both parties involved think can be extended in the future. In the coming years we'd like to have more programs, and we will study these possibilities with the Cuban authorities. When they see how we work, I'm sure we'll be able to establish more permanent projects. We are open to hearing what the Cuban people want and we are very happy to be able to collaborate in the future, and that this alliance we have becomes more solid over time.
"We've been having talks for several years now, and we saw that the Cuban authorities were interested in creating a positive impact on Cuba's youth via soccer, with the same professionalism that we use in the "Ciudad del Futbol" (Soccer City) with Real Madrid´s lower divisions. It's important to stress that we are looking to train children comprehensively with soccer, which is a game, but it also involves working with others, learning to win and to lose, to be disciplined, to respect your colleagues, the trainer and the referees."
With regard to the chance of scouting talents here in Cuba, he was a little more cautious, but he didn't "hide" from the subject either:
"You never know, what we want is talent, the nationality is the least important. Soccer is becoming more and more globalized and everything is possible. I will tell Florentino (Perez, the president of Real Madrid) how well they are treating us, I personally believe that the project has been a complete success."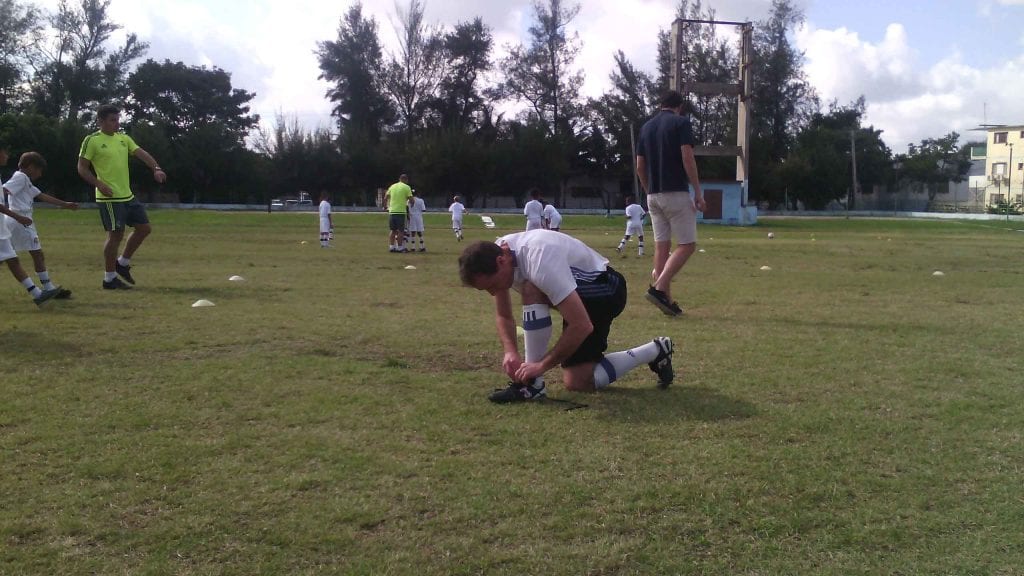 We also spoke with some of the children who had benefited from this event, aged between 8 and 12 years old, who hadn't exactly been chosen for their soccer skills, but more so for their human qualities.
For example, Jennifer Arias, from Mario Munoz primary school, in Central Havana, told us that soccer didn't really catch her attention to play it, but that she would take more of an interest in the future. "I personally like volleyball more, but I've been enjoying soccer more recently and maybe I'll play it more seriously. The bad thing about soccer is that there aren't a lot of girls who like it in my neighborhood."
For his part, Marlon Aviles, from the Lidia Doce school in Cerro, is a big fan of soccer. "My father told me about Butragueno, about everything he did for Real Madrid, and this motivated me to come here and meet him. I'm a fan of this team and I wish I could be in an academy with trainers like the ones we've had this time," he stressed.
The Spanish delegation included trainers Roberto Arias and Juan Andres Gonzalez, who divided the 100 children into four groups, named after today´s soccer stars in the Real Madrid institution: Cristiano Ronaldo, Gareth Bale, Karim Benzema and Sergio Ramos.
During the week, the children received soccer theory classes and training in values in the morning, divided up into groups, then they went to have lunch at the Hotel Melia Habana and went swimming in its swimming pool or at the nearest beach, and in the afternoon, they went back to play matches between them.
Real Madrid gave the soccer monitors (teachers at the school) and the children white soccer uniforms, and also donated 100 balls. A very important first step in reinforcing this tie in the future.