Russia-Cuba Volleyball Rematch
By Circles Robinson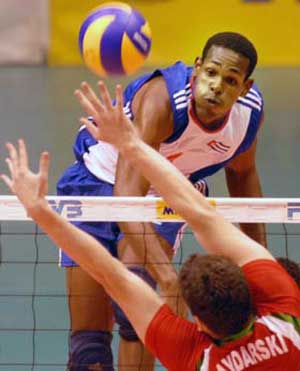 HAVANA TIMES, July 2 — The Men's World Volleyball League heads into its fourth weekend on Friday with Cuba playing on the road against Russia in a Group C clash that could go along ways to determine the division's winner. The games take place on Saturday and Sunday July 4-5.
When the two teams met in Havana two weeks ago the result was a split. Russia then went on to split with Bulgaria and has a 4-2 record. Cuba swept Japan in straight sets last weekend and leads the division at 5-1.
Cuba's Yoandy Leal is fourth among the league's top scorers; the teenage sensation Wilfredo Leon is eighth, and Yoandy Diaz is ranked the second best setter.
Bulgaria (2-4) plays Japan (1-5) in the other Group C match-up.
In Group A the United States (5-1) plays China (1-5) and Holland (3-3) faces Italy (3-3). In Group B France (4-2) plays Serbia (3-3) and Argentina (3-3) tests South Korea (2-4). Lastly, in Group D, undefeated Brazil (6-0) plays Finland (3-3) and Poland (2-4) clashes with Venezuela (1-5).