Thin Air and High Hopes for Cuba
By PETER C. BJARKMAN*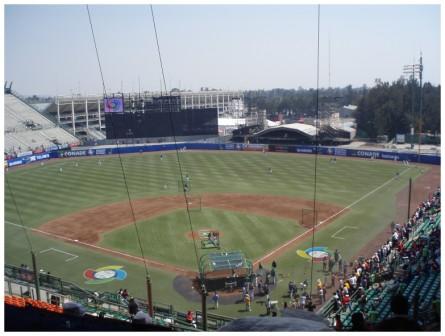 HAVANA TIMES, March 8 – WBC II began with a loud bang Saturday in both sun-drenched Puerto Rio and sub-arctic Toronto. In the far north, a star-studded American lineup featuring familiar MLB stars like Derek Jeter and Kevin Youkilis eked out a tense victory over Canada before a highly partisan crowd of 40,000.
The USA-Canada match in Rogers Centre was described by some media accounts as having attracted an electric atmosphere more characteristic of big league post-season contests. Perhaps more dramatic still was the shocking upset in San Juan of Dominican big leaguers by the lightly regarded but always pesky squad of Dutch League all-stars.
These were the types of showcase games that made this event such a hit with fans on four continents three years back, and more seems in store throughout the coming month. But while the fireworks began in earnest up north and out in the Caribbean, here in balmy Mexico City it was simply a matter of rather patient waiting and palpable growing anticipation.
Team Cuba enjoyed its first practice session on Saturday within the hospitable confines of Foro Sol Stadium, on the heels of two weeks of intense preparations and exhibitions staged in nearby Puebla. Balls were literally flying over the outfield fences during nearly two hours of laid-back batting practice as the rarified air proved a boon to the hefty Cuban bats.
All three other ball clubs (Mexico, Australia and South Africa) following Team Cuba onto the field for similar two-hour workouts also experienced and exploited similar environmental effects. Confidence has to be already soaring for batters and sagging for pitchers here at the Pool B venue. As South African manager Rick Magnate put it, somewhat sarcastically, during his early afternoon press conference, there certainly shouldn't be any 1-0 games played here in Mexico City this coming week.
The Altitude Factor
Much has been written over the last decade and a half about the high altitude of Denver's Coors Field and its predecessor Mile High Stadium. The current and former Denver stadiums sit at an altitude of just slightly under 5,300 feet. But here in Mexico City, which rests at approximately 7,400 feet, the altitude factor is a good deal more pronounced and the thin air a good deal more bothersome.
I can personally attest that can be felt when climbing the steep stadium steps toward the only access to an overhanging press box high above home plate. And it can be just as immediately observed once batters begin stroking extra long and "hanging" fly balls over nearby outfield fences. This was a topic of discussion and a few good laughs at the Team Australia press conference early this afternoon when Minnesota Twins infielder Luke Hughes commented that his teammates were pinching themselves after seeing some of their own rocket-like blasts.
Several easily found internet discussions suggest that scientists general classify altitudes more than 6,500 feet above sea level as true "high altitude" locations. It is in those locales that athletes reportedly begin feeling physiological effects (oxygen deprivation) as opposed to mostly psychological constraints.
If 6,500 feet is the true cutoff point then Mexico City counts in this range and Denver is not actually even a legitimate "high altitude" venue. The lofty number of home runs hit in Denver's Mile High Stadium during its early seasons as a major league venue in the mid-1990s is often cited as an altitude effect, but it is certainly one that is difficult to measure scientifically. Some of the power hitting there may have resulted as much from the less talented Colorado Rockies "expansion club" pitching staffs of those seasons. More measurable altitude effects might be those of the numerous track and field world records (such as Bob Beamon's 29-plus-foot long jump) recorded when the 1968 Summer Olympic Games were staged here in Mexico City.
It is expected that fly balls off the bats of some of Cuba's muscular sluggers, as well as from a contingent of hefty Mexican big leaguers like Adrian González and Jorge Cantu, could well be the headline story and the featured entertainment when the last WBC venue to open this year debuts Sunday.
Thin air induced by lofty altitude means not only that athletes find breathing more taxing, but also that airborne objects like throws and especially batted balls receive far less air resistance during their path of flight. And the rather tight confines of this ballpark (319 feet to left, 409 to deep center, and 325 to right), along with some less experienced South African and Australian pitchers, should mean some high-powered offensive displays before the five days and six games are wrapped up next Thursday evening.
Foro Sol Stadium, it can be noted, is a unique structure with some very special features as far as big-venue ballparks go. First off, there is its physical location inside an enclosing bicycle racing track, itself located in the midst of a sprawling multi-venue sports complex. But the facility is indeed top notch in every aspect of fan amenities and ball game preparedness.
The steep single-deck grandstands enclosing all but a right field section of the stadium provide a marvelous viewing perspective that hangs immediately over the playing field. The seating capacity of close to 27,000 is more amble than that of San Juan's Hiram Bithorn where I spent the first two rounds of the 2006 Classic.
Morning Press Conference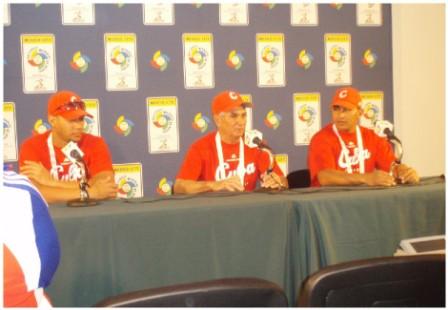 Higinio Vélez was at pains in his morning press conference to elaborate on the excellent conditions found on both infield and outfield playing surfaces. The flamboyant Cuban manager put on one of his patented displays of candor equal to any of its predecessors during the inaugural Classic.
Vélez was certainly diplomatic as he stressed that there were no easy venues or easy opponents in a tournament like this one, and that Cuba was first focused on defeating South Africa, not Mexico. But he was, at the same time, both coy and highly entertaining in his banter with the assembled media members.
When asked what his Team Cuba slogan would be this year (a rather obvious reference to his famous 2006 comments about Cuba having a team made of "hombres" not "nombres") he quipped that this would be "a big surprise for all you media guys."
And when asked if he found it troublesome to make decisions like possibly benching Michel Enríquez at third in favor of Yulieski Gourriel, Higinio had the perfect repartee. "Who said I was benching Michelito? Would you bench him?" The high-spirited session certainly underpinned my earlier published comments that Higinio Vélez was precisely the right pick for the job.
Yulieski Gourriel and Frederich Cepeda were also on stage at the meeting with the assembled press corps. While the ballplayers played "second fiddle" to manager Vélez here on the eve of opening day, they nonetheless provided some interesting insights into the general air of confidence surrounding the Cuban squad.
Both Yulieski and Cepeda were confronted with questions about their own roles in the planned Cuban attack. Yulie was grilled about a possible switch to third base and commented that he had played both second and third frequently in international games and found each slot equally comfortable. When asked if he would be more comfortable as a designated hitter Cepeda quickly clarified that he has every intention of playing regularly at his long time post in left field.
Saturday was a day for batting exhibitions, accommodation to the surroundings, general camaraderie, and a good deal of pre-tournament posturing. Sunday the real wars and the true excitement will both commence. Manager Vélez loves to point out that "the game is only decided on the playing field" and his talented ballplayers frequently repeat that mantra during media interviews.
*For more coverage on the World Baseball Classic see Bjarkman's site: http://www.baseballdecuba.com/WBC.asp