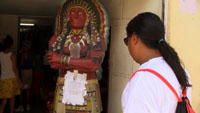 HAVANA TIMES — A descendant of the Indian people of Cuba maintains strong links with his ancestors. He questions the past and present world with a commitment to maintain and renew their legacy to transmit it on to new generations.
Director: Karel Ducasse (20 min.)
INDIO (Documental) from havanatimes on Vimeo.