Chucho Valdes wins Grammy for his Tribute to Irakere
Chucho Valdes, Afrolatin jazz legend.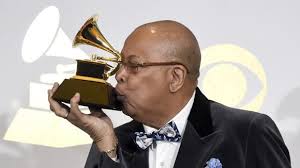 HAVANA TIMES — The award-winning Cuban pianist and composer Jesus "Chucho" Valdes was given a Grammy Award for Best Latin Jazz Album on Sunday with his album "Tribute to Irakere: Live In Marciac", a tribute to the group he founded 44 years ago.
Valdes, a living Afrolatin jazz legend, was the only Cuban to win a Grammy that day, where Los Van Van were also in the running for a Grammy as best pop group performance.
Chucho's album was recorded along with the Afro Cuban Messengers at the Marciac Jazz Festival in France last summer, and is made up of Irakere's original music scores, which have been rescued, with arrangements for the new generation of musicians found in the group.
Remembering Irakere
"I would like to thank the organizers of the Grammy Awards, the Academy, the Marciac festival, where we made this album… The original Irakere members and all of the musicians who have formed part of this band," the artist said at the awards ceremony, where he also took a moment to remember the band's members who have already passed away.
This is Chucho's tenth Grammy over the course of his career, three of which have been Latin Grammys. The artist is now 75 years old and is currently living in Spain.
Also in the running for Best Latin Jazz Album were Entre Colegas, by Andy Gonzalez; Madera Latino: A Latin Jazz Peerspective On The Music Of Woody Shaw, by Brian Lynch and a group of musicians; Canto America, by Michael Spiro, Wayne Wallace and La Orquesta Sinfonietta; and 30, by the trio Da Paz.
Adele's night
Meanwhile, the winner for the Best Tropical Latin Album category, which the Los Van Van were nominated for, was Dónde Estan?, by Jose Lugo and the Combo Guasabara. The Puerto Rican musician Jose Lugo, former member of Jose Valentin's orchestra, died of cancer last June when he was just 56 years old.
Los Van Van were competing with their album "La Fantasia". A tribute to Juan Formell, an EGREM/Sony Music production.
The awards ceremony took place at the Staples Center in Los Angeles on Sunday, to give the US' most important music awards in 84 categories.
The greatest winner of the night was British singer Adele, who took home the most important awards with her album "25" and her song "Hello". She was nominated for a total of five awards, the most important of which were Song of the Year, Album of the Year and Record of the Year.
She is the first artist in history to win these three awards twice.
To find out more about all of the award-winners, please click here.                    https://www.grammy.com/nominees