Daisy Valera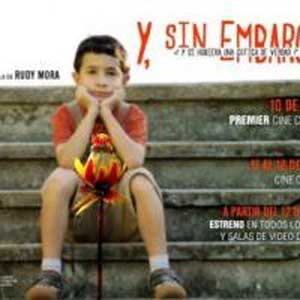 HAVANA TIMES, April 19 — Y, sin embargo, the latest release by the Cuban cinema, isn't a film directed specifically at children.
Yet many of those who paid their two pesos at the box office were confused when they entered the theater having read that the cast included kids from the highly popular children's theater group "La Colmenita."
The pictures of the playbills show a child flying a kite or sitting on a staircase.
The stampede of grandmothers and grandchildren to the Yara Cinema could have been avoided with a few insightful lines of explanation.
These would have prevented young people from coming out saying it was a "clavo" (boring), and hoping that they won't make a part two.
From its first images, it's apparent that the film breaks with the characteristics of feel-good flics like Habanastation.
This presumably science fiction story is told without any need to fix places or dates. The main location is at a school where discipline, order, and structure are paramount.
One can point to two important moments in the film.
The first begins when one of the students, Lapatun, says he saw a flying saucer.
This reveals a school where they put a list of disruptive students on the blackboard.
This is a place where the student president (coincidentally the son of wealthy parents who give gifts to the principal) decides in front of the class that Lapatun needs to be kicked out of school for lying.
Everything ends with a student assembly that turns a deaf ear to any claims and approves the boy's expulsion – unanimously!
The second moment begins with the principal asking Lapatun to deny having seen the saucer so as to avoid damaging the monotonous stability of the town and the school.
This all ends with the accused student reading a previously prepared speech of apology, self- accusing himself with the moral courage and honor that recalls one of the Moscow Trials.
The director and screenwriter, Rudy Mora, gives us a special film that has as its particularity the consistent use of symbols and codes, like in his previous works.
Nearly at the end of the film, a question is raised: What kind of people are we?
This is a question that, necessarily, is also posed to the audience, which up to this time has undoubtedly found many points of contact between this film and their own lives.
It all ends with an explicit answer: Don't cease dreaming or defending the truth.
In this way, Y, sin embargo (English: "And yet) can tentatively be included in that group of daring — almost defiant — Cuban films.