Sancti Spiritus Is Not Havana
Daisy Valera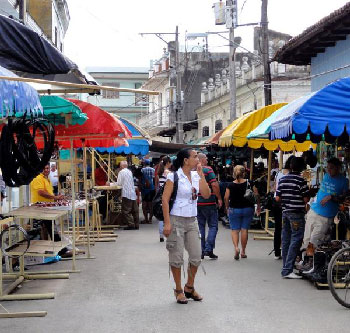 HAVANA TIMES — I left Sancti Spiritus when I was 17. Back then, Chinese buses had not yet invaded Cuba's interprovincial roads, and a ticket to Havana cost a mere 23 pesos.
At the time, Havana was, for me, something like a disciplined array of study centers, hours upon hours of a reading time that began with Mark Twain and ended with Guillermo Cabrera Infante. It was an unmistakable feeling of rapture, the occasional ballad-music concert that spoke of life in other places.
The City of the Sancti Spiritus was a planet I had to put behind me, even if I had to do so with my back glued to the irritating red vinyl of a State bus seat.
In less than 9 years, the price of bus tickets has tripled and my visits to Sancti Spiritus have become so infrequent that I have spent less than 8 months total there in all of this time.
This may explain my compulsion to constantly compare the city of my birth to Havana, or the impulse to pigeon-hole the people of Sancti Spiritus into descriptions as simplistic and absurd as:
They are stout, kind-hearted people who ride bicycles everywhere, walk slowly and never shove each other while on a bus.
Some days ago, I made the trip down to see my family and took photos of many different parts of the city. The conclusion I arrived at is the one I always reach: Sancti Spiritus is not Havana. This time around, however, this impression was not disquieting.
You could even say that this realization was reassuring.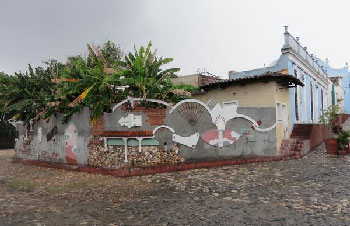 Though there are signs of an effort to replicate parts of Havana here and there, it is evident such urban experiments met with failure.
Like Havana, Sancti Spiritus boasts a Coppelia ice-cream parlor, but the provincial counterpart lacks the long queue of people outside. The old American cars you see here are not privately-owned cabs where people are squeezed in like sardines. There are hundreds of Socialist-styled apartment buildings around town, but these have no leaks or clogged-up pipes.
While it is true the city has a next to inexistent cultural scene (something which hasn't changed in 8 years, perhaps 20), it is also happily devoid of beggars, alcoholics passed out on the sidewalks, streets filled with rubble and buildings struggling to remain standing through acrobatic feats. Overcrowded housing is slowly disappearing.
The people of Sancti Spiritus can rely on a punctual public transportation system. They buy bananas at 50 Cuban cents each, and green string beans for 3 pesos a bunch (exactly half what one pays in the capital). Their butchers use accurate scales to weigh the meat you buy from them.
Finally, there is one, fundamental difference between these cities: it is to be found in the faces of their inhabitants. Havana, the place of opportunities, is filled to the brim with weary, desperate faces. In Sancti Spiritus, by contrast, it's more common to see a kind gesture or a smile.

Click on the thumbnails below to view all the photos in this gallery. On your PC or laptop, you can use the directional arrows on the keyboard to move within the gallery. On cell phones use the keys on the screen.