Guilty until Proven Innocent
Danae Suarez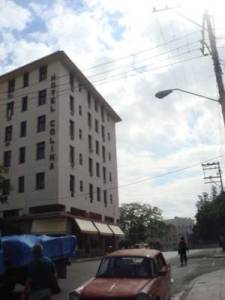 Gabriela is 17.  In my opinion, she's a simple, easy-going youth without a lot of pretenses.  She doesn't go through life trying to take out advantage of every situation that presents itself; on the contrary, she's studying electronic technology because she wants to be useful in the future.
However "Gaby," as her friends call her, committed an error: she sat down in front of the Colina Hotel to wait for her boyfriend at the very moment a foreigner walked by.
The man came up to her to ask her for directions and minutes later a police patrol car pulled up.  Without asking for any explanation, they picked Gaby up and took her down to the station.
"I was caught on camera and they hauled me in," Gabriela tried to explain to me later on. (It's necessary to explain that in this area, like others in Havana, there are security cameras that supposedly "control" the situation on the street.)
She spent several hours at the station, where Gaby's explanations served for nothing.  It didn't matter that there was no concrete proof of her "guilt."  Gaby was under arrest – period.
A while later — thanks to her having had her cell phone with her — her mother and boyfriend showed up and the police agreed to release her under one condition:
"Bring me six letters from your school, from your Committee for the Defense of the Revolution (CDR), and from other places explaining that you're not a putica ("a little whore")," an officer told her.
Gaby and her family were so afraid that they didn't know what else to do.  Since they "didn't want any problems," they would get the letters and the case would be closed.
However I was filled with indignation when I heard the story.  I think the abuse meted out against Gaby showed a tremendous lack of respect for her human dignity.
Had I been the victim, I would have formally pressed charges against the official for libel.  Later, though, I remembered I wouldn't have been aided by our laws because in this country — because to the astonishment of everyone — we're "guilty until proven innocent."