The Pablo Milanes Concert
Dariela Aquique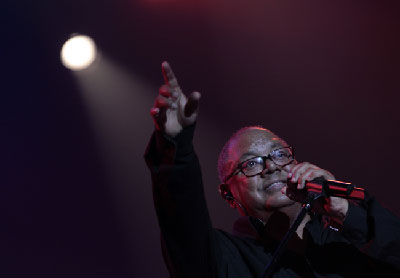 HAVANA TIMES — I had come to Havana and was thinking of staying for only three days when the friend who had put me up told me of Pablo Milanes' concert at the Karl Marx theatre.
The concert was scheduled for May 19th, at 5 in the afternoon. I was very much enthused about the prospect of attending– I hadn't been in a concert thrown by our beloved Pablo for quite some time.
Once again enjoying a live performance of Time, Implacable Time (El tiempo, el implacable) or Your Brief Absences (El breve espacio en que no estas), struck me as one of the best things that could happen to me during my brief sojourn in the Cuban capital. I invited my friend Circles to the concert and we agreed to meet at the theatre.
Unfortunately, I had to attend to some personal matters in the morning and, seeing that I would not arrive at the theatre in time (the house I was staying in is very far away from the venue) I reluctantly decided not to attend the concert.
The concert had not enjoyed much publicity, at least not as much as other performers are usually given, or when the shows are conceived as part of the celebration of a public holiday or other official functions.
As we can all assume, any other artist would have taken advantage of the date and dedicated the concert to, say, Jose Marti's death in combat, or would have used any other strategy to secure the logistic support of official institutions or a broad promotional campaign.
But Pablo Milanes needs no such strategies. Singing to the public is good enough reason for him, and this is what he proved again. Circles called me a few days later, telling me he had good photographs and asking me if I wanted to do a review of the concert.
I explained to him that the reason he hadn't seen me at the concert was that I hadn't gone. He told me he thought the performance had been fabulous, that, despite his age and health, Pablo was still full of vitality.
He also described how gratifying it was to hear the song Yolanda, sang by the man from Bayamo himself. We were both of the opinion that the concert was not likely to be televised.
We thought that the controversial Internet polemic between Edmundo and Pablo and the singer's declarations on Miami television would be reason enough to deny Cuban audiences a broadcast of the concert.
Thankfully, we were wrong and, last night, the concert was aired on Cubavision's program Performances (Recital). I was infinitely grateful for this, feeling slightly less frustrated over having been unable to attend in person.
It was good for me to see this man who, a little over a year ago, had endured the limbo of incomprehension, accused of being paid for his critical statements, of being senile and unstable by one side, and of being an opportunist and a hypocrite by the other.
That day, he was getting back on stage, before several, cheering generations of listeners, before prestigious artists and cultural figures. And before me, who, despite seeing the concert on the TV, enjoyed each and every one of his songs.
I was finally able to do the review Circles had urged me to write.