Photos by Ana Maria Gonzalez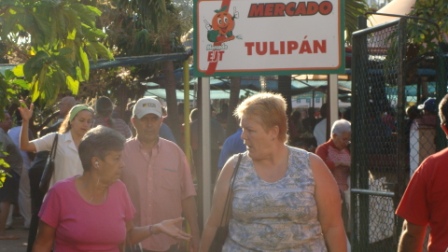 The morning that we went out to make the first purchases in the market; we spent about 240 regular Cuban pesos (20 = 1 USD). We had discovered a market run by the Youth Work Brigade (EJT), which means that the products are cheaper and have the same or maybe even better quality than other markets.
Although that quantity of money is staggering for university students, we were thrilled to be able to load up on so much food for the house.
In the market we divided up the purchases. Ana Maria was responsible for yogurt and eggs. While she waited in line, a more than seventy-year-old man struck up a conversation with her.
That is one of the characteristics of Cubans, which can be a quality or a defect, depending on how you look at it. It doesn't matter how much or little trust there is between two people; if they cross paths in the same place, a conversation begins.
The line that Ana Maria got in was especially long and moved slowly. Most of those who were waiting to make purchases were elderly, except for my friend and a woman behind her with the look of a bored housewife. Beneath her neglected appearance, you could discern her young age.
The man began speaking to my friend about the prices of the products that could be bought in the market, their quality, and the treatment by the salespeople. Then he directed the conversation -rather the monologue- toward what it meant for him to be old.
In his house, he was relegated to the most tedious tasks, such as shopping and taking out the garbage. There was a pensive moment; he contemplated, and then he asked Ana María how it was possible that such a young woman was getting in a line at the market to buy eggs and yogurt.
Ana Maria, already a bit dizzied by the gentleman's dissertation and the boredom of being in the line, decided without thinking about it to tell him a story.
She told him that she had a family to take care of – three small children and a husband that required all her attention. The man was taken aback.
"And don't you work?" he asked.
"Yes, in my house, attending to my family," Ana María told him, looking at the girl behind her.
"And your husband doesn't help you?"
"Sure, he helps me all he can."
"Does he work a lot?"
"No, he's retired, but from time to time he'll meet with some university student who needs help."
"And how old is your husband?"
"68."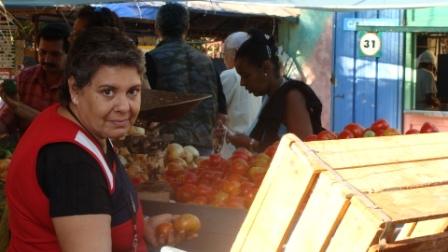 With that disclosure, several men came up to my friend to ask her more questions, and to flirt. They were all were delighted with the fact that a woman so young had a whole house to take care of, in addition to a husband so much older, and an appearance so well kept.
"Of course, just because she's a housewife doesn't mean she should neglect her appearance," said the man, aiming his comment at the other woman standing behind listening.
A little before Ana María's turn to buy came, one of the men, who had distanced himself from the questions and flirts, came up to my friend and gave her a copy of the newspaper Juventud Rebelde (Rebellious youth). He opened up the page on sexuality, in which there was a title that made him laugh for a good while. It read, "Round trip self-eroticism."
Click on the thumbnails to see all the photos in this gallery