Good Energy for a Good Concert
Irina Echarry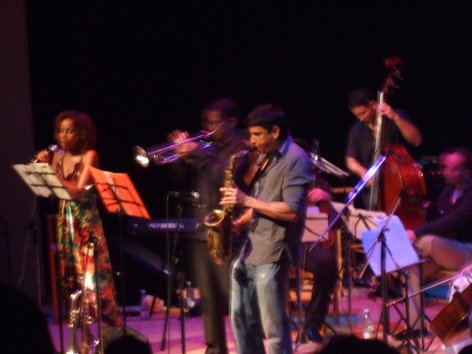 A few days ago I went to a concert with some friends.  We left the Alamar neighborhood at 6:30, thinking that we wouldn't get there on time because the event was supposed to start at 7:00.
When we got to the bus stop we were still optimistic; only one of us believed this would all be for nothing.  We weren't waiting for even a minute when the bus appeared, and we were able to get on without problems.  We even got seats – something that hardly ever happens.
As usual, the workers at the Museum of Fine Arts tried to get everybody in that was at the entrance. Thanks to them we were able to get in.  We sat on the stairs since all the seats had been taken.  In other theaters it's difficult to get in without tickets bought in advance, but here it's never too late.
It's no secret that listening to trumpet player Yassek Manzano means enjoying an indescribable pleasure.  It's not only difficult to translate into words what you feel when such good jazz penetrates you, but also the sensation of well-being that floods your mind and body, which is intense.  I know that I'm not saying anything new; I only want to emphasize how pleasurable it was to feel so much positive energy in a concert.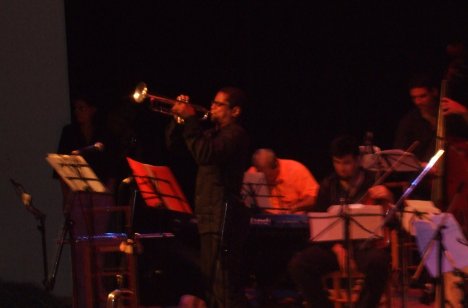 Yassek —despite his being able to rub elbows with the greats of the art form— maintains a certain down-to-earthiness on stage.  He joked with people in the crowd, flattered their female companions, praised everyone who came up to perform (in this case the Amadeo Roldan classical quartet; Yanet Valdes, who sang jazz in a lyrical style; and Emilio Morales, an outstanding pianist).  What's more, he constantly thanked the audience for attending.
This is a common attitude among young jazz musicians, accustomed to jam sessions with acquaintances in small, more intimate settings, almost always among musicians.  These youths don't cut themselves off from their old friendships so easily, even though they've won prestigious international or national awards and are today renowned artists.
We were able to hear works written Yassek and versions of other artist's songs, such as Alma Mia, which in years past had been interpreted by Beny More and Drume Negrita.
Upon exiting the theater —accustomed to having to wait long spells to get back home— I was surprised to promptly get on another bus and again find a seat.
Riding relaxed and having heard good music in a pleasant atmosphere… then what surged up within me was a tremendous uncertainty: Could it have all been a dream?