Irina Echarry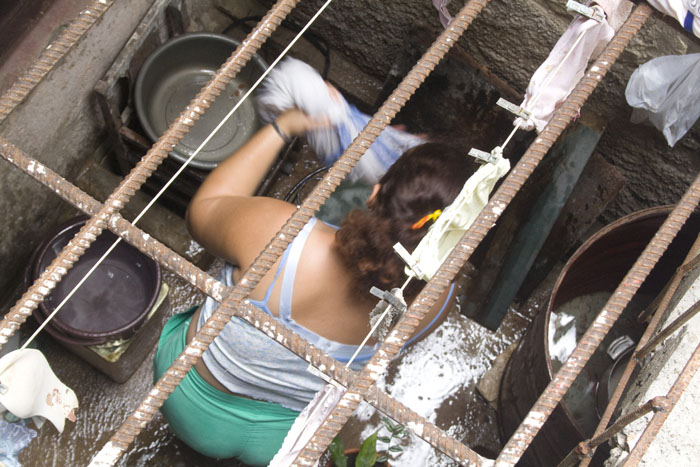 The man came closer, said good morning, and asked me: "Do you have children?  Well when you do, don't do that."
I followed his accusing finger and my eyes fixed on a woman with an umbrella and a boy walking behind her.
"She's a child abuser; there she is all shaded from the sun and the poor boy is walking behind her unprotected.  That's something you should never do," the man added.
My first impulse was to thank him for the advice.  Then I went over closer to the woman and saw her weighed down with bags, sweating and overwhelmed because the boy was restless and didn't want to give her his hand.
I talked with the boy.  He was tired and it would still be a long time before he got home.  He complained that his mom didn't want to carry him (he was stocky and around six years old).  I convinced him to take my hand and I led him across the street.  I helped his mother with a few bags and thought, "Couldn't that man who gave me the advice have helped her?  It's very easy to judge others."
On my way home, after I was able to get on the bus and even find a seat, fatigue hit me and almost made me faint.  I saw the skies open when I discovered that an acquaintance of mine was on the bus.  She lent me her fan and talked about I don't remember what —while I sweated and tried to catch my breath— until her stop came.  She said goodbye and got off.
I felt dizzy sitting in the sun that came in through the window.  I again wondered, "Wasn't she worried that I couldn't make it home?  We live in the same neighborhood; I'm only a few stops down, and now I'll have to get off by myself."
At once I understood that I shouldn't think badly of people.  The young woman was perhaps in a hurry; it could have been that people were expecting her, or that she hadn't eaten anything all day, or that she had something urgent to take care of.
Would I have gotten off with her if the situation were reversed?  I don't know.  Right now I think I would have, but the cold truth is…who knows.  I'd have to see what my circumstances were.
From now on, I'll try not to judge people. It's hard, but I'll try.