To Shave or Not to Shave in Cuba
Irina Pino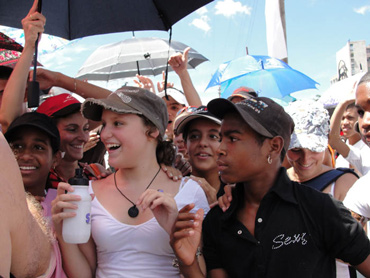 HAVANA TIMES — To follow the latest fashion, Cuban teenagers shave their pelvises and genitals. Many don't even like to have peach fuzz on their faces. Before this dominant trend, there are apparently only two alternatives: either we shave or accept being labeled savages.
When I asked the classmates of my fourteen-year-old son, they said they did it because that was in, and that those who didn't were mocked or called "disgusting" (which is the same as being an outcast) – and this at a time when most of them haven't even had sex yet.
The girls said something similar: nearly all of them told me they shaved. A few didn't want to answer my question, perhaps out of embarrassment (something uncommon here).
I told my son that razors can create small lesions on the skin, bumps and ingrown hairs that become infected and can be very painful. He burst out laughing and told me he would rather be free of those "bothersome little hairs" and risk the consequences than be shunned by his friends.
There are many different hair removal methods: laser hair removal, waxing, the Brazilian method (with tweezers), permanent depilation through electrolysis, the use of creams that inhibit hair growth. I've heard of one method which uses sugar and lemon, natural substances that don't involve health risks.
Hair removal has been practiced since antiquity. It was common in Rome and Egypt. Many millennial cultures practice it for hygienic, religious and even tradition-related reasons.
Before the 20th century, many painters and sculptors would often portray the human body devoid of pubic hair (though, between 1501 and 1504, Michelangelo sculpted a humorous bit of pubic hair over David's groin; Goya did this in his La maja desnuda, painted between 1797 and 1800, and Gustave Coubert's The Origin of the World, a realistic painting from 1866, shows a woman's genitals with abundant pubic hair).
In the century that followed, we began to see nude bodies with such hair, particularly in photographs. According to one hypothesis, pubic hairs collect pheromones and heighten sexual arousal. People, however, ought to make a conscious decision regarding this.
Today, young people follow the shaved genital fashion, not as a conscious choice but because of peer pressure (this is what makes the trend negative). As I recall, when I was a teenager, my friends and I would shave only when we put on bikinis and didn't want those playful pubic hairs poking out of our swimming suits. Afterwards, however, we would let the hair grow again.
I think the arrival of pornography (through the Internet and other means) has, in good measure, contributed to spreading this practice among young Cubans, because of the stereotypical bodies they see in it and because it makes oral sex more "comfortable."
Behind all this, however, there is a huge publicity machine that sells you an image and a product, another way of luring us into the market and making profits.
I believe we must learn to respect diversity, the preferences of those, for instance, who may find it exciting to come across hairs in that delicate erogenous zone.