Jorge Milanes Despaigne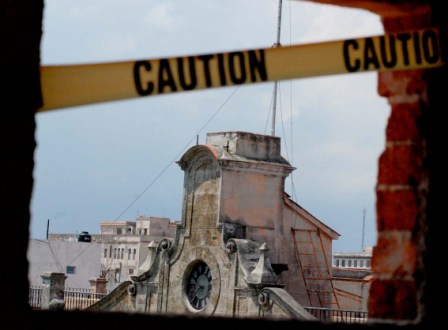 To live in Old Havana is to enter into direct contact with living folklore: people playing the drums or singing to the rhythm of salsa or dancing reggaeton to sound blasting from a car cruising down the avenue.
To live in Old Havana is also to enjoy our customs: playing a traditional game of dominos, sharing a bottle of rum, joining in a hot conversation on any corner, raising your pigeons on the roof and then watching them fly free in the blue sky.
But you have to walk carefully among columns, walls and under balconies – buildings that haven't had the good fortune of being included in the restoration program led by Havana City Historian Eusebio Leal.  Though challenges remain, this man has now transcended the history of this enigmatic city for his efforts to rescue its architecture, which is as old as it is historical.
This morning I was walking down Obispo Street, one of main streets in the old city.  I had just crossed Compostela St. when I heard a thunderous crash that compelled me to turn around and look.  Today I was "born again."  That's what we Cubans say when we escape an extremely dangerous situation unscathed.  And that was my case: part of a balcony on the corner of that street collapsed right behind me.
I was on my way to see a friend who lives on O'Reilly Street.  Once I got there, I told him what had occurred and he offered me a glass of water.  While getting it, from the window he pointed out a building to me that was in total ruin.  The great majority of its residents had been evacuated after a Hurricane hit the city two years ago.
He doesn't know what happened to its former occupants, but there's still one family that lives in the little room on the roof of the building, though their lives in constant danger.  Such uncertainty is upsetting to me.  I can only imagine the existential anguish they feel.
I think about how many other Havana residents live in similar circumstances and each one's interpretation of the word "hope."