Scuba-Diving in Cuba: A Therapeutic Experience
Jorge Milanes Despaigne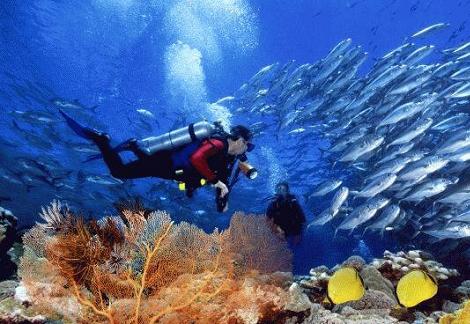 HAVANA TIMES — Scuba-diving "was" a forbidden sport for nearly all Cubans. The impressions associated with it are therefore unknown by a great majority.
At the end of the 80s and beginning of the 90s, Cuba offered a series of aquatic activities for tourists only (in a package known as "Seafary") at the Tropico coral reef, located to the east of Havana. These included scuba-diving. I had the opportunity to enjoy a number of these activities, along with other workmates, at a time when they were forbidden.
We already knew how to swim, and we were taught how to put on the wet suits, clean the goggles, check the oxygen tank valves and decompression rates, breathe in a relaxed manner (so as to save oxygen and remain more time underwater), keep an eye on the tank's oxygen levels and, lastly, how to communicate with the others via signs. After this, we were taken to a swimming pool for a training dive with Carlos, a professional scuba-diver (who I believe is still active). He took the risk of taking us along so we could enjoy the fantastic, beautiful and breath-taking submarine landscape.
The departure date arrived. We were with the tourists at the Guanabo marina. The captain set sail at full throttle towards the Tropico coral reef, one of the tourist destinations that had been cleared for scuba-diving.
Following the instructions, I put on my gear and jumped into the water. It's a psychological process different from what one learns in the swimming pool. First comes the body's immediate reaction, a kind of vibration. Faced with the impressive underwater vista, one hears only the echo of the bubbles that issue from the body. White, red, orange and blue coral dapple the ocean floor, in perfect harmony with the gulfweed, a carpet that takes me on a fantastic journey. Time? I don't know, I forget all about it. I am immersed in a journey towards a different dimension.
After a while, the leading scuba-diver's signal puts an end to the journey. It startles me: I was profoundly engrossed in another dimension. Now we have to head up, slowly, towards the surface, to reemerge into the real, noisy world.
It's hard to express what one feels, describe what one sees. Those who have not had the opportunity to experience this fantasy find it even harder to comprehend. I don't know whether it's possible today for Cubans. I do know many people scuba-dive on their own, while fishing. At any rate, I recommend scuba-diving for its therapeutic benefits.