The Most Beautiful Woman in my Neighborhood
Jorge Milanes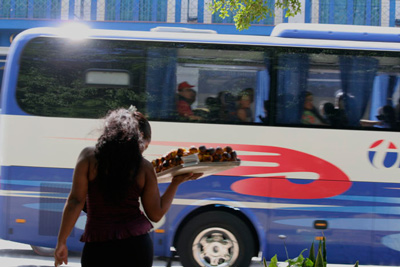 HAVANA TIMES — She flung open the gate and rushed out to the street wearing a beautiful black dress, picture hat and high heels. Was she going to a party?
A heavy, afternoon downpour had drenched everything. I was waiting for the rain to stop at a bus stop. I saw her running down the street, splashing along, barefoot, holding the high-heels in her hands. The soft movements of her body filled me with life as the rain washed away the makeup on her face.
Some instinct drew her near. She sat down beside me, looked at me and began to sing: "You are the love of my life…" I looked at her, realized who she was and pretended to ignore her. Faced with my indifference, she got up and, like a bird, picked up flight under the rain.
It was Rosa, the most beautiful woman in the neighborhood, the girl who went to school with me. We all sang her praises, because she had a body and beauty comparable to those of Marilyn Monroe.
Her mother, who looked after her, is no longer with her. She left her here, in Cuba, years ago, when she moved to the United States with her brother.
At the bus stop, an elderly man tells me that, last week, he saw a naked man dash out of the house, carrying his clothes in one hand, and Rosa, chasing after him with a machete in her hand.
Rosa gets to the street corner, stops and walks slowly back down the middle of the street. She comes back to the bus stop, sits down beside me, fixes her eyes on me, places her bright red lips next to my cheek and yells: "You're all driving me crazy, for Christ's sake!"
She frightened me. I tried to cover my face with my hands, pretending not to listen, but she raised her arm, made out my face and vented all of her mad rage on me with a slap on the face. She got up and walked away under the rain, as though nothing had happened, until disappearing in the distance.
Taken aback, the man at the bus stop said to me: "You better leave before she comes back."