Inverted Timetables for Cuban Students
Mercedes Gonzalez Amade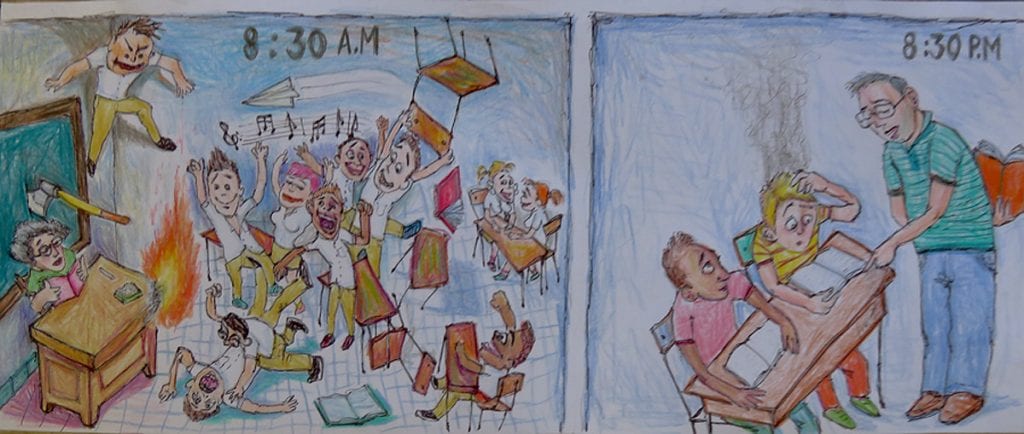 HAVANA TIMES — I have a 15 year old son who was studying in 9th grade through June of this year, a difficult age when their priorities vary on a frequent basis. My crazy little man though, luckily, wants to carry on studying.
His strength has always been the arts; science is a real torture for him. I've already written here about the shortages there are in high school teachers, and the low quality of the ones who remain in the classroom.
Carlitos' junior high school is no exception. Last year, the academic year started off well, as the Minister of Education had claimed, but four months in, 9th grade no longer had physics or math teachers. At the end of the school year, a teacher was hired who tried their best but he couldn't make up for all the lost time.
The number of suspensions was horrifying: nearly 90% of the student body, my son among them. Talking with other parents and teachers, I found out that this problem is widespread across the nation.
In my humble opinion, as a mother, the problem isn't just a lack of teachers, but the content they're teaching and the methodology they use. I'm not the best person to criticize the education system but it's clear that something very serious is going on; because it's unprecedented that so many students are failing.
Kids have their timetable completely inversed: they go to school to have a good time (according to the commotion that you can hear coming out of classrooms) and they take studying seriously in their extra-curricular time, revising – and sometimes seeing content for the first time – with private tutors. It's not just the students, but the private tutors too who have more interest that the teachers paid by the State.
We had a terrible fright at home; my son excelled in some subjects and was finally able to pass the year.
Thinking about all of this, one question keeps coming to my mind: What should we parents do? The first thing that comes to my mind is to hire the same private tutor for the school year that's just starting. We can't live this year with the same anxiety.