The New Constitution and Young People in My Neighborhood
Rosa Martinez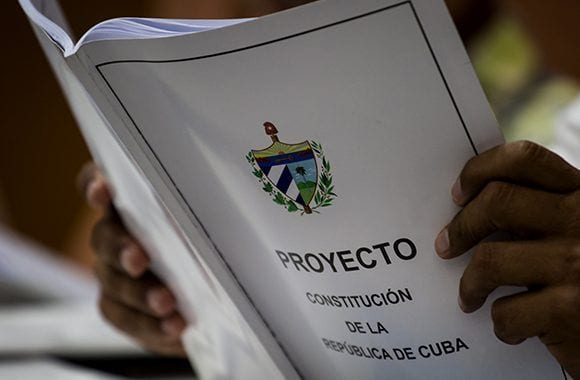 HAVANA TIMES — A new Constitution, which implies significant changes for society as a whole, will start being signed off by the Cuban people. Its different chapters and sections will be discussed, people will analyze each and every one of them and will give their opinion about these much-needed changes; same-sex marriage is of particular interest, as is the subject of wealth accumulation and freedom of speech, of course, among others.
However, while these matters of great interest for a more inclusive, fairer Cuba which better resembles other countries are being analyzed, something special is happening in my neighborhood:
A group of young people are meeting, like they normally do, on the "heated" corner (because of its peculiarity of bringing young and not-so-young people together).
This time, it was young professionals who came together: a nurse who everyone in the neighborhood loves because he always offers his support for anything relating to his field, two newly-graduated doctors, an agricultural engineer, an electrician, a builder and a teacher.
They weren't talking about the new Constitution which is currently being cooked up here, which is the talk of the town, but not for most young people. They were talking about wages and jobs.
The doctors say that they want to go as soon as they can on a mission abroad so they can resolve several financial matters, so they can continue getting by however they can, without a lot of struggling. One of them says that when the first mission comes along he will stay in that country, wherever it is. "I feel bad for my parents, they aren't expecting it, but they can't possibly think I'm going to spend my whole life like they have," he says decidedly.
The nurse doesn't want to travel or anything like that, he just wants to leave the Public Health sector and find a better paying job which allows him to live a dignified life. Even though he is someone who loves his job and is very good at what he does, he doesn't want to spend his whole life inventing in order to survive, even though he knows that he has one of the best paid jobs in the country.
The agricultural engineer has one of the toughest situations. He comes from a very modest family and he's responsible for helping raise his two younger brothers. And to make matters worse, he works for a company that doesn't pay in hard currency, that's to say he only gets a little over 500 Cuban pesos (20 CUC=USD) per month. His dream is to find a company that pays incentives in national and hard-currency because he doesn't know how to do anything other than his job.
The electrician and builder are self-employed. They turn up when they want to, they work the days they want to, nobody controls them, they are only interested in pleasing their clients… and when it comes to money, the builder doesn't complain, he earns double or even triple what his friend the doctor makes with a small project. He already has a team of people working for him and he doesn't even have to pay any kind of tax because it's all done on the side.
According to the electrician, his job is very nice but there aren't always private jobs, which is why he finds himself forced to do other things in order to maintain himself and his family. But, he does make it clear that he won't work for the State, he isn't going to wait a whole month to earn 400 or 500 pesos, he can get that much selling garlic on the street even.
The teacher really made things clear. He said he asked for time off from the semi-boarding school he worked at six school years ago and doesn't know what to do, but he doesn't want to go back to Education. And not because he doesn't like being in front of children because even though students are becoming more and more indisciplined, it was his low wages that made him leave. He is reorganizing his life right now and will probably go to Matanzas to work in construction or whatever he can find. You can get 5,000 or 7,000 pesos per month there, he told the others.
While social media is buzzing with debates about the new changes being made to our Constitution, young people in my neighborhood (none of whom are lazy) are only concerned about how to live a better life, what they can do to lead a dignified life without having to resort to crime, scamming and stealing from others. This should also be one of the new Cuban Constitution's priorities. Maybe I haven't see every parliamentary meeting, but I haven't heard them talk about any of this yet.