The Start of the School Year in Cuba
Rosa Martinez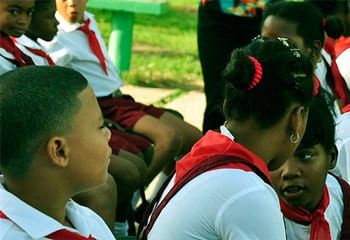 HAVANA TIMES — Every country – every culture – has its own customs and traditions, its important and memorable dates. Without a doubt, September 1st is one of Cuba's most significant dates.
It matters little that people speak of the declining quality of education; that one feels children are spending more time in the classroom and learning less; that some schools have deteriorated over time (without any maintenance work); that this or that teacher isn't exactly an example to be followed by his/her pupils, or that our educational institutions enforce military regulations with respect to school uniforms, boys haircuts and how girls are to style their hair.
None of that matters, really, because, on September 1, families feel a part of the school and everyone, from parents, through cousins and neighbors to grandparents, pitch in with whatever the little ones need to go to class (pencils, erasers, sharpener and even daypacks).
Everyone stands outside their house to see how well the school uniform looks on Luis, who's started at pre-school, or to see whether Daniela, going into second grade, no longer cries when her mom sees her off, or whether Rafael, who's one of the neighborhood's devils, has changed a bit now that he's starting junior high school and becoming a man.
In Cuba, classes can start on the first, second or any other day of September – it varies from year to year. What doesn't change is the look of joy on the little ones when they reunite with the teacher they love or a friend with who one sometimes shares a bit of bread, a glass of lemonade or a soda. Then there's the joy of raising the flag and singing the national anthem – only primary schoolers feel that much patriotism on singing the Bayamo Anthem.
The neighborhood goes quiet in the morning: there isn't a single child, teenager or young person who hasn't headed off to school. Grandparents can have a rest from all the noise, but, in the afternoon, the children will be back with stories of a classmate who's just arrived from another province, someone else's prank, the new teacher who's stricter, or prettier, or about the school that's now nicer after being repaired.