Veronica Fernandez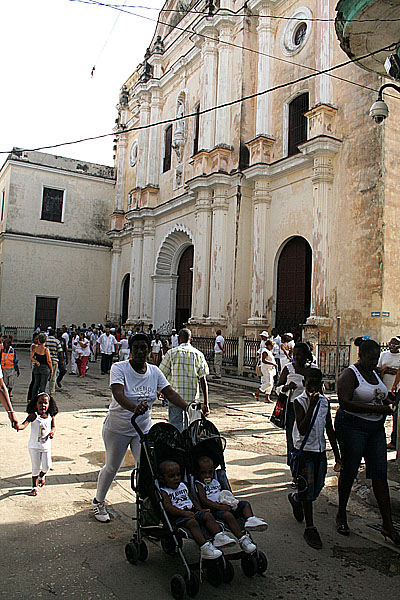 I'm not one of those people who go to church regularly out of devotion or who preach or hold a deep religious faith within their soul.  I do feel great respect for others though, whatever their status or religion.
About two weeks ago a very curious thing happened to me.  A short distance from my house I ran into a person who I hadn't seen for many years but who had been very close of my family.  I remember her from my childhood and adolescence, when my mother would always tell me that Adelaida was an excellent person given her way of behaving —with her kindness, respectfulness and helpful attitude— and that she was very Catholic.
Although we and this woman had lived in the same neighborhood, Cojimar (located to the east of Havana bay), I didn't recall ever having visited her.  Nevertheless she's one of those people who are always remembered with delight; so when I saw her I felt a surge of sheer joy thinking back to those days of long ago.
Adelaida commented to me that she felt dejected because she was going through a situation for the first time in her life as a Catholic – one that she had never before experienced.  As she went into the details, she explained that she continued to follow the religious faith instilled in her by her parents since she was a little girl; however now she felt disappointed and disillusioned with what was happening.
With tears in her eyes and a trembling voice, she brought me up to date with all the events in her last stage of going to the church in Cojimar.  Notwithstanding, and despite everything she told me, she said that her belief in her faith would continue.  This was despite the fact that some of the other people who had regularly attended that house of the Lord no longer came; they had begun going to other places.
Adelaida told me with extraordinary shame that the priest of this church did not present himself in accordance with the religious faith he preached.  In fact, he had been the instigator of scandals and abuse against his parishioners for having surrounded himself among certain people – with whom he had been seen in public places consuming alcohol and arriving drunk before the temple of God.  She commented to me that she had always gotten along fine with all of the other priests who had preceded this one.
Events such as this of course impact me enormously, as is natural.  I then asked her if the priest of that church was Cuban, but she responded that no…that he was from the Basque country.  However that reminded me that around two years earlier the priest at that same church was one of those who had apparently died as a result of a series of killings carried out against priests in Havana.  According to popular opinion they "received their just due."
I told her that what was happening was extremely serious and compromising.  Let's hope it isn't true, because priests have always been people who inspire respect and honor; people who carry intrinsic moral convictions and show proper behavior before others.  They are those who give and demonstrate by example; they have always been people of prestige, so that when transmitting their word —which is God's word— they are able to lead us all along the right path.
But now I ask myself, how far are we going to go if this situation ends up being true?  How far must Cuban society go with this intolerable behavior?  What need do Cubans have to care about people with such reproachable behavior?  Isn't there a system of obligation and control over such people, even if they are devotees of the word of God?
I feel the same as my friend Adelaida, burdened by these events.  Though we pray that they're not all true, there's a popular saying that goes: "When the river sounds, it's because it carries something."