There was no coup in Venezuela
Caridad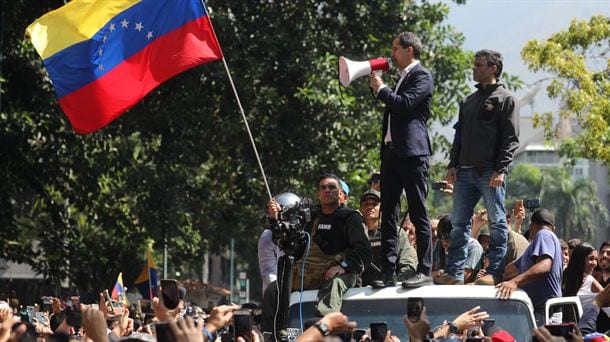 HAVANA TIMES – There was no coup d'etat in Venezuela on April 30th. Twenty-five militarymen with a few tanks, on a highway bridge that passes in front of La Carlota military base (in East Caracas); weren't going to overthrow any government.
The Miraflores Palace is at least 50 kms away from this military base. Nobody attempts a coup and shoots in the opposite direction to where the president is.
If there really was any intention to carry out a coup, Guaido would have crossed Caracas until he reached Miraflores. Or, he would have at least dropped some bombs from a plane. That's what Chavez did in his attempt to take power from Carlos Andres Perez in 1992.
With the director of SEBIN (Bolivarian National Intelligence Service), Manuel Ricardo Cristopher Figuera, on their side, then they could have achieved a lot more… if that's what they really wanted. But, clearly the coup (as Diosdado Cabello declared it) was not Juan Guaido's real intention, since it would look a little strange in the international community's eyes if a legitimate president was attempting a coup against the government of an illegitimate president.
In the beginning, it seemed so stupid to stop on a bridge with some boxes full of bananas and ammunition, arming an entire communications network, as if it were reality TV.
It was clear that they wouldn't get anywhere and that afterwards, it would be enough to demoralize those who wish for Maduro and his companions at Moraflores to leave. As the hours passed on, I found out that Maduro had already named the new director of SEBIN.
Saying "new" is a euphemism because he replaced him with the former director, who wasn't dismissed for leading one of the most blood-hungry repressive forces in recent decades, but instead for having stopped the procession of the presidential caravan; and to be perfectly clear: because he was Diosdao Cabello's confident.
During the hours the coup was allegedly taking place, Nicolas Maduro didn't issue a single statement. It was Diosdado Cabello who called upon groups known as "Collectives" as well as other Chavista supporters and militia.
The twenty-five soldiers who stood with Guaido, are at the Brazilian embassy requesting asylum.
At the very beginning, Juan Guaido said that they had seized the La Carlota military base. Bad for him because media manipulation is proof that you can manipulate people in other countries too. Yesterday, he was on the street, along with thousands of anti-government protestors, and announced the beginning of a tiered national strike in the public sector.
I don't know whether a national strike would be of any good in a country that is somewhat paralyzed. What strikes me is that Guaido has been accused of leading a coup attempt, even when the protests are still on the street. What is Nicolas Maduro afraid of? What agreement might the two parties agreed on?
The former SEBIN director hasn't fled his duties, in fact he seems to be the least dishonest in this situation, in spite of me never liking or trusting the military; but here you can read what he had to say. http://puntodecorte.com/comunicado-director-del-sebin-cristopher-figuera/