Yusimi Rodriguez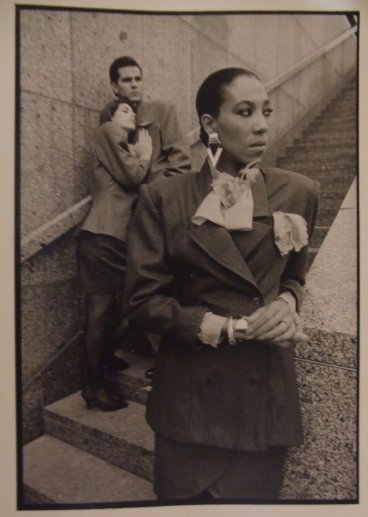 HAVANA TIMES, Feb. 4 – This past month I went over to my friend Mercedes' house to wish her a happy New Year's.  I got there around 4:00 in the afternoon and was surprised to see her hastily doing up her finger and toe nails by herself.
Her hair had been retouched and straightened with a clothes iron, since she doesn't have a curling iron or time to go to the hairdresser.
When finishing her nails, she went up to her room and returned with the night bag in which she had her cosmetics, two pairs of high heels and a wide-necked sweater to keep from getting makeup on her clothes when she applies it.
I know these preparations well: they're those of a runway model and typical in the life of Mercedes Aguirre Sotolongo… at least until almost twenty years ago. Perhaps her name means nothing to most people, but her face is often recognized in Cuba due to her many appearances on television in the 70s and 80s.
In addition, every weekend one could see her modeling the latest designs of the country's top fashion houses: Contacto, Buenas Tardes, Joven Joven… People recall the face of this black woman with Asiatic eyes and high cheekbones, though some here might find it difficult to describe her as beautiful – keeping in mind the usual Cuban standards of beauty.
Nonetheless, this is a face that is difficult for anyone to stop gaping at, and much more difficult to forget. Hers was a recurring profile in the magazines Miceláneas, Optica, Bohemia, the catalog of La Maisón and in Mujeres.  She doesn't feel she was a famous model, but she was indeed a popular one.
However, like the careers of athletes and dancers, those of models are short.  Only if a person takes a great deal of care —exercising and making sacrifices in what they eat to maintain a good figure— can they remain on the catwalk a little while longer. Mercedes Aguirre almost set a record: twenty-two years modeling.
She bid farewell in the early 90s, almost at the age of forty, when everyone said she continued to shine divine and still didn't have to retire.  This was probably the true success: her being able to realize the moment to say good-bye, before others did.
A return to the runway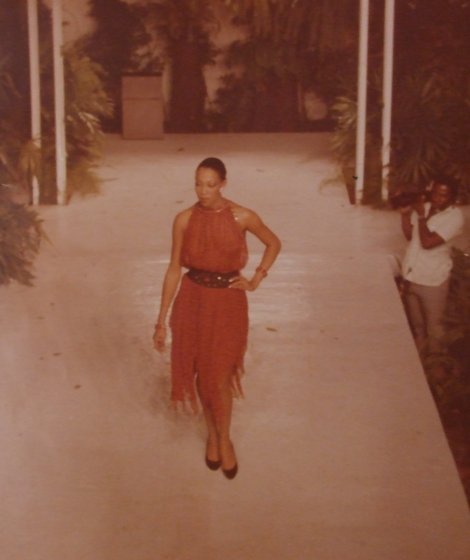 Almost twenty years after her retirement from the walkway, and now 56, Mercedes would again model at La Casa de Modas La Maisón in a show where retired models would reunite.
The "old ones," like Mercedes, would have an opportunity to come together, remember old times and work with each other after so many years. The idea emerged at the end of 2008, and on January 2, 2009, the first show was held with new and retired models who lived in Cuba and abroad.
These models included Dalila, Dayreín, Grei, Liliana ("Lilo"), Yara, Gretel, and Ariadna Perez Vidal (the daughter of the late broadcasting hostess Consoles Vidal). All of these retired models had stopped working at the end of 90s or the beginning of the following decade.
Also modeling was Gisleda, who remains active, and Mercedes herself.  With this show they paid homage to Rafael de León, who was the National Design winner and one of the most recognized designers on the island.
He was an artist with whom almost all of these models had the opportunity to work, though unfortunately he died a few years ago.
That night the models showcased the fashions of recognized designers Merci Nodarse and Rolando "Roly" Ruiz.  Also present were important personalities of Cuban fashion and culture, (among them designers Abraham Garcia and Ismael), other designers from the world of theater, Nobel laureate Gabriel Garcia Márquez, and Caridad Abrante (a co-founder of La Casa de Modas La Maisón). Generally, access to extravaganzas at La Maisón —including fashion shows— is restricted by the admission price: 10 CUCs (equal to more than half the monthly take-home wage of the average Cuban).  However, to attend this particular show it wasn't necessary to pay – it was by invitation.
Mercedes told me about that show, held early last year, saying it was fantastic and that she was happy to get together with her former colleagues again.  The designs they wore were elegant and of fine taste.  They didn't get paid for the work, but that wasn't important; they enjoyed the show thoroughly.
In fact, Mercedes never did this type of work with the aim of enriching herself, it was simply her passion.  This was why she devoted twenty-two years of her life to it.  When she began in this field in 1971, at the age of 18, models weren't paid at all.
Fashion for the revolution
However, it was essential that models be more than just beautiful faces and bodies.  They were encouraged not to live off their physical attributes alone, like ornamental objects.  One of the first tasks of the Revolution was woman's emancipation, and this was promoted by incorporating the image of women into tasks of agriculture and the people's militia.
Some models appeared in women's magazines wearing militia uniforms.  They also participated in fashion shows for the residents of remote mountains villages where this type activity had never before been seen.  Mercedes was in a group that modeled in the mountains of the Sierra Maestra mountains to celebrate the anniversary of the 1953 guerilla assault on the Moncada Military Barracks.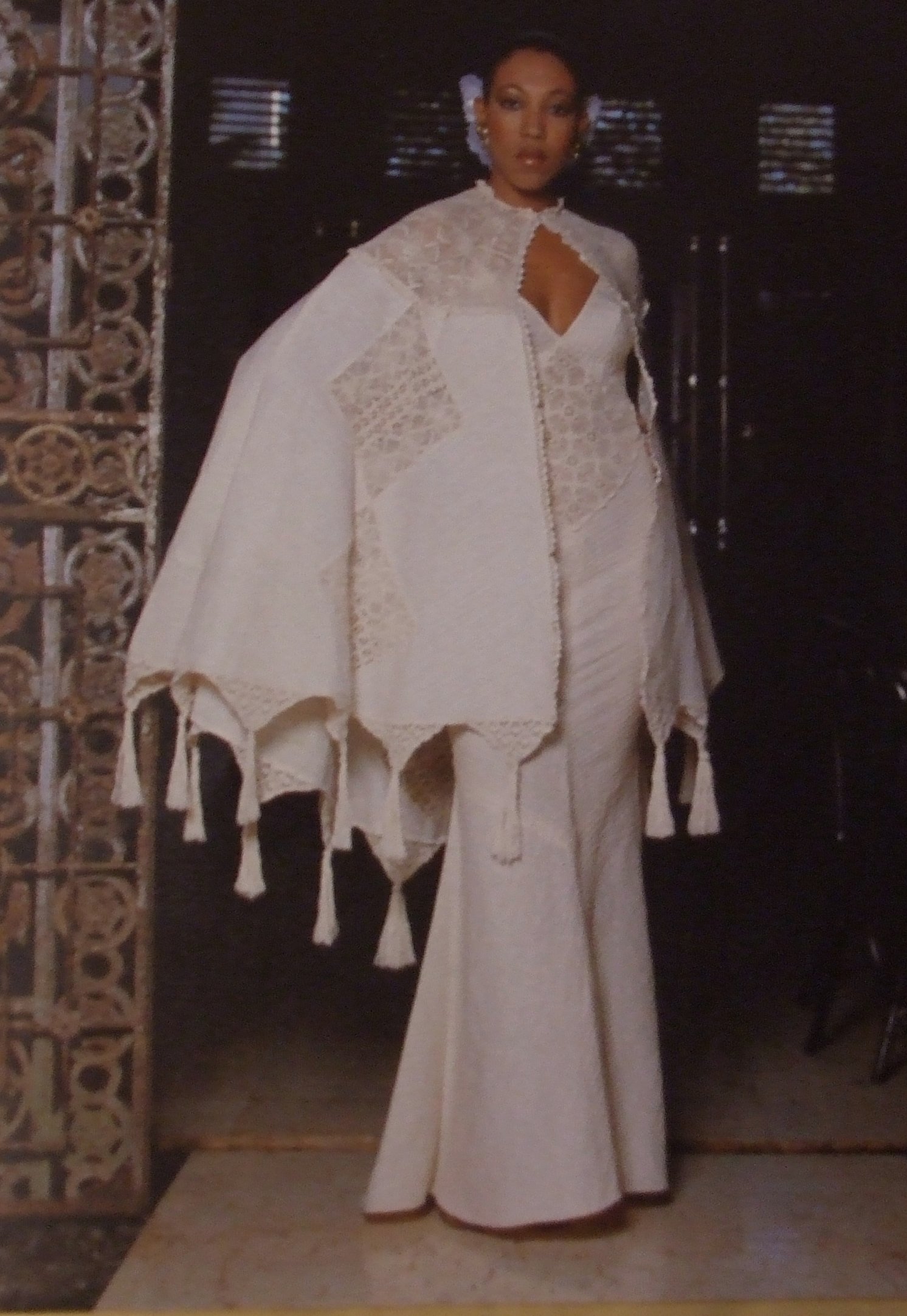 In the second half of the 1970s, models began to get paid for their work.  It never ended up being a sum of money even remotely similar to what a model receives in other countries. (Today, a model at La Maisón is paid 10 CUCs for each fashion show.)
However, these young women had more than enough work every month and were able to live off modeling.  This was especially true in the 80s, when the socialist camp still existed and our country enjoyed a much more comfortable economic situation. In any case, it continued to be required that they be linked to study or work.
Mercedes worked as design copyist in the Ministry of Light Industry, where she was also a model.  In addition she was a model with the Experimental Design Workshop, a precursor of La Casa de Modas La Maisón, of which she was a founder.
In her former years as a model, Mercedes traveled to several nations of the former socialist camp, but she always maintained her copyist position.  Since the end of the 90s, still at the same workshop, she rented out dresses for weddings and girls "sweet fifteen" parties. That was her work until she went into retirement in 2009.
She had planned to give modeling classes like she had once done in the 90s, and which she enjoyed tremendously.  She hadn't expected that the experience of reuniting with retired models would be repeated, so this new calling took her by surprise.
This time too it was necessary to have an invitation to attend the show but only retired models participated, including those that had participated the previous year.
The models exhibited clothes by Spanish designer Zara and by Cuban creator Juan Carlos Lopez.  However this time not all of the personalities and designers who attended the 2009 event were present, perhaps because it was an extremely cold night, one of the coldest this year.
That didn't prevent the models from displaying all their professionalism.  They even smiled when exhibiting low-cut summer clothes with suspenders, which left them quite exposed to the chilly evening temperature.  Fortunately one thing was better this year than the previous one: the models received something to eat at the end of the show, a detail that was overlooked in 2009.
The best —as almost always occurs— was saved for last.  When all of the models were getting dressed, Mercedes heard her name called to come up on the stage.  There everyone was waiting to pay her homage with a bouquet of flowers and a painting by Alex Castro.  This took her by complete surprise, but she was thrilled.
A few years earlier in the same house of fashion, homage was paid to her on National Culture Day, along with film director Lissette Vila and designer Piedad Subidat.  She always feels thankful for that because for her it was an homage that was well deserved after having worked in a very serious profession that requires commitment and dedication, in addition to a good appearance.
Mercedes doesn't know if they will repeat this program next year.  Nor does she know if she'll participate again.  She feels that she's no longer suited to the runway, though people in the street recognize her and tell her that even at 56 she still looks the same.
She believes though that fashion shows should exist with 40 and 50 year old models, not only to pay homage to those who have now retired, but so that the women of these ages can see themselves represented out on the catwalk.