Ballet in Santiago de Cuba
Photo feature by Janis Hernandez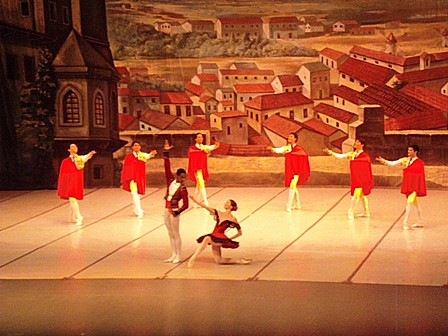 HAVANA TIMES —The ballet has always been one of the cultural activities I enjoy attending the most. Once again, Santiago de Cuba had the pleasure of staging a performance by a prestigious company at the main hall of its renowned Heredia Theatre.
The program consisted of an anthology of important 19th century dance choreographies.
Scenes from the second act of Giselle, staged to open the performance, were followed by fragments of Sleeping Beauty and The Nutcracker.
Following the intermission, the curtains rose on the first and third acts of Coppelia. The same acts from Don Quixote followed and, to give these performances a kind of cathartic conclusion, dancers staged the second act of Swan Lake and closed with Gottschalk's Symphony.
The audience, delighted with the performances of Viengsay Valdes, Anette Delgado, Lissi Baez, Jessie Dominguez and Sadaise Arencibia, responded with enthusiastic applause and ovations.
Male performers such as Victor Estevez (in Albrecht), Dani Hernandez (in Prince Desire) and Arian Molina (in Her Knight) also prompted enthusiastic ovations from the audience.
The most sublime moment, however, was doubtless Amaya Rodriguez' performance in Don Quixote, enlivened by Jose Losada's skillful pirouettes.
These artful performances did not quite manage to eclipse the unparalleled skill shown by Viengsay Valdes and her dance partner in Odette.
All choreographies relied on the masterful performances of a deft corp de ballet who ultimately earned a standing ovation from Santiago de Cuba's ballet crowd.
Note: Though photographs are not permitted during performances, I couldn't resist the temptation (and took a number of snapshots far from the stage). I hope that, after you see them, you will be able to forgive this minor misdemeanor.

Click on the thumbnails below to view all the photos in this gallery. On your PC or laptop, you can use the directional arrows on the keyboard to move within the gallery. On cell phones use the keys on the screen.