Beer Shortages in Cuba with More Tourism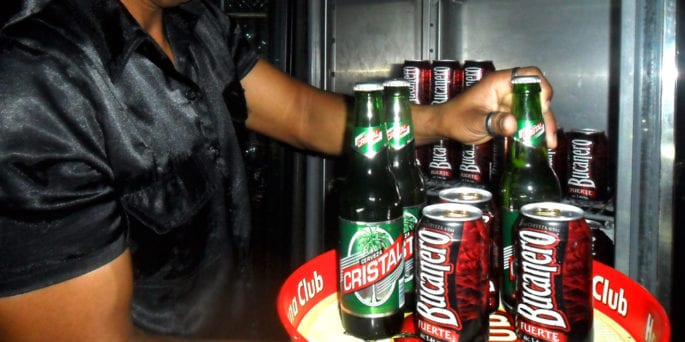 HAVANA TIMES — Beer drinkers in Cuba have been on edge since the press acknowledged the domestic industry's inability to satisfy the growing demand for the product at State hard currency stores and private businesses, a situation now coupled with the tourism boom.
The opinions expressed on the street range from indifference – "Who cares, as long as a beer costs 25 pesos and I continue to earn 400 a month, I'll never be able to afford it," a man from Sancti Spiritus says – to dissatisfaction, a reaction that becomes increasingly common as the regular peso market continues to experience shortages and the hard currency one becomes unstable.
"I just saw the owner of a restaurant load his car up with beer case after case," says Agustin Romero, from Sancti Spiritus. "Then, I go into the store and what do they tell me? That they've run out. Makes sense, I hadn't gone with thousands of pesos to buy in bulk, I'd gone to buy three measly beers."
This scenario is also common in Havana, where our reporters have spotted trucks full of Cristal-brand beer take a detour away from the sales point – where not even a single can is unloaded – and head straight for an address that the owner of a Lada car hands over to the driver along with a generous payment.
Some time ago, in a report that investigated the lawlessness of certain private bars and discos, some of the owners interviewed told of their maneuvers to ensure their locales had a steady supply of beer. "It's one of the most widely consumed products and I have to buy it in Cuban Convertible Pesos (CUC) like everybody else, transport it, refrigerate it and spend money on fuel to pick it up," one of them said. These strategies, in addition to the illegality that these establishments claim to be "forced" into, as most pay those who work in State warehouses to put away products for them, involve "solidarity" networks that enable hoarding.
In Santiago de Cuba, the truck driver who transported Cristal-brand beer denied this, saying everything was business as usual and that domestically-produced beers (Cristal and Bucanero, that is) hadn't gone out of circulation. "Look, my brother is coming from the United States and I want to buy some from you to have some in the house," the reporter told him.
It was only in the Pan.com coffee shop on Aguilera Street that he was able to find these brands. At the Santiago de Cuba Casa del Caribe, where there is a sales point, they were only selling Presidente and other imported brands that cost more than 1 CUC. One of the barmen said he hadn't seen Cuban beers for a long time and that it was normal for them to disappear like that.
"If you want your brother to drink beer, buy it now," one of the clerks at La Bombonera told him. The clerk claims that it's common for someone to come along and buy the entire stock of bottled Cristal-brand beer, and that the same was true of juices. "It's not like before," she said, referring to shortages that have become common.
Perhaps those who were loading the beer truck in Santiago de Cuba were sincere when they said there was nothing out of the ordinary with the supply. In Cuba, "normal" is any offer below the demand.
Toursim and the Self-Employed
"The times when beer collected dust in warehouses are behind us," Mario Duañona, employee for the Provincial Food, Lodging and Recreation Company, says, explaining that the offer has not gone down but that demand has gone up.
"Cristal and Bucanero literally fly," says Samy, who works at one of Las Tunas' Caracol establishments. He and people from other provinces claim that shortages are owed to the increase in the number of private restaurants and rentals, which tend to hoard these products, having greater purchasing power. At root, there are two main forces at work: a vertiginous increase in the number of tourists visiting the entire island (in 2015, Cuba saw the record figure of 3.5 million visitors) and the domestic industry's inability to increase production.
In 2014, Bucanero's inability to meet domestic demand became evident. By the middle of that year, the company acknowledged having "experienced production problems owed to delays in the import of raw materials needed for production: the malt, which comes from the Czech Republic." The production process, he added, requires a cycle of a minimum of 23 days, from the time the raw materials are received to the moment the beer is ready for bottling. Following this, the beer is distributed and sold."
"The Coralsa Corporation and the Bucanero S.A. joint venture recognize they did not offer the public timely information regarding production and shortages in the market," Yolanda Caceres Rodriguez, president of Coralsa, said at the time.
"On the one hand, we are obliged to sell to most of the self-employed, who still do not have a wholesale market they can go to, and, on the other, we have to keep our store chains supplied for customers wanting one or two cans," Hiyalin Menendez Leon, from the Grupo Empresarial de Comercio de Sancti Spiritus, explains, concluding with a fact very few people openly acknowledge: "We are trying to fight the battle at these two fronts, but, in the end, we're between a rock and a hard place."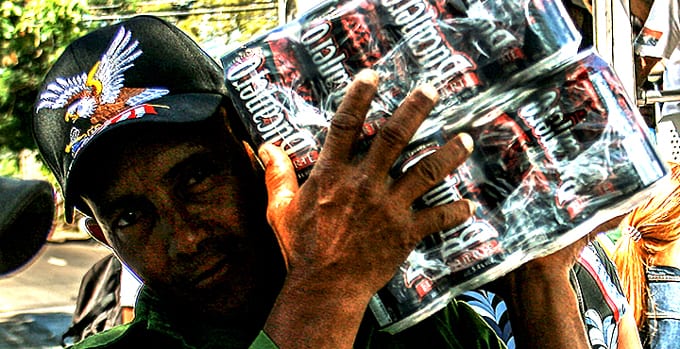 This is coupled with the fact two beer factories have ceased operations because of repair and maintenance (Caballos, in Ciego de Avila, and Manacas, in Villa Clara), the main suppliers of bottled beer sold in Sancti Spiritus and other provinces.
According to Menendez Leon, they've been fortunate because the plant in Camaguey is trying to meet the bottled beer needs of Sancti Spiritus has at the moment (though this temporary solution seems more of bandaid than a cure. "No way, the expert maintains "there's no way to satisfy the public and private business owners at the same time, much less in July and August, when the summer says 'here I am.'"
The months of July and August in 2015 cost the country more than 10 million dollars, as Cuba had to import beer in order to maintain basic supplies. And this was only in Havana, as a Ministry of Foreign Trade official was heard say, informally.
Today, not even in the highly hypothetical case that the shut-down factories began to operate and joined the current production infrastructure would there be enough beer. It is therefore not at all crazy to assume imports may continue to grow.
At hard currency stores, the situation is no less worrying. Not a single Cristal-brand beer were to be found in dozens of stores in Sancti Spiritus, Santiago de Cuba, Las Tunas and Havana last week.
At Guantanamo's Bucanero bar, they've only been offering Bucanero on tap, dispensed in three-liter jars sold at 7.50 CUC, some 187 Cuban pesos. According to one of the barmen, Atonio Foester, the supply of other Cuban beers commonly sold there, Mayabe, Bucanero and Cristal, ran out nearly month ago.
All the while, beer is not a problem at hotels belonging to Cuba's Islazul chain in Guantanamo. At the Marti, located in the downtown area, the ones most commonly sold to the public, at the higher price of 1.15 CUC, and imported beers such as Bavaria and Heineken. This suggests imbalances and even illegalities in the distribution of the product, as the manner this situation has been handled and the prices (which fluctuate in private establishments) suggest.
With the collaboration of journalists Gisselle Morales, Istvan Ojeda Bello, Carlos Melian, Lilibeth Alfonso and Rachel D. Rosas.
Cover photo: Lilibeth Alfonso.