Chronicle of a Bus Journey in Cuba
By Freyser Martinez (lahoradecuba.com)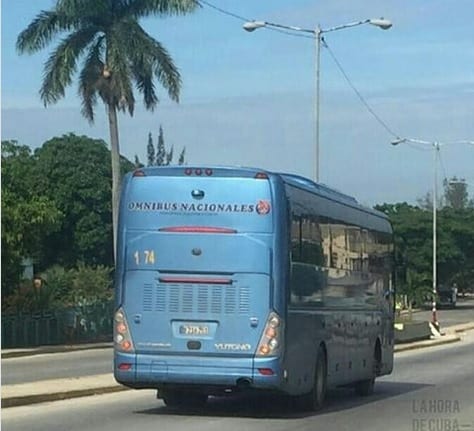 HAVANA TIMES – In the summer holidays, many Cuban families travel within the country. Family encounters are common right now. I went with my family to Holguin, to visit my wife's family.
With everything ready, we reached the Camaguey bus terminal and, as we had already booked tickets, we went to sit in the waiting room, or should I say sauna, as there weren't any fans and it was so hot you'd sweat kilos right off. To our surprise, a girl from the neighborhood, who we knew, was also waiting for the same bus with her grandfather. The old man wasn't going to travel with her but was their to hand his 12-year-old granddaughter over to the bus crew.
With the departure time drawing near, the bus was still nowhere to be seen. Suddenly, everyone waiting began to worry that it might have broken down. However, it finally appeared, half an hour delayed.
The grandfather approached one of the drivers and kindly asked his name so he would know who would be responsible for the child. To his surprise, the driver reacted in such a paranoid manner that he didn't want to disclose his name. Seeing that man act more like a wanted criminal or a lion tamer than an interprovincial bus driver, my wife and I offered to keep an eye on the girl and make sure she got to her relatives in Holguin.
We began the journey without any setbacks, but when we stopped at the bus terminal in Guaimaro where so many passengers got on that the aisle was completely full – like we were on a city bus. Some passengers complained, but the drivers didn't seem to care, focused on what we Cubans call "the struggle", in this case, letting everyone with a ticket in hand onboard.
It would have been bearable having someone right next to your seat to some extent, when you think it could have been you stranded on the highway at any other time.
However, things went too far when some completely drunk guys got on the bus and continued to drink the entire journey. The "original" passengers had to put up with the alcohol on their breath and the new passengers swaying about in the aisle, who also looked quite rough.
At the Las Tunas bus terminal, the "strict" pilots left a mother with her 4-year-old daughter behind, as well as three other passengers who had gone to the restroom. It seems, oversight made them hurry and leave, as they went to collect people outside the station first, unless others got there before them. [These people pay under the table for the trip.]
We finally reached our destination. I hope that some day in the near future, traveling on a bus is a completely satisfying experience for ordinary Cubans, worthy of the price of a ticket and with the comfort and assistance passengers deserve.