Cuba's Audacious Trova Music
Dariela Aquique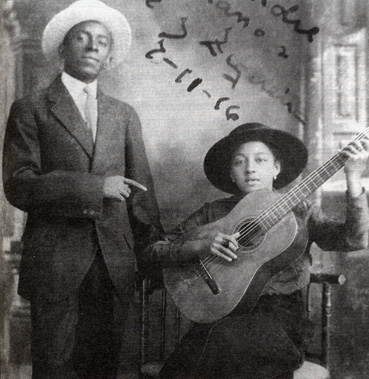 HAVANA TIMES, August 25 — I heard a comment on the news about the "Festival of Political Song" (Spanish: Festival de la Cancion Politica) an event held annually in Guantanamo at the beginning of August.  To me, the name of this event seemed to be in poor taste.  I wondered: Do people make political songs in Cuba?
To dispel my concerns, I raised this question to some festival participants who were themselves trova musicians, most of them fairly young.
This triggered a whole review of the history of trova in our country, from its beginning with "old trova" or "traditional trova," continuing on to the "nueva trova" movement, through its two stages until finally getting to "novisima trova" (or "post-trova," as some aficionados call it).  This article is a result of those conversations.
Some history behind its creation 
The musical style called "trova" was born in Santiago de Cuba.  It emerged from bohemian musicians, each with a guitar under their arm, wandering through their streets, playing their songs in parks, plazas, bars or street corners.
A regular in those spots, a composer and guitarist named Jose "Pepe" Sanchez, became the father of Cuban trovadoresca song, followed by artists like the brilliant Sindo Garay, the Matamoros Brothers, the Hierrezuelo Brothers, Maria Teresa Vera and an entire illustrious group who helped originate this style.
It had a repertoire that was novel for its time – songs of love, but also picaresque and satirical lyrics and even songs with double meanings, like those of Ñico Saquito.  All of this served to form the songbook of Cuban trova.  Though it wasn't their preference, these musicians had to compete with other styles that were generally taken more seriously, ones like son or bolero.  Nevertheless, they ended up winning the public's acceptance.
Trova, though always popular, wound up being popularized through the radio.  From its beginning it had many dissimilar exponents, making it even richer and more diverse.  The inheritance of those early bards — who in their lyrics and refrains reflected love, emotion, the reality of their epoch and that eminently musical genesis of what Cubans have been gifted — was well received by later generations.  These subsequent players continued the style, renovating it but without denying the sound; this is how we got "new trova."
New tendencies 
In the 1960s and '70s, there were countless styles and musical rhythms in fashion all around the world.  Among these appeared a specific type of song, one that came from the popular folklore where the artist was from to create new compositions fused with other sounds.
This type of "nueva cancion" (new song) always implied true social commitment and it was frequently related to political, nationalist and leftist movements in vogue at those times because of existing conflicts.  This was what made it different from the rest of the "modern" songs.
Cuban "nueva trova" arose in the late 1960s and early '70s, and it could well be related to the so-called "nueva cancion" style.  The creators of this movement were a group of singer-songwriters whose compositions didn't follow the precepts of customary songs.  They were influenced by traditional trova, "feeling" (a genre of Cuban song that was called this because of the manner in which it was sung), British rock, Brazilian bossa nova and Spanish pop music, as well as some elements of Latin American folklore.
The employment of rock elements was not held in high regard by the officialdom since in that period everything Anglo-Saxon was considered ideologically incorrect (diversionismo).  This led to the TV censorship of some of the performances by these artists in the late 60's.
However, soon the lyrics and creative attitudes of the principal exponents of this movement evidenced that they were motivated by everything that had happened in those first years of the revolution, though they never stopped making certain criticisms around specific issues of society, however subliminally.
In around 1967, some of these musicians became associated with the Casa de las Americas (an important cultural center of the country) and they recorded their first records, which were initially collective works.  A concert that was held at that institution on February 18, 1968, and whose hosts were Silvio Rodriguez, Pablo Milanes and Noel Nicola, was the beginning of official acceptance of these artists and their artistic style.
In 1969 the Grupo de Experimentacion Sonora del ICAIC (the Cuban Institute of the Arts and Film Industry) was created, directed by musician Leo Brouwer.  This group was made responsible primarily for creating the music for documentaries and movies that ICAIC produced.  It was made up largely of musicians who at that time were part of the new trova movement.
The record made by this group was titled: Cuba va, Fusil contra fusil, Un hombre se levanta, La nueva escuela o la Canción de los CDR (Cuba advances, Rifle against rifle, A man arises, The new school or the Song of the CDR).  The music of this group is in fact a sample of what could be called the "political song," though it was no more than a reflection of the time.
They constituted themselves publically and legally as El Movimiento de la Nueva Trova (the Nueva Trova Movement) in the city of Manzanillo on December 2, 1972, after a long march from Playa Las Coloradas (the place for where the yacht Granma landed) to the center of town.
The members and founders of this renowned movement were Silvio Rodriguez, Pablo Milanes, Noel Nicola, Vicente Feliu, Sara Gonzalez and a little later Augusto Blanca and Amaury Perez, among others.  All of them wrote and sang songs that were committed to the revolutionary process, and consequently they were broadcast widely over the air.  There was even a television program called Te doy una cancion, the title of one of Silvio's songs.
This first stage of Nueva Trova unfolded in the 1960s and '70s, but in the '80s and '90s there also emerged a series of important figures within the movement.  But — possessing a different form of expression and feeling — they didn't have the same luck as their predecessors in being accepted by the officialdom.
The moles 
Youth were faced with new worries in the extremely difficult conjunctures of the 1980's, when the second greatest mass exodus in the country's history (after that of the '60s) was experienced.  The events at the Peruvian embassy, the Mariel boat lift, "acts of repudiation," the war in Angola, the scholarships to Eastern Europe, internationalist missions in Libya and Nicaragua and Russian cartoons formed the context in which Nueva Trova developed in its second phase.
The most notable exponents were Carlos Varela, Frank Delgado, Gerardo Alfonso, Santiago Feliu, Pedro Luis Ferrer, Alberto Tosca, Xiomara Laugar and a little later Raul Torres, Polito Ibañez and Alejandro Bernabeu.
These latter ones — like all Cuban protagonists of the distressing '90s — experienced the harshness of Special Period crisis, life after the fall of the socialist camp and the third mass exit (known as the "balsero" exodus).
Their songs reflected this reality with urgent social critiques and fine sarcasm, what had been used by the old traditional trova musicians in the '50s when they jeered at the society of their epoch.  This had as a consequence incomprehension of their words by the ruling group and censorship that prevented the popularization of their songs (this included their songs being banned from the media and these artists not being allowed to record).
Until recently the diffusion of these artists works was minimal, in some cases more than with others (like in the cases of Frank Delgado and Pedro Luis Ferrer).  Currently there is more of an opening for their music, but it cannot be said that they enjoy the same level of promotion as others do, including those whose artistic creations are of inferior quality but who don't entry into the fray – instead they hide behind the classic line: "Don't say what you shouldn't…"
This group deserves an alias: "The Moles," because their music and their lyrics are buried much of the time.  And of course since "according to some" they're not committed to the revolutionary process, they don't deserve the epithets, the politics or anything else.
Those of today 
Like the perfect cycle of things in life, everything returns to its original place, renovated, but with a common accent; as such, current Cuban trova has returned to its roots.  Today's trova musician goes into a little of everything, fusing their sounds with the richest international musical tendencies of the moment as well as those of the past.
They sing to the fullness of life, not anything partial or schematized.  These are no longer the years of revolutionary effervescence, when some youths identified with the historical moment and made songs of a political nature to a certain measure.  Nor are these times of social revelation and changes in Cuban society and its mentality; there now appears resentment and frustration over unrealized promises.
This is a more detached but awakened generation, one that struggles, sings and pays homage to the old trova musicians, to the anthological songs of Silvio, Pablo or Noel.  This is a generation that gives continuity through the intelligent and now indispensable writings by Cubans such as Carlos Varela, Frank Delgado or Raul Torres.
Gema y Pavel, Rolando Berrio, William Vivanco, Karel Garcia, Kelvin Ochoa, Boris Larramendi, Atanay Castro, Vanito Brown and many more make novisima trova an indispensable part of our music and the national culture.
But "political song"?  I don't believe such a thing exists in Cuba.  That perhaps was a stage of enthusiasm.  That's why I find it obsolete to label an event with the name "Festival of Political Song".  If we can attribute anything to trova of any time, it's that it has been and always will be audacious and provocative.