Cuba in Haarlem Baseball Semifinals
Some Ghosts from Winnipeg Come to Life Here in Haarlem
PETER C. BJARKMAN*, Special from The Netherlands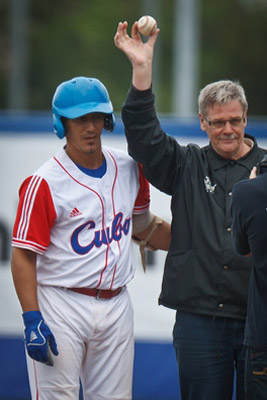 HAVANA TIMES — For those already arrived on the Cuban baseball scene more than a dozen years ago, one cannot help but note some eerie parallels between this week's Haarlem Honkbal Week and a long-forgotten July 1999 Pan American Games tournament staged in Winnipeg, Canada.
That Canadian venue was the first IBAF-sanctioned affair that employed big league-style wooden bats (rather than aluminum) and also the first that witnessed the use of MLB-affiliated professional ballplayers. It was also a sanctioned qualifier event for the 2000 Sydney Olympics (only the gold and silver medal finalists would qualify) as well as the first occasion for this writer to cover the Cuban ball club at an international venue.
Coming off a much-publicized spring exhibition series with the American League Baltimore Orioles, and boasting a celebrated national team that still featured such 1990s-era superstars as Omar Linares, Orestes Kindelán and Antonio Pacheco, the Cubans were quickly upended by the Americans (sporting largely a club of AA prospects) and the host Canadians (another minor-league-studded outfit).
A rather miraculous stretch run was then required to reach Sydney and thus defend the pair of Olympic gold medals earlier captured in Barcelona and Atlanta.
That nail-biting resurgence was launched by a quarterfinals sinking of the Dominicans behind a strong mound outing from future big league José Contreras; next came a gutsy 3-2 victory over host Canada in a contest marred by the ninth-inning field intrusion of an anti-Castro-government politic protester. The surprise turnaround was capped when the bats of Linares and Kindelán awoke during a gold medal pasting of the shell-shocked Americans.
Team Cuba's start here in Haarlem this summer has been just about as frosty as (and far more rain-soaked than) the one back in 1999 in Winnipeg, and it now seems that the late-tournament reawakening and unlikely turnaround might be almost as dramatic.
The initial downslide here was started by a cluster of missed offensive opportunities against a Puerto Rico nine that took full advantage of its own limited chances; what followed was a disastrous seventh inning verses an young American squad whose pitching is not easy to overcome under the best of circumstances.
The result was an immediate 0-2 whole and the daunting task of defeating both Asian clubs to avoid playoff elimination – a rare scenario for the top level Cuban national squad that has only once failed to reach major tournament playoff action in more than a full half-century.
The only such previous elimination came with the second-round ouster at San Diego during the 2009 edition of the MLB World Baseball Classic.
After the two initial surprise setbacks against veteran Puerto Rico and pitching-rich Team USA, nobody seemed to be taking the Cuban forces very seriously by mid-week. But all that changed rather dramatically with Thursday's offensive onslaught against the fading Japanese squad. The needed reversal came early in the game when Mesa's club broke out of the gate with four tallies in the opening two frames, the big blow again coming from Freddie Cepeda in the form of a ringing first inning double off starter Motoki Higa to open the day's scoring.
Boxscore: Cuba 2, Chinese Taipei 1
Other Cuban offensive heroes in the 12-1 cakewalk were Rusney Castillo (three safeties and three runs scored), Yulieski Gourriel (three RBIs on a pair of base knocks), and catcher Ariel Pestano, whose liner over the left field wall in the eighth provided the knockout ten-run margin. Southpaw Darian Nuñez logged four effective innings as a surprise starter – Victor Mesa opted to go with the hard-throwing lefty against a Japanese lineup featuring six southpaw swingers. Norberto González claimed the victory with three near-perfect relief innings. Dalier Hinojosa mopped up by striking out the side in the eighth.
A first much-needed victory over Asian opponents was easily more dramatic and also far harder to achieve. Managing only five unproductive base knocks over seven-plus innings against submarine throwing Taipei right-hander Meng Chen Fan, Cuba at the eleventh hour salvaged some long-absent bluster when reliable veteran Freddie Cepeda crushed a game-saving homer over the left-center field wall with Yulieski Gourriel already on the base paths.
The late-inning blow staved off an almost certain playoff elimination and also seemed to finally ignite the dormant Cuban bats that had been so silent throughout more the twenty-five previous innings of tournament action.
The tight 2-1 victory over the winless but scrappy Taiwanese might have seemed to some just another signal of Cuban impotency here in Holland. But it no longer looked quite that way the following day when Chinese Taipei battled the strong Americans to a scoreless deadlock all the way until the home half of the eighth frame; Taipei's eventual 2-0 defeat marked the second straight day that they had held one of the powerhouse teams scoreless through seven-plus innings.
Tuesday's Cuba-Taiwan shootout also featured a rare play that allowed Cuba to escape a potentially disastrous second inning misfiring. With runners lodged on second and third and two retired, a swinging third strike escaped Ariel Pestano and rolled to the backstop, appearing to allow the game's opening run to scamper home from third. But the score was nullified when home plate umpire Winfried Berkvens ruled (after an immediate protest by Victor Mesa) that the ball had nicked batter Meng Hsiung Yu and had not glanced off Pestano's glove. When a batter is hit by a pitch yet still swings, it is by rule a swinging strike.
There is a second Winnipeg ghost looming here in Haarlem that also merits some attention and this is the one involving veteran catcher Ariel Pestano. The stalwart Villa Clara receiver has caught every important national team match over the past fourteen years and that impressive string also began with an international debut during Winnipeg's Pan Am tourney.
With his career now entering its late stages, Pestano suddenly reemerged with a vengeance here yesterday – first stroking a history-making base knock in the home seventh and then – for a dramatic encore – slamming a knockout-producing walk-off two-run homer down the left field line to put a merciful end to Thursday one-sided affair.
Pestano's one-out liner in the seventh off Yoshiki Takehara was safety number 7,000 struck over 26 seasons of Haarlem Baseball Week competition; the blow was thus duly celebrated when game action was halted for a ceremonial signing of the historic ball at first base. The later round tripper lifted the veteran catcher's tourney average to .364, trailing only Cepeda and Rusney Castillo among the five Cubans now stroking the ball above the touchstone .300-plus plateau.
That the historic base knock should be struck by Cuba's veteran number "13" in the thirteenth game of this round-robin event only seemed to add an appropriate final touch of irony to what might well be one of Ariel Pestano's final limelight moments on the international stage. The Villa Clara star has long sported number "13" for his home club back on the island, but in Winnipeg and then throughout the bulk of his Team Cuba career he would wear number "8" on his national team jersey.
He once explained to me that the choice was indeed significant – number "8" (the special Santeria number celebrating the dead in Cuba) was always worn in international games to honor the memory of his mother who had passed away in the late 1990s before every seeing her son suit up of the national squad.  Only in the past couple of tournaments has Pestano lately returned to number "13" on his red and white national team uniforms.
Friday night now finally brings the matchup that Dutch fans have been waiting for all week, but yet one that will have little or no direct impact on the tournament outcome. A sold-out crowd had packed Pim Mulier Stadium Wednesday evening to witness a celebrated rematch of the two clubs that had met in the IBAF world championship finale in Panama City only last September, and the throng was turned away disappointed when heavy rains washed out the scheduled proceedings. The two old rivals will now take the field in a makeup rematch this evening that ends the week-long preliminary round proceedings.
With Puerto Rico already securely locked in the top slot and the Americans assured of a second-place round-robin finish, the Dutch and Cubans (both now owning identical 2-2 ledgers) will merely be battling for third and fourth slots; the winner will finish above .500 and face Team USA in one semifinal on Saturday while the loser will be paired with frontrunner Puerto Rico. For Cuba it hardly seems to matter who the semifinal opponent might turn out to be, since a strong game will be needed against either opponent to keep gold medal hopes alive.
My own preference would be a Cuba-Puerto Rico finale, and that would of course require the recent winning skein to continue tonight against the hometown favorite Dutch Orangemen.
—–
(*) Peter Bjarkman is author of A History of Cuban Baseball, 1864-2006 (McFarland, 2007) and is widely recognized as a leading authority on Cuban baseball, both past and present. He has reported on Cuban League action and the Cuban national team as senior writer for BaseballdeCuba.com during the past five years and is currently writing a book on the history of the post-revolution Cuban national team.