Cuba Is all about Coffee and Conversation
Yael Prizant*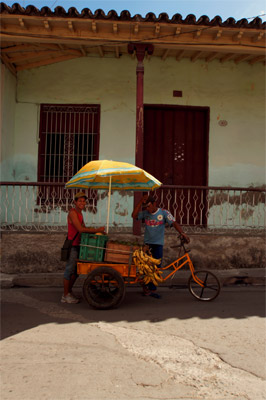 HAVANA TIMES, Feb 5 — Curiosity has gotten the better of me and I've started to buy treats on the street, especially from vendors who sing what they're selling. The other day, a friend and I bought something like a granola bar, made of peanuts fused together with honey (mani en grano).
We also got a thick sort of peanut butter, sold in paté form in rectangular pieces wrapped in wax paper (mani molido).  The third kind, which neither of us had ever tasted, was a bar covered in sesame seeds (mani con ajonjoli).
The peanut concoctions were delicious, but the molasses (…I think it was molasses…) in the sesame treat was extremely bitter.  Each cost three cuban pesos, around 15 cents.  15 cents for gastronomic experimentation.
The (usually older) ladies sitting on stoops selling shots of coffee from every imaginable type of thermos are also an exceptional find.  Usually at 1 peso (5 cents), the coffee is always black and sweet.  And it's the best I've ever tasted.  (They boil it here, so it's always safe to drink.)
These women are also incredibly endearing – they always call me "mariposita" (little butterfly) or "muñequita" (little doll).   They ask (and wittily answer) great questions, too – Cuba is all about coffee and conversation.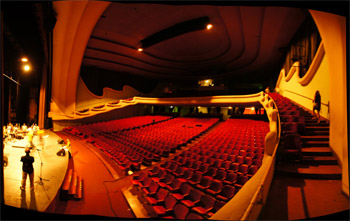 Last night, a poet/musician friend and I went to the theatre.  The poets I've met in Havana do this fantastic thing where, when they meet for the first time, they recite something akin to slam poetry for each other.  It's always an exchange, always brief, and always friendly – they embrace each other or warmly shake hands afterward.
Last night, when my friend introduced two poets, Osmel and Israel, they got to it.  Osmel's poem was about power and tradition, Israel's about daily tasks and the beauty of the island.  Absolutely brilliant.
Friday night, two artists I work with in Miami (they're Cuban-Americans) and I went to a stellar play and then walked home together.  As we strolled home past the famous steel depiction of Ché, one of them dryly commented, "Tres americanos en la Plaza de la Revolucíon" (three Americans in revolutionary square).  Pause.  Laughter.
I'm getting an extraordinary amount of work done on the plays I've been translating, probably because there's no phone or internet to distract me.  Working on a Vedado balcony with a view and a breeze certainly helps, too.
(*) This is the fourth of seven pieces by Yael Prizant. The author has been traveling to Cuba regularly since 2003.  At home in Indiana, USA, she is an Assistant Professor of Theatre at the University of Notre Dame. She has been translating the works of Cuban playwright Abel González Melo and hopes to translate more plays for production in English.
—–
In Cuba People Listen 
In Cuba the Meaning Can Change