Cuba Launches 2013-14 Baseball Season with Notable New Looks
HAVANA TIMES — One central theme was continually repeated by both INDER VP Tony Castro and Matanzas manager Victor Mesa during my September tour of the island, a three-day visit while filming the recently aired ESPN "Outside the Lines" television program. That theme was reiterated by Tony during the ESPN interview itself when he emphasized that Cuban baseball simply must begin to change in order to keep pace with a modern-era baseball universe.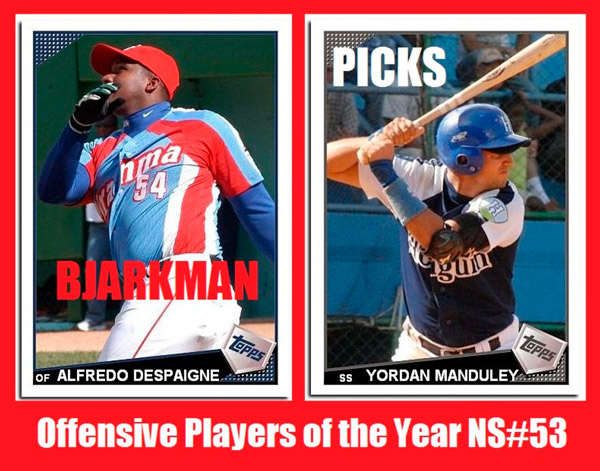 And all signs now indicate that change (however slow and perhaps helter-skelter) is very much the defining feature of current National Series play. The first week of November marks the opening of a new league season (the fifty-third of Revolution-era island baseball) and all signs point to a landmark pennant campaign featuring a surprising (if perhaps unsettling) "new look" structure and also a large dose of tradition-busting aberrations.
Recent headlines both on and off the island have been devoted to groundbreaking (and frequently misreported or misinterpreted) changes in player salaries and in related regulations that might free up some of the top league stars for overseas summer assignments (especially with Mexican League teams).
Last winter's National Series #52 introduced a radical new format that found half the sixteen teams eliminated during a 45-game opening round and then relegated to second-division consolation play after a month-long mid-season hiatus.
The new format also broke long-standing tradition with its system of reassigning some league stars to new provincial teams via a mid-year dispersal draft. And the sanctified notion of ballplayers remaining the career-long property of the home province ball club was further dismantled late this summer with the controversial shifting of three stellar Gourriel brothers onto the Capital City Industriales roster, along with a far less publicized transfer of promising Guantánamo shortstop Dainer Moreira to fill a perceived gap on Team Cuba skipper Victor Mesa's already hefty Matanzas roster.
Last winter's two-part pennant chase format certainly featured both plusses and minuses. On the one hand it eased the increasing complaints about weak overall league competition by concentrating the top pitching on only eight clubs for the pennant stretch run. But detractors could also point to the potentially negative societal impact of stripping half of the provinces of participation in a meaningful league schedule for the final two months of play. This year the system has been tweaked in a manner that will only further extend the negative impact, since the eight eliminated ball clubs will close operations altogether after the early January holiday and almost half the National Series ballplayers will essentially sit idle for more than half the league campaign. The new approach to crowning a league champion, while at the same time preparing elite players for summertime national team duties, is definitely very much a work in progress.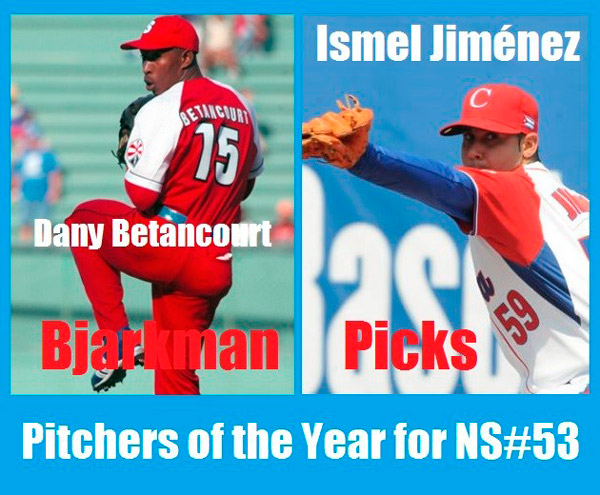 Another perhaps less controversial facet of this year's Cuban League facelift will feature 16 league clubs donning newly designed and domestically manufactured home and away uniforms (most won't look all that much different from recent years) and will also find more than half the teams sporting attractive if somewhat tradition-busting club logos. The nine logo changes (illustrated here) include Artemisa, Camagüey, Ciego de Avila, Cienfuegos, Guantánamo, Isla de la Juventud, Pinar del Río, Sancti Spíritus, and Santiago de Cuba. Three teams have even adopted new club nicknames. The former "Pine Cutters" of Isla now become the more ferocious-sounding "Pirates" (Piratas), the "Potters" of Camagüey also undergo a fitting militaristic image upgrade as "Toros" (Bulls), and the forces of Holguín have traded in the rather distasteful "Dogs" (Perros) label for that of Cachorros (translated as either "Puppies" or the more baseball-familiar "Cubs").
Under the shadow of all these league-wide shifts, upheavals and fine-tunings lies a 45-game "Primera Etapa" preliminary round that may well offer one of the most exciting pennant scrambles of recent decades. Will the transfer of the Gourriel brothers shift the balance of power in the western sector and put Industriales back on top of the pile? Can recent powerhouse clubs like Sancti Spíritus, Cienfuegos and Guantánamo rebound from substantial star player attrition? Will Matanzas continue the recent surge under controversial skipper Victor Mesa and take the final step toward a long-sought spot in the championship limelight? Have Isla, Santiago and Holguín actually improved as much as some prognosticators have widely suggested, and have Pinar and Ciego slipped substantially due perhaps to inevitable aging? Here is what my own crystal ball has to say about some of the mysteries surrounding the new Cuban League campaign.
First Round Qualifiers
Key: * = New Team Logo; # = New Team Nickname
Matanzas Cocodrilos (Crocodiles)
First-Half Prediction: First
Overview: Only two seasons back colorful manager Victor Mesa brought the Crocodiles their first post-season appearance under the Matanzas ball club moniker and then last season he upped the ante with a run to the National Series post-season finals. There is little reason to believe that a Matanzas resurgence will end any time soon and Victor's current outfit has to be this year's preseason pick to walk off with the tradition-rich province's first league pennant since Henequeneros turned the trick way back in 1991 (under manager Gerardo Junco). Mesa's present club is loaded with plenty of offensive fire-power and if an artillery headed by Guillermo Heredia, Yadiel Hernández and José Miguel Fernández (all Team Cuba veterans) were not enough, crack shortstop Dainer Moreira has now been imported from Guantánamo to shore up the infield defenses and allow Fernández to move back to his more natural infield slot at second base. And Mesa also boasts a supply of more-than-adequate hurling with last season's 14-game winner Joel Suárez, bullpen fixture Félix Fuentes, and converted starter Yoanni Year (who made 34 relief appearances a year ago). Mesa's only substantial loss from last year's potent ball club is recent defector Jorge Alberto Martínez, a former durable right-handed starter. Only Industriales and Villa Clara appear to have the wherewithal to prevent Mesa from writing the final championship chapter to an already amazing three-year success run for long-time cellar-dweller Matanzas.
Manager: Victor Mesa
Top Stars: José Miguel Fernández (2B), Guillermo Heredia (OF), Joel Suárez (RHP), Yadiel Hernández (OF), Ariel Sánchez (OF)
Villa Clara Naranjas (Orangemen)
First-Half Prediction: Second
Overview: Despite the losses in recent years of such notable heroes as outfielder Leonys Martin, infielder Dayan Viciedo, and shortstop Aldemis Díaz, Villa Clara under veteran manager Ramon Moré has managed to remain highly competitive and then some. There was no greater surprise during National Series #52 than the late spring post-season Villa Clara surge toward a National Series title that marked the club's first pennant in nearly two decades. A minor blow was admittedly suffered last summer with the departure of steady and experienced southpaw starter Misael Siverio (a "defector" during the July USA-Cuba collegiate series in Iowa), and team inspirational leader Ariel Pestano (now in Mexico) is also among the recently missing. But there are still plenty of strong horses here, including the island's best pitcher, Freddy Asiel Alvarez, plenty of added mound support in Roberto Carrillo, Diosdani Castillo and Alain Sánchez, and a veteran lineup of tested sluggers headed by Ariel Borrero, Andy Zamora and Ramón Lunar. The recent makeover of Industriales and constant improvement by Matanzas may combine to thwart a title repeat, but the Orangemen should nonetheless remain squarely in the championship hunt and might even be capable of yet another eleventh-hour late spring post-season miracle finish.
Manager: Ramon Moré
Top Stars: Freddie Asiel Alvarez (RHP), Yuniet Flores (OF), Ariel Borrero (1B), Andy Zamora (OF/DH), Yulexis LaRosa (C )
Industriales Leones Azules (Blue Lions)
First-Half Prediction: Third
Overview: No team has had a bigger face lift this year than the one managed by Lázaro Vargas. The importing of the three stellar Gourriel brother from Sancti Spíritus is a solid guarantee to both rekindle Capital City fan interest while at the same time solidifying a potent batting order now featuring national team veterans in six of the eight starting positions (Frank Morejón behind the plate, Yulieski Gourriel, Rudy Reyes and Alexander Mayeta in the infield, and Stayler Hernández and Yasmani Tomás in the outfield). But before Lions fans prematurely hoist up a record thirteenth pennant banner outside Latin American Stadium, one has to consider the rather unpleasant picture presented by the current Industriales pitching staff. A starting rotation of southpaws Ian Rendon, Pedro Durán and Pavel Pino and righties Franl Montieth and David Mena does not strike much fear into the hearts of enemy batters; Rendon and Mena missed all of last season, Durán worked out of the bullpen with no victories and a sky-high 4.81 ERA, and Montieth and Pino logged exactly eight total victories between them. The bullpen corps is hardly more promising given that José Castro is the saves leader among returnees with a mere three and Irandy Castro sat out the entire previous campaign. Little-used Michel Martínez posted an embarrassing 8.64 ERA, Adrian Sosa appeared in only four games, and Eddy García won only twice when called upon out of the pen. Yulieski Gourriel, Yasmani Tomás, Stayler Hernández and company will have to produce a ton of offense for Vargas's team to ultimately overhaul more balanced outfits like Matanzas and Villa Clara (or even Isla and Sancti Spíritus).
Manager: Lázaro Vargas
Top Stars: Yulieski Gourriel (3B), Yasmani Tomás (OF), Alexander Mayeta (1B), Rudy Reyes (2B), Frank Camilo Morejón (C )
Isla de la Juventud Piratas (Pirates)*#
First-Half Prediction: Fourth
Overview: A pleasant surprise last winter, the newly named Pirates of Isla hung around for the season's second half and posted a respectable breakeven ledger and a seventh-place overall league finish. Much of the success was due to the surprise performance of veteran lefty Wilber Pérez (12-7, 2.81 ERA), the resurgent hitting of veteran third sacker Michel Enríquez (still proud owner of one of the three best lifetime batting averages in league history), the emergence of promising young second sacker Andy Ibáñez (.300 BA) as one of the country's top infield prospects, the consistent offensive production of 18-season veteran Luis Felipe Rivera (.315 BA), and the major bullpen contributions of 21-year-old flamethrower Raciel Iglesias (30 appearances with 12 saves, 74 Ks and an impressive 3.05 ERA). Iglesias has now been lost to an attempted defection and Michel (33) and Luis Felipe (35) are both another year older and another step slower, but catcher Luis Castro (26) has shown marked improvement and veteran right-hander Danny Aguilera appears poised to return from last year's season-ending injuries. Twenty-year-old mound prospect Jorge Despaigne boasts plenty of potential with a 95 mph fastball and may provide adequate replacement for Igelsias if only he can conquer the control problems that plagued his rookie season. If some of these pieces fall neatly into place for veteran manager Armando Johnson this year's Pirates club might well emerge as even a greater surprise than the previous edition.
Manager: Armando Johnson
Top Stars: Wilber Pérez (LHP), Michel Enríquez (IF), Andy Ibáñez (IF), Luis Felipe Rivera (1B)
Sancti Spíritus Gallos (Roosters)*
First-Half Prediction: Fifth
Overview: A large piece of the Gallos heart was ripped asunder this summer when the trio of Gourriel brothers was transplanted onto the rival Industriales club, and Sancti Spíritus boosters now have to be less-than-optimistic heading into the current campaign. Yulieski was easily the biggest loss since his bat stands in the upper echelons of National Series history. But don't be too quick to pull the plug on the current Gallos ball club under the direction of second-year manager Yovani Aragón. Any lineup that still features Freddie Cepeda (apparently restored to full health after a post-season hand injury), Eriel Sánchez, Yunier Mendoza and Liván Monteagudo in the heart of the order can still be counted on to generate plenty of runs. The pitching fronted by Team Cuba ace Ismel Jiménez and supported by backup starters Angel Peña, Noelvis Hernández and Yoen Socorrás is as deep and experienced as any in the league. And Omar Guardarrama (16 saves and a 2.28 ERA last year as a 22-year-old rookie) is quickly emerging as one of the circuit's best bullpen stoppers. The Gallos may not crow very loudly at the outset, but they should still be around for the January-March dash toward a potential post-season repeat performance.
Manager: Yovani Aragón
Top Stars: Freddie Cepeda (DH/OF), Eriel Sánchez (C ), Ismel Jiménez (RHP), Yunier Mendoza (1B)
Ciego de Avila Tigres (Tigers)*
First-Half Prediction: Sixth
Overview: Two off-season developments combined to considerably brighten the picture for the 2012 National Series champions from Ciego de Avila. First and most importantly, rock-solid skipper Roger Machado reversed an earlier decision to walk away from his managerial post. And when belatedly rewarded for their NS #51 triumph with a trip to the August World Baseball Challenge event in British Columbia, Machado's club walked off with a tournament title that could do nothing but boost the club's image and further stimulate team morale. This is perhaps the league's most veteran-filled and experienced ball club, with plenty of tested pitching (national team regulars Vlad García and Yander Guevara, plus promising youngsters Yadir Rabi and Osmar Carrero) and a ton of veteran sluggers (Yoelvis Fiss, Yorelvis Charles, Raúl González and ageless Isaac Martínez). The only negatives here seem to be the loss of once-promising Rusney Castillo in the outfield (due to attempted defection) and the retirement of long-time second baseman Mario Vega. The Tigres might still be a be a serious contender if the aging lineup of Martínez, Fiss and Charles still has at least one more collective productive winter left in the now well-worn hamper.
Manager: Roger Machado
Top Stars: Vladimir García (RHP), Yoelvis Fiss (OF), Issac Martínez (OF), Yorelvis Charles (1B), Raúl González (IF)
Holguín Cachorros (Cubs)#
First-Half Prediction: Seventh
Overview: Since their surprising league pennant back in 2002 the Holguín club has rarely received much respect, but this could very well be the year all that ends with an exclamation point. My pick for "surprise team of the year" is an Holguín squad saddled with an untried manager and a new and more respectable nickname ("Cubs" rather than "Dogs"), but one also boasting the league's best all-around infield and seemingly more than enough offense to compensate for barely adequate pitching. New staff ace Pablo Millán Fernández (despite somewhat disappointing numbers a year ago with a 3.53 ERA and an elevated opponents' BA of .320) has one of the best arms in the league, and if youngsters Carlos Olexis González (RHP, 6-7, 2.76 ERA) and Luis Angel Gómez (LHP, 4-3, 4.41) step it up a notch then superior hitting will be capable of elevating this team into first division contention. Shortstop Yordan Mandulay (a replacement-player key to last winter's Villa Clara championship drive) might just be the most underrated performer in the entire Cuban arsenal, and the surrounding infield trio of Aguilera (.306, 8 HRs, 41 RBI), Pacheco (.296, 5, 36), and Paumier (11 HRs and 47 RBI in combined duty with Holguín and Sancti Spíritus) has no peer anywhere else in the league – especially when it comes to production at the offensive end of the game. These newly dubbed Cubs should prove much peskier than the perennial also-ran MLB variety.
Manager: Irochis Bartutis
Top Stars: Yordan Manduley (SS), Pablo M. Fernández (RHP), Yunior Paumier (3B), Yeison Pacheco (2B), Leris Aguilera (1B)
Santiago de Cuba Avispas (Wasps)*
First-Half Prediction: Eighth
Overview: One of the island's most glamorous outfits over the past four decades of revolutionary baseball, the proud "Wasps" suffered through a season of rare disappointment last winter, failing to reach the post-season for the first time in a couple of decades and not even making the cut for second-half championship play. Under new manager Luis Larduet things promise to be a bit different this time out. Alexei Bell looks fully recovered from the spring WBC wrist injury that ruined the second half of his 2013 season (Bell was supposed to perform with the Isla Pirates after the mid-season dispersal draft, but that plan had to be scrubbed); franchise star Héctor Olivera is back in action after a rare blood disorder robbed him of two full seasons; Edilse Silva continues to provide extra offensive punch; and right-handed ace Dany Betancourt seems to have fully recovered the magic that made him one of the island's most effective hurlers at the midpoint of the past decade. Yet another year of solid production out of seemingly ageless veteran center fielder Reutilio Hurtado could provide just enough extra ammunition to lift a regenerated Wasps ball club back into the season's eight-team second round and keep the Santiago forces squarely in the midst of the April playoff hunt.
Manager: Luis Larduet
Top Stars: Héctor Olivera (2B), Alexei Bell (OF), Danny Betancourt (RHP), Edilse Silva (OF/DH)
First Round Eliminations
Key: * = New Team Logo; # = New Team Nickname
Pinar del Río Vegueros (Tobacco Harvesters)*
First-Half Prediction: Ninth
Overview: Once proud Pinar del Río (the island's third most regular winner after Industriales and Santiago) has not fared all that well after its surprise championship of three years back, slipping to tenth slot in the immediate aftermath of that title and then barely surviving the qualification round last winter. Last season the Vegueros edged into the play-down round as a result of a frenetic rush to wire in late January, thanks mainly to an incredible hitting tear by veteran slugger Yosvani Pereza that produced game-winning RBIs in the bulk of the team's final dozen games. The rapid improvement of Isla and the recovery in Santiago will likely make the task all that more difficult this time around. Peraza is still the heart and soul of the offense and there are a few capable arms in a mound staff headed by Vladimir Baños, Yosvani Torres and Erlis Casanova. Lorenzo Quintana remains one of the island's best backstops (both offensively and defensively), and one huge plus is the return to action of manager Alfonso Urquiola. But this is a ball club that won only 12 games during 48 road outings last season and that produced only one .300 hitter outside of Peraza and Quintana (slap-hitting outfielder Osniel Madera at .302). Marked improvement in these last two categories is a must if the Verdes are to survive the first-half pennant chase for a second straight year. To me, Pinar del Río unfortunately looks like the best bet for this year's "near-miss" ball club.
Manager: Alfonso Urquiola
Top Stars: Yosvani Peraza (DH), Vladimir Baños (RHP), Donald Duarte (3B), William Saavedra (1B), Lorenzo Quintana (C )
Camagüey Toros (Bulls)*#
First-Half Prediction: Tenth
Overview: The newly named Toros (now Bulls, formally "Potters") have lived in the bottom-third tier of the league for all of the last decade-plus and showed little potency along the way before making some early-season noise last winter. There is enough young talent on this club to potentially shake up the standings – if not this year then certainly in the not-too-distant future. The loss to defection of promising 25-year-old backstop Lednier Ricardo certainly did not help any. Nonetheless Dayron Varona (24) and William Luis Campillo (30) provide some pop in the outfield, as does lefty-swinging Dary Bartolome (27) at first base. The brightest hopes for manager Luis Guevara are found in the youth-sprinkled mound corps and especially in the right arm of talented 19-year-old 2013 Rookie of the Year Norge Luis Ruíz. Ruíz first turned heads on the island during last year's second half with a stellar 6-1 performance as a "reinforcement" draft pick with Sancti Spíritus; he then opened eyes among MLB scouts with a brilliant nine-inning Omaha outing during the USA-Cuba July "Friendly Series." Additional strong arms are available in the persons of veterans Vicyohandri Odelín and Yormani Socarrás, as well as youngsters Dariel Góngora and José Ramón Rodríguez. Unfortunately the Bulls may still be at least a year away from charging.
Manager: Luis Guevara
Top Stars: Norge Luis Ruíz (RHP), Dayron Varona (OF), Vichyohandri Odelín (RHP), William Luis Campillo (OF)
Cienfuegos Elefantes (Elephants)*
First-Half Prediction: Eleventh
Overview: The Elephants sat atop the heap for much of last season (and also the preceding season) but recently lost a pair of potent weapons in José Dariel Abreu (the island's second-ranking slugger before the heralded defection that took him to the American League Chicago White Sox for a record salary deal) and crack shortstop Erisbel Arruebarruena (permanently suspended as a result of his own attempted "defection"). There are some substantial contributors still in camp, however, including one of the country's top young infield prospects in switch-hitting teenager Johan Moncada, two of last year's top league winners in Noelvis Entenza (14-5) and Jorge Hernández (13-6), and one of Cuba's best-ever National Series closers in Duniel Ibarra (24 last winter and third on the all-time list). But long-time staff ace Norberto González (retired) has now also been lost and the top outfielder Yoelvis Leyva produces little in the way of power production (.284 BA, 32 RBI and a single homer last winter). This definitely looks like a rebuilding year for manager Iday Abreu in Cienfuegos and one that will likely not last beyond the season's first-half elimination round.
Manager: Iday Abreu
Top Stars: Johan Manuel Moncada (3B), Noelvis Entenza (RHP), Duniel Ibarra (RHP), Jorge Hernánderz (RHP)
Granma Alazanes (Stallions)
First-Half Prediction: Twelfth
Overview: If there is a team on the island that usually looks at least moderately impressive on paper but rarely produces much on the playing field it has to be the Granma Stallions of the past half-decade. Any club with Alfredo Despaigne in its lineup can always strike fear into opponents in close games, but in the end it is usually infield and outfield defense that spells dooms for this perennially second-division club. Yordanis Samón provides a second hefty bat and Alberto Soto la O backs up Ciro Silvino Licea and Leandro Martínez in the starting rotation (all three have had shots at earning slots in the national team bullpen), but both Licea (37) and Martínez (34) are now aging and seemingly have all their best performances behind them. The story will be the same again this year in Bayamo: Despaigne will post awesome offensive numbers (and nonetheless spend the second half of the season wearing another uniform after the dispersal draft) but Martires de Barbados Stadium will sit abandoned for league action after the final week of December.
Manager: Indalecio Alejandrez
Top Stars: Alfredo Despaigne (OF), Yordanis Samón (1B), Leandro Martínez (LHP), Ciro Silvino Licea (RHP)
Mayabeque Huracanes (Hurricanes)
First-Half Prediction: Thirteenth
Overview: Mayabeque seems to have gotten the best of the player dispersal when the former Habana Province club was split down the middle (despite losing all six top pitchers to Artemisa), but in the end that is certainly not saying all that much. The talent has remained thin here over the first couple of years but Ariel Miranda (20 starts with eight victories and 88 Ks) has been slowly emerging as a credible southpaw staff ace and José Betancourt (18 starts and a 3.08 ERA last winter) seems poised to provide a reliable number two starter for manager Rigoberto Madera. Danger Guerrero remains a capable handler of young pitchers and Dennis Laza (.287 BA with 17 extra-base knocks) can provide some punch in the lineup as well as some solid outfield defense. Jorge Barcelán never got much of a chance to shine with Metros or Industriales in the Capital City but may well make his mark in the Hurricanes batting order. Mayabeque could provide some long afternoons for opposing clubs during November and December, but don't expect them to still be around for either January or February competitions.
Manager: Rigoberto Madera
Top Stars: Angel Miranda (LHP), Danger Guerrero (C ), Dennis Laza (OF)
Guantánamo Indios (Indians)*
First-Half Prediction: Fourteenth
Overview: The Indians have been consistently disappointing during the last two seasons and there is nothing found here to signal what might look like a substantial rebound. Consistent outfield star Giorvis Duvergel produced yet another solid campaign at the plate last winter (.366 BA) despite his advancing years (34) but iron-man first baseman Yoennis Southerán was disappointingly unproductive (.266 BA, 2 HR, 19 RBI). The heart of the infield has now been lost with the transfer of promising shortstop Dainer Moreira to Matanzas and the suspension (another unsuccessful "defection") of second baseman Yoilán Cerce. Another crippling blow was suffered when staff ace Dailer Hinojosa became one of the latest celebrity hurlers to abandon the homeland. The only top talent left in the mound corps seems to be Alex Rodríguez (a promising Team Cuba closer) but Rodríguez has been slowed of late by nagging injuries and his future now remains an open question mark. The Indians boast an attractive new logo but are still sorely lacking a much-needed overall team facelift.
Manager: Jorge Prevot
Top Stars: Giorvis Duvergel (OF), Yoennis Southerán (1B), Vismay Santos (IF), Alexander Rodríguez (RHP)
Artemisa Cazadores (Hunters)
First-Half Prediction: Fifteenth
Overview: Maybe the saddest story of the past quarter century in Cuban domestic baseball has been the fate of the new-born Artemisa Cazadores ball club. The island's quaintest stadium and most attractive uniforms have done little to lift this team from laughing stock status. The huge downside of splitting up of a once-powerful Habana Province outfit (proud owners of six national team pitchers) came when that entire splendid mound corps (plus its mentor Esteban Lombillo) ended up in Artemisa with almost nothing in the way of offensive or defensive support to sustain them. Overnight Yulieski González, Jonder Martínez, Miguel Lahera and company were transformed from consistent winners into lamentable losers and the old "saw" that good pitching always wins was chucked out the window. Things have only gotten worse with the 2012 "defection" of current Philadelphia Phillies property Miguel Angel González (once the national team right-handed ace) and the tragic death of young mound stud Yadier Pedroso. Just how dire the plight of the Artemisa pitchers now is was once more underscored during last year's second half when Jonder Martínez (2008 league ERA champ) was transferred to eventual pennant-winner Villa Clara with the dispersal draft and overnight reverted to earlier form while rescuing a league championship out of the Naranjas bullpen.
Manager: Dany Valdespino
Top Stars: Jonder Martinez (RHP), Yulieski González (LHP), Miguel Lahera (RHP), José Angel García (RHP), Dayan García (2B)
Las Tunas Leñadores (Woodcutters)
First-Half Prediction: Sixteenth
Overview: The full heart has been ripped out of this Leñadores squad over the past two seasons and no local fans have better reason for deep depression than those residing in the eastern province of Las Tunas. It has indeed been a precipitous fall and one with little rhyme or reason to it. Slugging shortstop Alexander Guerrero abandoned both the team and the island a little more than two years back and is now proud owner of a multi-million-dollar deal with the National League Los Angeles Dodgers. Last season witnessed the controversial league suspension of star catcher Yosvani Aragón, whose surprise reinstatement last month has been every bit as shrouded in mystery as was his arguably unwarranted dismissal. Then the biggest blow of all was a forced (and also unexplained) retirement of local hero Joan Carlos Pedroso, the island's biggest home run producer of the dozen-year wooden bat era. Some decent pitching remains intact with Yoelkis Cruz, Ubisney Bermúdez and Darien Núñez (once the most promising teenage southpaw on the island, but a recent victim of erratic performance), and long-time offensive star Danel Castro is still in camp. But this definitely looks like an outfit in free fall and thus also like an ideal candidate for the dubious distinction of this season's most disappointing team.
Manager: Angel Sosa
Top Stars: Yoelkis Cruz (RHP), Danel Castro (IF), Darien Núñez (LHP)
The current season will likely result in few new entries that might substantially alter the face of the Cuban League record book. Perhaps most significantly, Frederich Cepeda (with 1,293) is now poised to move into third slot on the all-time list for walks received, inching ahead of Omar Linares, (1,327) and trailing only Antonio Muñoz (1,551) and Enriquito Diaz (1,441). On the career list for lifetime batting average, Michel Enríquez currently stands in third slot (behind Linares and Osmani Urrutia) at .360, while Alfredo Despaigne (.348) currently hovers in the fourth spot. Granma's Ciro Silvino Licea, now entering season number 21, remains in fourth place for all-time games pitched (486). Artemisa's José Angel García (first all-time with 472) and Cienfuegos's Duniel Ibarra (third at 443) are positioned to up their pace-setting numbers for relief appearances, while García can also improve on his lifetime record mark of 145 saves, while Ibarra is virtually assured of moving into sole position of the career number-two slot (where he currently stands tied at 122 with retired Yolexis Ulacia). Another stellar won-lost mark for Ismel Jiménez (currently 107-42, .718) could also move the steady Sancti Spíritus ace a shade closer to Orlando Hernández (126-47, .728) in the all-time career winning percentage category.
Much ink has been spent in recent months lamenting the apparent collapses in the Cuban baseball system and projecting doomsday scenarios in light on such high-profile player loses as those of Abreu, Arruebarruena, Hinojosa and Iglesias. A new split-season format and experiments with player shifts between provincial clubs have also played mightily into widespread fan dissatisfactions. But there should be enough excitement packed into the coming two-part National Series campaign to signal that Cuban League baseball – for all its current well-publicized struggles – is still very much alive and kicking.
—–
(*) Peter Bjarkman is author of A History of Cuban Baseball, 1864-2006 (McFarland, 2007) and is widely recognized as a leading authority on Cuban baseball, past and present. He has reported on Cuban League action and the Cuban national team as senior writer for www.BaseballdeCuba.com during the past half-dozen years and is currently writing a groundbreaking book ("The Yanqui in the Cuban Dugout") on his two decades of travel throughout Cuba and his adventures covering the Cuban national team abroad.