Cuba: Takes on Reforms and Economic Challenges
By Sara Mas   (SEMlac)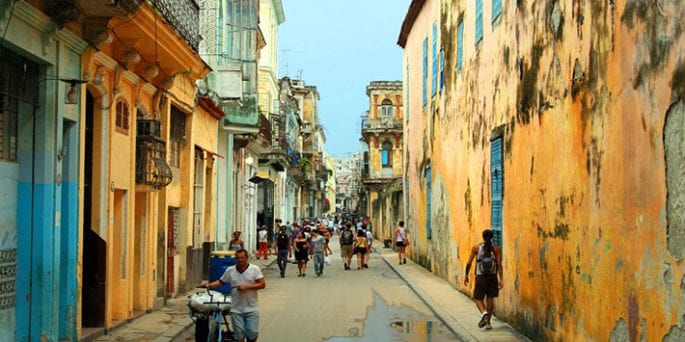 HAVANA TIMES — New forms of economic management that have become established in Cuba need greater expression, recognition and legal support and coordination with state companies, participants at a workshop about the subject on October 20th in Havana agreed.
"It isn't about replacing one market with the other, but about promoting meeting points where they can compliment each other, allowing production cycles which particularly need this exchange and coordinated efforts between different forms of management: the private sector, cooperatives and the state sector," Georgina Alfonso, the director at the Philosophy Institute pointed out at the end of the third meeting of different forms of management and property.
Summoned by the Latin America Group: Social Philosophy and Axiology (Galfisa), from the Philosophy Institute, the meeting brought together cooperative leaders, small and medium-size private entrepreneurs and state companies executives, as well as community leaders, academics and economic and social researchers.
"If the Cuban economic model hopes to achieve greater efficiency and both cooperatives and private enterprises need this relationship, what is stopping them from working together?" Alfonso asks.
Among the obstacles that restrict this cooperation are the existence of bureaucratic hurdles and mentalities that manifest in practices that need to be discussed and overcome.
Economist Teresa Lara note that one of the challenges has to do with the fact that many contradictions still aren't reflected in a legal framework that goes with current economic procedures.
While current production infrastructure is in decline and technology is out-dated, needing direct foreign investment, the country does have a highly-trained professional human capital, but a law that takes into account Cuban investment isn't being considered, she pointed out as an example.
Eight years after a new economic model began to be built other options for the private sector still haven't been made a reality such as having access to wholesale marketsor the opportunity to import and export products so they can produce and sell themselves, she added.
"The economy can't just be considered from the perspective of the socialist state company, which is the governing one, but it isn't the only one, and it needs to coordinate its efforts with the private sector in a practical and realistic way where each of these contribute towards greater economic performance," Lara claimed during a panel session on the context and challenges of collaborative and community work.
Developing skills and competences should reach all sectors, the expert added, who is also in favor of institutionalizing public forums so as to learn about real needs, and to inform and discuss these issues.
Another one of the challenges highlighted has to do with the delay in processes which are still experimental and do not always have comprehensive or, sometimes, incomplete legislation for the economic reforms process.
"The legal framework affects contracts and labor rights," Lara stated, as while there is a Labor Code which protects those who work in all sectors, "there are still mechanisms missing to tax and monitor what has been already been approved."
The lack of a comprehensive legal framework also slows down procedures which should be much faster and more complete, according to the economist.
Such is the case with the recent approval of a 50% tax break for self-employed female workers who have dependents.
A decision which Lara classifies as just, but partial, as it leaves out state employees in a similar position and single men with relatives in their care. "It's a good decision on the one hand, but on the other it is unjust," the economist stated.
According to Pablo Rodriguez, a researcher at the Cuban Institute of Anthropology, a special look is urgently needed to be given to the value of work. "Human society that doesn't coordinate its efforts stemming from work is destined a failure."
Work is central to a human being's life," he underlined and said that "in order to keep the best of socialism, you have to put work in its right place," which means an "intensive battleground."
In the same line as this analysis, the director of the Philosophy Institute is making the case for putting work issues at the heart of these meetings and life itself.
"We have to become efficient through well-valued, dignified and just work, not based on exploitation, the black market, hoarding and the alleged redistribution of wealth," said Alfonso.
From her experience as a Cuban Parliament representative and before at the head of the Central Havana's municipal government, Susana Acea believes that the training decision-makers at different levels of government receive needs to be stepped up, as well as for lawmakers who need to create legislation and lead processes.
The same thing happens sometimes with cooperation between different forms of management, she added. "Sometimes, it comes to a halt not because we want it to, but because nobody knows or relies on the framework it needs to work," she said and added, "it's necessary to overcome this barrier so as to make our economy more dynamic."