Cuba–Venezuela Tonight in Caribbean Series Semifinals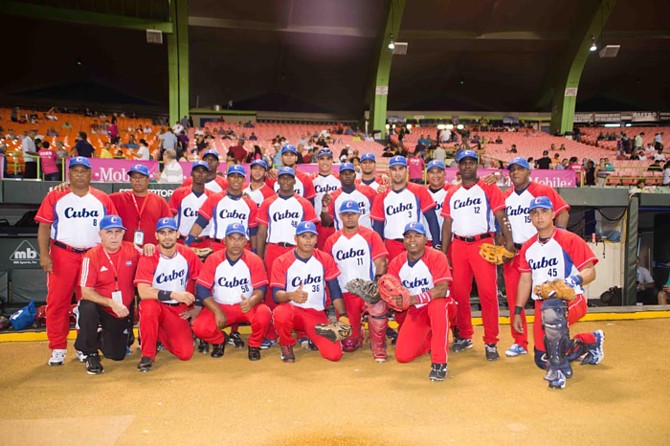 by Peter C. Bjarkman*  (baseballdecuba.com)

HAVANA TIMES — With Friday afternoon's 4-2 victory over Mexico, Venezuela wrapped up the qualification round undefeated and thus will face Cuba in the Saturday evening second semifinal game. The earlier semifinal faceoff will feature the DR (second place) and Mexico (third place). Game times Saturday are noon and 7:30 PM EST.
A huge weight was suddenly and dramatically lifted from the sagging shoulders of the Cuban baseball establishment Wednesday night when a clutch tenth-inning single by Roel Santos capped a much-needed victory over Puerto Rico and launched the slow-starting Pinar del Río club back into the midst of Caribbean Series championship contention.
All it seemed to take for the thrilling change in course was a swapping out of uniforms (Cuba appearing for the first time in national jerseys), a single timely hit at the tournament's most crucial moment from one emerging young star (the walk-off single that Santos later labeled the biggest thrill of his young career), and a masterful pitching performance from another promising novice (19-year-old Japanese League veteran Héctor Mendoza). The rare combination provided a huge boost to sagging team morale by putting Cuba squarely back in the Caribbean Series title mix for the first time in more than a full half-century.
Before recapping details of a comeback highly reminiscent of the one Cuba launched during the inaugural 2006 World Baseball Classic staged in this same ballpark, some historical perspective on the enormity of the current moment might be in order. Headlines last night on this website and elsewhere announced that Cuba had now reached the Caribbean Series semifinals for the first time in 55 years, but such a claim is not quite accurate.
It is true that a Cuban league champion is now in the final-round title mix for the first time since 1960, when the Cienfuegos Elefantes (behind the pitching of big leaguers Camilo Pascual and Pedro Ramos) cruised to an unblemished 6-0 record and claimed the final title of the tournament's initial dozen-year stage. But all twelve events held before the Castro-led revolution prompted Cuba's withdrawal and a decade-long suspension of the Series were of an entirely different character. For decades during both tournament phases four teams played each of their three opponents twice in a double round-robin affair that rewarded the title to the club registering the best final record; there were no semi-final or final matches. A current format that eliminates one squad after a single round-robin and matches the other four in a championship showdown was only introduced with Cuba's return to action last winter at Isla Margarita. During several other tournament editions in recent years the format has varied and on several occasions there have been final-day title games among teams holding the best overall records, but the structure now in force is only a late-comer innovation.
That said it is true enough to claim that the Cuban representative now sits in a legitimate contenting position for the first time since the country abandoned Caribbean winter league playoffs precisely 55 years in the past. More significant still, all Cuban clubs of the first dozen years (1949-1960) were of the same makeup as those of other winter league champions (both pre- and post-1960) – that is, rosters including a mixture of home country stars and foreign reinforcements. The 1960 Cienfuegos champions, for example, featured a lineup bolstered by four Americans (notably catcher Dutch Dotterer and outfielder George Altman, big leaguers both). The true significance of Saturday's Cuban semi-final appearance is that it marks the first occasion in Caribbean Series annals where a legitimate national team (domestic stars only) has battled in the final stages of championship play.
It is true that Cuba still appears no closer to a long-coveted Caribbean Series title, nor has a second straight Series embarrassment been entirely avoided. But Wednesday night's highly dramatic extra-inning victory does at least now mean that the Cuban contingent will not have to leave San Juan with its proverbial tail between its collective legs, and there have been at least a few moments of highlight heroics. A single victory so far was admittedly not the most artistic game on record, and there was much about the managerial strategies and on-field execution to leave purists scratching their heads.
Puerto Rico for their own part squandered a multitude of golden scoring opportunities during the late going, stranding runners in scoring position in each of the final three frames of regulation play. There were obvious questionable maneuvers (or perhaps a lack of expected maneuvers) by Cuban skipper Alfonso Urquiola. And for all their botched offense, the host team also managed to throw the game away with a crucial error that opened the door in the tenth for the magical "golden hit" struck by Cuba's Roel Santos. But those imperfections – along with a nearly packed house of fanatic local Santurce Crabbers boasters – only enhanced a thrill-packed nail-biting contest that more than made up for technical flaws with unparalleled drama. The Cuba-Puerto Rico affair was a showcase demonstration of the excitement that is international baseball at its very best.
Cuba rescued a much-needed victory from their arch rivals in the most unlikely fashion and against the backdrop of a roller-coaster two days that had started with the "defection" of two team members late Tuesday evening. One loss particularly affected team morale as it involved a promising pitching prospect who might have seen crucial duty down the stretch this week here in San Juan. Cuba originally arrived here with only nine pitchers in tow and the further shrinking of the bullpen corps was a definite setback for manager Urquiola and his embattled staff. But if Urquiola's heavily reinforced Vegueros did not sport the strongest possible Cuban roster, they nonetheless proved to be a team highly motivated and capable of displaying considerable heart in the heat of battle.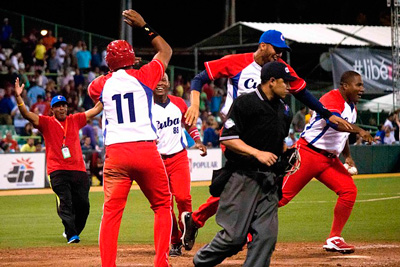 A single pair of heroes may have stood above the others, but others contributed heavily in a game of endless twists and turns. Roel Santos – rapidly emerging as a prototypical leadoff man – provided the key game-winning hit. But the Cubans would not have been in position to benefit from such late offensive heroics without some early and late-game defensive gems. In the third Yadiel Hernández unleashed a perfect throw from left field to cut down a potential plate-bound runner and cancel a score that might have launched the home club into the lead. And the day's true savior was Héctor Mendoza, who worked out of several near-disastrous situations with a gutsy and lengthy relief outing (3.2 innings) that finally saved the day and perhaps the entire week for his embattled countrymen.
The game's crucial moments unfolded in the top of the eighth and top of the ninth. An unlikely double play snuffed out the first threat when Jorge Padilla lined to shortstop Luis Valdes with runners on first and third and the infield drawn in. And then Mendoza provided the additional heroics by striking out the final batter of the ninth when the sacks were full and when he was one errant toss away from walking in the go-ahead tally. Mendoza was more unflappable than he was sharp, allowing 4 walks and two hits in 3.2 frames and twice facing disaster with the potential winner standing on third. But though still a teenager Héctor Mendoza might well be the most pressure-tested hurler in the entire tournament field. His recent service with the Yomiuri Giants of Japan's Central League – a circuit largely an equivalent to MLB – have already paid some huge dividends here in San Juan.
Having dodged a bullet in the top of the ninth, Cuba seemed poised to seal the precious victory in the home half. Despaigne opened with a single and was moved into scoring position by Yadiel Hernández's expected bunt; Bell then walked. Strangely enough Urquiola next failed to turn to his bench for either Cepeda or Malleta with the winning tally planted in scoring position, only one batter retired, and the bottom of his lineup (Luis Valdes and William Saavedra) heading to the plate. The rally quickly wilted and the destined heroics had to wait yet one more inning. In the home tenth an errant throw on an infield roller opened the door by sending leadoff hitter Frank Camilo Morejon to second base. Santos then delivered his dramatic shot – a liner to right center sending pinch runner Yosvani Alarcon scampering to the plate and launching a wild on-field celebration by the Cuban bench.
In a rare shift in normal Cuban protocol manager Alfonso Uriquola surprisingly commented on the team's defection losses during his post-game news conference. The veteran Pinar skipper acknowledged the problem as one that Cuban teams have faced and overcome on several past occasions. But he also expressed some bitterness, not about the event itself – one that now is increasingly a disturbing feature of the Cuban baseball landscape – but simply at the unsettling timing. He pointedly questioned the ethics of players leaving their teammates in the lurch at a crucial moment in tournament play and with perhaps the biggest game in several years suddenly on the immediate horizon. "They might have gone earlier if that has what they were determined to do," was the final word Urquiola had to utter on the subject.
I have often been criticized both on Facebook and in more mainstream media for supposedly "trashing" players who choose to depart from the Cuban baseball program. These usually Miami-based critics often portray me as some type of a "sellout" and a supposed apologist for the Cuban government or the Cuban sports ministry. Those who more regularly follow my writing know of my passions for Cuban baseball and of my preferences for the version of the game played on the island. But they also know that my motives are never political and that I have maintained friendly and often close relationships with both Cuban ballplayers who have remained loyal to the INDER-imposed system and also those who have fled and traditionally been labeled as "defectors" in the USA media and "traitors" back home (both labels being inappropriate in my view).
Where I have in fact provided negative assessment on Cuban players, those critiques have never been personal attacks but instead my personal evaluations of both strengths and weakness of individual athletic talents. My player evaluations are regularly shared with big league scouts and even occasionally with selected player agents. Such was the case with my original critiques of Aroldis Chapman back in 2010 – assessments (that he was more of a thrower than pitcher and clearly not the most developed talent on the island) quickly causing a minor firestorm among some in the Miami exile community.
Regarding the current pair, I see one (Gutierrez) as a legitimate pro prospect and the other (Moreira) as an over-aged journeyman player whose dreams of big league dollars have to be very minimal. Gutierrez will bear watching; he owns a quality fastball and performed well in brief duty at the November Central American Games. Moreira appears to be a copy of Aledmis Díaz, a steady midfielder with baseball smarts but average tools when it comes to big-league mobility or arm and foot speed. And there is an interesting parallel here as well between Díaz and Moreira.
Díaz is the only other player in recent memory to abandon his teammates at a crucial moment in tournament action, on the eve of the title game at the 2012 Haarlem (Netherlands) Baseball Week. Most others who have abandoned national squads overseas in recent years – like Chapman (Rotterdam 2009), Geraldo Concepción (Rotterdam 2011), Odrisamer Despaigne (Rotterdam 2013) and Misael Siverio (Des Moines 2013) – have always done so before the first tournament pitch has ever been thrown. Even players seeking to depart rarely violate a code of loyalty to their teammates on the field of battle.
It is here that I agree with manager Urquiola and others in the Cuban delegation. If a ballplayer is determined to seek a change in his life circumstances and pursue personal fortune then I support that decision, even if I do not welcome its impact on the sport I admire. And certainly the choice to walk away on foreign soil rather than to skirt Cuban immigration laws and deal with unscrupulous human traffickers is a more admirable route to follow. But players in the Cuban camp are not under armed guard (contrary to popular conception) and these most recent escapees might easily have walked away on arrival day or even hours after the final pitch on Sunday. It was their impact on their teammates' fortunes that I find distasteful.
But the defections must remain a back-burner story and the current week's headlines will hopefully remain those attached to an entertaining showcase tournament filled with heated Caribbean region rivalries and entertaining on-field baseball action. Cuba's dramatic victory on Wednesday was a turning point but certainly not a cause for excessive celebration. The third setback of the week at the hands of the smooth and consistent Venezuelans did not come as a large surprise.
Cuba's first-round pitching had been depleted by Thursday afternoon and Urquiola had few options with three starters and his ace reliever already spent and potential Game 4 starter Gutierrez now gone from the scene. Again a single big opposition inning sunk the Cubans, just as it had in the Dominican Republic game. The four-run third-inning uprising against starter Yoanni Yera put the Cubans in a hole from which they could never recover against sharp right-hander César Valdez and a pair of late-inning relievers. Solo homers by Malleta early and Valdes late provided the only Cuban offense. There was a brief temporary rally in the home ninth (an opening pair of singles by Giorbis Duvergel and Malleta) but that ultimately came to nothing.
Despite the Wednesday night heroics, Cuba's tournament fate remained entirely in the hands of the same Dominican Republic team that had overpowered Norge Ruiz on Tuesday. The Dominicans had to defeat either the weak-hitting but so far undefeated Mexicans (Culiacan Tomateros) on Thursday evening, or the still winless Santurce Crabbers (Friday night) for the Cubans to survive. Two Dominican setbacks would have triggered a three-way tie for the final playoff spot and thus invoked a complex tie-breaker scenario involving runs surrendered by the three tail-enders (all of whom would hold 1-3 records); that eventuality would almost assuredly leave the Cubans as the odd team out for the second year running. But all was quickly rescued Thursday evening when the DR's Elian Herrera clinched a dramatic walk-off victory over Mexico with a two-out bases-loaded smash to deep center field that vaulted Cuba a playoff position. Mexico sealed their own fate by committing five fielding miscues during the sloppily played if highly entertaining contest.
Cuba's Chances vs. Venezuela
Regarding Cuba's realistic chances Saturday against Venezuela, a narrow focus on scoreboard numbers might suggest a one-sided match favoring the undefeated Caribes. Venezuela has outscored its opposition 21-11 over four games while Cuba has mustered only 7 tallies while surrendering 16 enemy runs. Cuba owns the worst pitching numbers in the field with an elevated 3.86 team ERA and tournament highs in both hits (34) and runs (16) surrendered. Most embarrassing of all for the fourth-place Pinar club is Cuba's disappointing 1-3 start for the second year running. But such numbers can always be most misleading. Simply take away two disastrous four-run innings (one against the DR and the other posted by Venezuela) and Urquiola's squad has played the opposition virtually to a dead heat through 35 remaining innings. And with ace hurler Freddy Asiel Alvarez on the hill and the Cuban bats (especially Despaigne, Cepeda and Gourriel) yet to fully awaken, it would seem that Cuba is at least an even-money bet to upset all expectations this second time around against one of its fiercest traditional rivals.
Note: There has been a constant flow of unconfirmed reports surrounding the two missing Cuban players. Moreira seems for the moment to have disappeared from center stage and will likely stir only minimal feeding frenzy among scouts and still less in the sporting press. But Jorge Ortiz has reported some further details in today's edition of USA Today and the story may yet emerge as one of the ugliest and saddest "defection" tales so far. It appears that the departure was organized by a San Juan based Cuban exile group bent on striking blows against the current Cuban government. Ortiz reports that group leader Williams Carmona, an abstract painter by trade, outspokenly claimed the motive of "demonstrating that the Cuban system is wrong" and suggested that "these guys can have anything here and they are nothing in Cuba."
Further circulating and unverified reports suggest that Carmona has talked Gutierrez into requesting political asylum in US territory rather than immediately departing for third country residence (the goal of almost all defectors, given MLB and OFAC free agency requirements for Cuban players). If these reports are true, some severe consequences may be in store for Gutierrez and some further headaches may be on the horizon for big league clubs interested in his talents. It appears that Carmona may have "used" the naïve Cuban youngster in the service of political propaganda and in the process set back his potentially promising career before it had even started. Political asylum might mean that Gutierrez would be forced into the MLB amateur player draft and thus limited in both his earning potential and his ability to attract a top player agent.