Cuban Films at this Year's Havana Film Festival
Irina Echarry
HAVANA TIMES — Film-fest fever hit the Cuban capital starting this past December 4th. The Havana Film Festival gathers a mixed crowd eager to see new artistic productions from our continent and beyond through December 14.
"You have to be out of your mind to be willing to stand in a line like that!" an elderly man said, referring to the queue outside Havana's Yara theatre. The premiere of Cuban actor and director Jorge Perugorria's Fatima o el Parque de la Fraternidad ("Fatima or Parque de la Fraternidad") was minutes away.
Many of Havana's theaters are seeing full houses, no matter the time of the screening and despite the weather and dreadful public transportation system. Thousands of people are opting to spend their free time in movie theaters. In fact, many ask for their vacations during the festival.
It might seem contradictory that, with so many foreign options we may not get another chance to see, people should opt to go see Cuban films. They are films that are made here and, at one point, they will be screened in the country's theaters. Despite this, whenever a Cuban film premieres, the line-ups are endless.
Several Cuban films are being screened at the festival this year. Ernesto Daranas' popular Conducta ("Conduct"), pre-selected as Best Spanish-American Film for the 2015 Goya Awards, has already won several international awards and earned acclaim among Cuba's public, having already been screened at the city's theaters for several weeks.
In Fatima o el Parque de la Fraternidad, the main character looks back on her life, from the time she was a teenager to the age of 40. The drama reveals all of the obstacles Fatima had to overcome to become who she is. The perseverance, willpower and noble-heartedness of the character make her someone admirable and inspire others not to give up on their dreams. Filmed mostly in Havana's Parque de la Fraternidad and neighboring areas, the plot spans the life of Fatima, from the 80s to our day.
Filmmaker Fernando Perez brings us an independent and intimate film, La pared de las palabras ("The Wall of Words"). Perez invites us to reflect on pain, self-denial and the limits of sacrifice and human communication. To do this, he places before us Luis, who has suffered from dystonia since childhood and cannot communicate with others through body language or words, such that most are unaware of his inner world.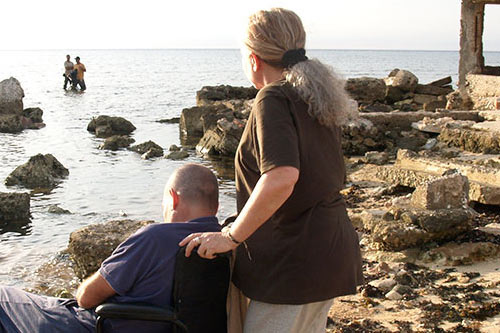 Enrique Alvarez treats us to another independent film, the comedy Venecia ("Venice"). In it, three friends who work in a beauty salon foray into the darkest corners of Havana's night life. After waking up the following morning, in the summer of 2012, they decide to open their own business: the Venecia hair salon, a place that will change their lives forever.
Marilyn Solaya, a young and restless filmmaker, brings yet another interesting film. During the economic and social crisis of 1990s Cuba, a couple tries to be happy. One of them is hiding a secret. That could well be the synopsis of Vestido de novia ("Wedding Dress"). When the spectator watches the film, however, they discover much more. Solaya had already revealed many of her concerns in her documentary En el cuerpo equivocado ("In the Wrong Body"), in which Mavis, who underwent Cuba's first sex-change operation in the 80s, tells us of her dissatisfaction with the life of a "woman" she had chosen, based on strict gender stereotypes and roles. In Vestido de novia, Solaya recreates the life of Mavis and other women like her: she talks to us about violence and inequality, reminding us that gender is a social construction.
These are the Cuban films to be screened at the Festival: it is up to you to decide whether you want to see them now or whether to prioritize foreign films. The important thing is that you enjoy them.