Cuban Pharmaceutical Companies bet on Miracle Water
Rogelio Manuel Díaz Moreno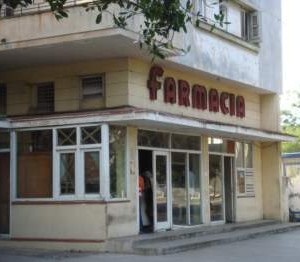 HAVANA TIMES – Depending on the observer's knowledge and purchasing power, bottled water is viewed as either a necessity, a luxury, or an environmentally damaging and unnecessary commercial item.

In the last analysis, it's a reliable business for the companies whose products populate the supermarket shelves, and even for the small-time swindlers who refill the empty bottles with tap water with significant frequency.
The European companies – Vichy and Evian, for example – reap millions in profits from this activity, increasing more than a hundred-fold the price of a liter of the simple liquid.  Nevertheless, here in Cuba we have companies that leave these conglomerates looking small.  And I'm not talking about Ciego Montero or Los Portales [two widely marketed Cuban companies].
The Labiofam center, located on the outskirts of Havana, multiples the price of a liter of water by much much more.  These fat profits have the additional advantage of not triggering so many ecological concerns, since the key to this greatly effective swindle is merely the ticket on the sold container.
Labiofam commercializes an ever-greater quantity of the poorly termed homeopathic "medicines", currently enjoying wide acceptance from a public with health problems and a dearth of scientific grounding.
Anyone can find out how these "medications" are prepared.  The very same people who recommend homeopathy can explain it.  They take X substance and dilute it in water to the point where there is barely one simple molecule of the original compound in trillions and trillions of liters.
This simple description of how homeopathic "medicines" are made reveals that the main issue they might resolve would be that of dehydration.  For that reason, the full explanation of the process is never simple or transparent, but rather comes seasoned with a large dose of razzle-dazzle wording and terms related in some way with the philosophies currently in vogue.
For example, at the end of the 18th century and beginning of the 19th, Samuel Hanehman, "discoverer" of homeopathy, used to speak of "divine properties", messages from God and other arguments that were convincing to the people of his day.

Today's homeopathic believers make it known that it's all about the properties of quantum mechanics or other branches of physics and chemistry.  These supposedly provide the water with an "imprint" or memory of the curative properties of the original substance.  According to current science, however, such properties don't exist.

Last but not least, practice has confirmed the sober truth. Homeopathy has been invalidated in numerous studies and clinical trials, and this information is easily accessible in numerous scientific journals and data-bases such as the Cuban site Infomed.
Nonetheless, all of this has not proven an obstacle for a highly-motivated group that has put down roots as Labiofam, the lucrative business of selling miracle water. In Cuba the Vidatox 30CH has been known for awhile, a little homeopathic flask obtained "from a base of" scorpion's venom, which purports to improve the quality of life for patients affected by cancer.
"From a base of" must be put in quotes, because when you carry out thirty dilution procedures, adding only water, in which the initial volume expands by 100 each time, you're left with calcium salts, sodium, potassium and maybe even arsenic and uranium dissolved in water, but by this time there is nothing of scorpion left in your little potion.

Those people affected by serious illness pay good money for this flask with water, maybe a dribble of alcohol, and a label.  Seeing the good commercial results, other hucksters disguised as scientists have gone on to copy Labiofam's methods, but exponentially increased.

According to the latest information that I came across in the "Trabajadores " [Workers] weekly, the Finlay Institute has recently registered a dozen homeopathic labels against different ills, be they problems of insomnia, menstraul cramps, headaches, asthma or others.
It's important to emphasize the issue of the label because the external format is the only thing that can distinguish one flask of water from another; unless they have different percentages of alcohol added, not even the most experienced specialist could distinguish the little flasks of "homeopathic medicine" for one illness from that of another.  All contain nothing but water, very expensive water.
The impunity with which these practitioners of the dark ages operate has been facilitated by the good political relationships maintained by their boards, in addition to the absence in Cuban society of any groups that defend consumer rights.
These and other miracle waters that are coming down the line offer to cure nothing more or less than cholera, dengue and other viral plagues that currently demand large efforts from the health and other authorities in the country.
The last straw is the upcoming PrevengHo "compound" which will serve – quoting literally from the article in Trabajadores – "to prevent all maladies."
The magnitude of the absurdity in itself should serve as a warning to society and to the institutions that should be protecting our population.  If this PrevengHo had any worth, we could just go ahead and cancel the entire national health system as redundant.
No more dengue, or AIDs, or heart attacks or cancer or anything.
A few little drops for every Cuban, a pair of deep inclinations to the divine saviors of the Finlay Institute, and we can say goodbye to our worries and live happily every after.  And in passing, save the rest of the world as well.
Unfortunately, it's not so.  It's a pity that it's all no more than a shameless fraud that our family members, neighbors and compatriots will pay for through their pocketbooks and their health.  It's a pity that in our own country, there should exist such unscrupulous hucksters of human health.