Cuba's Big Win in Holland: Full Report
From Doubts to Dominance at the Haarlem Baseball Festival
Peter C. Bjarkman*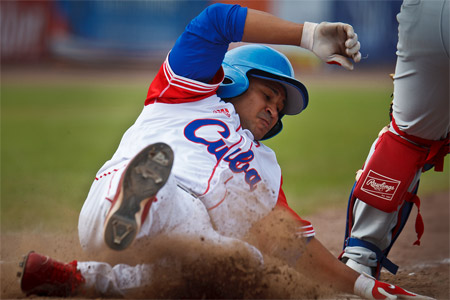 HAVANA TIMES — Team Cuba – the pride of the beleaguered island nation – now once again stands squarely in the limelight of the world baseball scene. But it certainly wasn't an easy road trip and it took nothing short of a nail-biting final weekend rally to get there, a gutsy rally that included two of the most thrilling elimination-game victories in recent memory.
Despite a slow start that seemed to foreshadow yet another case of painful underachievement, the favored Cubans in the end walked off with their first major tournament gold medal victory since October 2010 (the final edition of the IBAF Intercontinental Cup in Taiwan).
They also claimed only their second noteworthy first-place finish over the past half-dozen years – a rather major accomplishment on the heels of such setbacks as three straight World Cup silver medal finishes, a stunning runner-up slot behind the dark-horse Koreans at the Beijing Olympics, and a devastating and historically rare bronze medal fade in the most recent edition of the Pan American Games (October 2011 in Guadalajara).
For Cuba's sagging reputation as international baseball's long-standing premier powerhouse the timing of the resurrection in Holland could not have been more fortuitous. For the often disillusioned if somewhat spoiled legions of fans back in Havana and around the rest of the Antillean baseball hotbed the relief could not be more welcome – especially with the oversized challenge of preparing for yet another edition of the MLB-sponsored World Baseball Classic now looming out there on the immediate horizon.
Earlier on this same tournament page I wrote about the folly of jumping off the Cuban bandwagon simply because of an apparent slow start, and also about the parallels with another landmark tournament back in 1999 in Winnipeg, Canada. In the end my speculations seemed truly prophetic since this summer's Haarlem event provided nearly an exact replica of the desperate Pan American Games comeback triumph now more than a dozen years in the past.
In that earlier qualifying event for the Sydney Olympics, surprising initial setbacks at the hands of the rival Americans and Canadians would necessitate a pressure-packed stretch run that included reversals of those two earlier losses – along with a memorable José Contreras quarterfinals pitching gem thrown in for good measure.
This time around in Haarlem the final-weekend race to the wire was similarly launched with a brilliant mound outing by Vladimir García that shut down the defending World Champion Netherlands club (featuring only a handful of last fall's starters) by a 4-0 count.
And the final weekend reversals of two earlier defeats – both by the narrowest of margins – washed away any lingering embarrassments at the hands of an American club and a Puerto Rican squad that together had seemed for much of the week to be the true cream of this year's tournament crop.
Few international tournament finales featuring the perennial powerhouse Cuban ball club have ever been any more dramatic or suspenseful. That of course is saying something once we remember that the Cubans have either lifted the trophy or at least reached the gold medal shootout in better that 90 per cent of all the major world tournaments staged over the past full half-century.
Both remarkable games celebrated on the final weekend in Haarlem's Pim Mulier Stadium not only reversed disappointing outings of one week earlier but also provided as many heroics as any two-day pair of games in Cuba's rich baseball annals.
The first clash (Saturday's semifinal with talented Team USA) featured the thrilling scenario of a "Schiller Rule" tie-breaker inning that stunned the tournament-naïve and relatively inexperienced USA university all-star squad. The final match (Sunday's title affair with previously unbeaten Puerto Rico) culminated with a truly unorthodox yet nonetheless effective rally during the final Cuban trip to the plate. Both superb games saw the determined Cubans seize dramatic victory during a final desperate turn on offense.
In short, it doesn't come much better than the action witnessed in Haarlem this past weekend. The dash to the prestigious title featured three must-win games that were played to near perfection by the Victor Mesa-led squad. Two of the contests even provided a small measure of revenge for last fall's bitter defeats in Panama and Mexico.
It was The Netherlands (albeit with a much stronger lineup of seasoned minor leaguers) who handed Cuba both its defeats – including the historic 2-1 setback in the finale – during last fall's final edition of the now retired IBAF World Cup event. And it was another similar Team USA lineup of future big league prospects that battered Cuban pitching 12-10 in last fall's follow-up Pan American Games semifinal celebrated in Mexico.
The encore Cuba-USA semifinal matchup here in Haarlem was truly one of the most memorable of the long and often heated rivalry. It paralleled and perhaps even surpassed both the first-round affair during last September's World Cup (highlighted by Yadier Pedroso's six straight strikeouts of enemy batters in the final two frames) and also the gold medal contest at the 2010 Tokyo World University Games (won by Alfredo Despaigne's walk-off "Schiller Rule" tenth-inning blast).
In Saturday's current renewal the Americans had built a seemingly insurmountable 3-0 margin through seven frames behind the 94-plus fastball of starter Jonathon Crawford (a can't-miss future major leaguer). Then the roof somehow fell in on the Americans with a three-run Cuban eighth-inning uprising keyed by two-out RBI singles from Gourriel and Despaigne, both stroked off deliveries from flame-throwing reliever Bobby Wahl.
When the game next advanced into the tenth-inning tie-breaker format the more experienced Cubans tailed twice without the benefit of a base hit – one run plated by a bases-loaded walk to Cepeda (issued by reliever Mike Lorenzen) and the other by a booming Despaigne sacrifice fly. Unaccustomed to tie-breaker scenarios, the Americans tamely went down empty handed in their half after manager Dave Serrano (University of Tennessee) bungled some proven tie-breaker strategies.
Leadoff batter Johnny Field (batting hero of the recent Omaha College World Series) was instructed to swing away rather than advancing the two "gift" runners with an expected sacrifice bunt; the result was a harmless left-field fly out. After a second harmless fly (that did advance both runners into scoring position) pitcher Lorenzen (surprisingly batting for Mike Conforto) lifted a foul pop to first baseman Abreu for the game's final out.
The final weekend games seemed to mirror the entire tournament and the key words of course were "dramatic – maybe even unlikely – comeback." It was all about that old sporting cliché of snatching unlikely victory from the jaws of looming defeat.
The Americans had seemed invincible on Saturday once they held a three-run lead heading to the final two frames and once they were prepared to turn the game over to some of the best bullpen arms (Bobby Wahl, Dave Berg, and Mike Lorenzen) ever brought to Haarlem.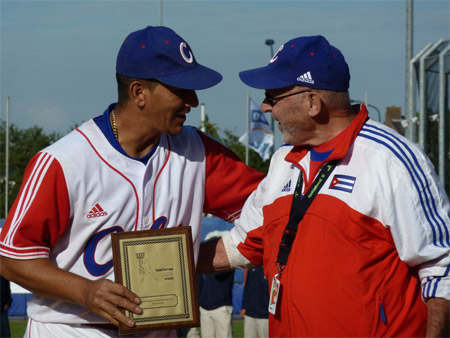 For their own part, the Puerto Ricans had won six straight tight contests (all by two runs or less) heading into Sunday's showdown match and showed no apparent signs of cracking until the last two innings of their fateful final contest. Deadlocked at 2-2 in the bottom of the eighth Cuba came to bat with yet another Schiller scenario seemingly about to transpire.
Then we witnessed one of the most unlikely of clutch Cuban rallies. With walks to Gourriel and Cepeda sandwiched between fly-outs by Castillo and Despaigne, a small uprising seemed about to be squelched by reliever Benigno Cepeda.
Two-time National Series batting champion José Dariel Abreu came to the plate with one last opportunity to atone for a poor weeklong performance at the plate – Abreu entered the game batting .203 (about half his recent National Series marks) and had made the final outs of both the eighth and tenth inning rallies during Saturday's semifinal. But Abreu was destined to prove an unlikely hero when his smash to third baseman Jimmy Jiménez resulted in a hurried throw to first that the large-bodied Abreu beat out with an unorthodox head-first slide. Gourriel scampered home all the way from the second on the errand heave with an unearned game-deciding marker.
Pestano followed with a sharp single to right center that allowed Cepeda to slide home only a shade before Abreu was gunned down trying to reach third. The two-run margin proven sufficient when Norberto González capped 5.1 stellar innings of long relieve by gunning down Jiménez and Antonio Candelaria for the final two ninth-inning outs.
I am one of the very few writers around baseball who actually likes the novel tie-breaker "Schiller Rule" that is now a staple of international tournament play. It is admittedly not traditional baseball as we have always known it – baseball's version of "sudden death" seems to fly in the face of a game traditionally oblivious to a time clock. But the format does in fact seem to provide two endearing features.
One is the unparalleled seat-gripping excitement that comes with built-in scoring opportunities during the deciding final inning. But another more important feature seemingly makes the tie-breaker situation (with runners placed on first and second to start extra-inning play) a perfect fit for international tournament games.
It forces any potential champion's best hitters and pitchers to step up their performance precisely when their heroics are most desperately needed. It demands clutch performances when the chips are truly down and when there is no tomorrow and thus no further possibility of coasting. It eliminates potentially boring strings of scoreless extra innings between teams that may already have depleted both their benches and their bullpens.
There were many true heroes in this tournament, and the list obviously starts with Cepeda, Gourriel, Pestano, Norberto González and José Dariel Abreu. And none was any bigger than Freddie Cepeda. With his eighth-inning blast against the Taiwanese, Cepeda single-handedly won the vital game that turned around the Cuban fortunes. He also delivered the mammoth home run that launched the victory on the final afternoon; it was number 700 in Haarlem history and perhaps the longest ever witnessed in Pim Mulier Stadium.
Cepeda boasts as much raw power as any Cuban slugger and yet he rarely ranks among the leading sluggers during domestic league play. But his legacy of major home runs on the international scene is unparalleled.
The margin of victory over Panama during the Havana World Cup finale of 2003 was provided by two late-inning solo shots off Cepeda's bat. In the World Cup 2007 opener in Taiwan the Cubans were down to their final out in an apparent 1-0 whitewashing at the hands of the Aussies before Cepeda cleared the center field fence to save the day.
In Beijing versus Taipei in 2008 Cepeda's long ball was the entire offense in a 1-0 pool-play victory. In the first round of the 2009 WBC, Cepeda's homers iced games against both South Africa and host Mexico; and earlier in a 2006 WBC round-two game against Venezuela – one that turned around the team's fortunes and launched a memorable run to the finals in San Diego – it was Cepeda's long smash off big-leaguer Johan Santana that stoked the Cuban offense. And then for an encore came this week's slugging heroics in Haarlem.
Gourriel was the tournament's undisputed MVP, an honor based mainly on his clutch hitting and sharp fielding down the final stretch of the tournament. Norberto pitched perhaps his greatest game since the stellar start against Korea during the Beijing Olympics finale.
And Ariel Pestano was resurrected on offense, especially in the most demanding of clutch situations. After a showcase performance in the mid-week Japan game (the contest that clinched a spot in the playoffs and featured the Cuban receiver stroking both hit number 7,000 of tournament history and also a walk-off mercy rule homer), Pestano again brought home the crucial insurance run in the final Cuban at-bat of the gold medal affair.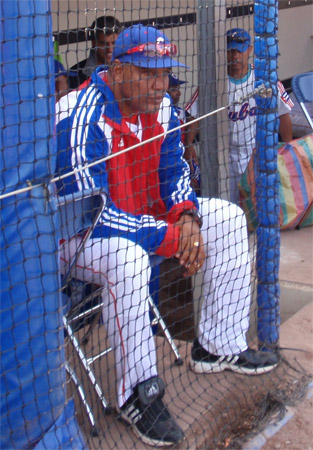 Abreu was silent the entire week in Haarlem, and yet his extraordinary effort in hustling down the first base line in the final frame opened the door to victory by providing the eventual winning run.
There was also more than a fair share of oddities that attached themselves to this year's Haarlem event – especially over the course of the final weekend. Take the case of the host Netherlands team, a ball club that reached the semifinals and then the bronze medal game despite being shut out three straight games down the stretch (1-0, 4-0, and again 1-0).
Or take the double appearance in crucial situations of one of the rarest plays in baseball – a batter hit by a pitch and yet charged with a swinging strike. The play wiped out a crucial run for Chinese Taipei in their 2-1 loss to Cuba, and then later also cut down a Puerto Rican batsman during the finale. If a batter swings it is a strike, no matter whether he is plunked by the pitch or not; but I don't believe I have actually ever witnessed such a play first hand until it was twice called (and both times to Cuba's advance) here in Haarlem.
And then there was the rather bizarre ending to Cuba's semifinal victory involving one of the top American hurlers, Mike Lorenzen. When before have we ever seen the game's losing pitcher also make the final out on offense while batting in the bottom of the tenth and with the game on the line?
The Lorenzen scenario was made rarer still by the fact that – as the pitcher of record – he was inserted into the batting order by USA manager Dave Serrano (via a little-known and rarely seen yet nonetheless quite legal maneuver) as a pinch-hitter for the designated hitter Mike Conforto, who also happened to be the team's clean-up batter. The use of pitcher Lorenzen as a vital substitute batter seems perhaps not quite so unorthodox when one considers that he is one of several USA hurlers who have also doubled as outfielders during their stellar collegiate careers.
Victor Mesa also definitely proved his managerial worth here in Holland. His one earlier tour as national team manager also met with considerable successes at the Rotterdam World Port Tournament of 2007, where he led a talented Cuba B squad featuring such promising international rookies as Alfredo Despaigne, Alexei Bell, Yosvani Peraza, and José Julio Ruíz. But this was a much tougher assignment – handling a veteran Cuba A squad that was up against the best Haarlem field ever assembled.
It has truly been a marvelous comeback year for Mesa. His team here in Haarlem was not only sent reeling by two opening loses but it also found itself handicapped with a short roster when reserve infielder Aledmis Díaz abandoned the squad on the very morning of the championship showdown.
But Victor's leadership was indeed inspiring as he seemed to pull all the right strings at all the right moments. And during post-game festivities the always-emotional Mesa displayed obvious signs of pride in his team the likes of which I have rarely seen from usually stoic Cuban managers. In the aftermath of the exciting gold medal triumph – while coaches and players roamed the field celebrating the prized victory – Mesa sat stunned on the bench, near tears, while dozens of photographers continually snapped his image over a span of nearly ten minutes.
This year's USA-Cuba series – a sidebar to the Haarlem event – could not have ended with a more equal final ledger. While Cuba ultimately won the affair in Havana with three-straight mid-series victories, all the contests were extremely close and the overall margin in runs was minimal; only one game was decided by more than one run and the run totals favored Cuba by a slim 28-25 final total.
Team USA evened the count both in the win column and on the scoreboard during the opening-weekend Haarlem match. After nine frames of the Haarlem semifinal the two clubs still remained exactly even down to the precise number of runs – 33 apiece.
Thus the two Cuban tallies during the "Schiller inning" were not only the difference in this tournament but also the deciding margin of the entire series. It all bodes well for next year's rematch series now on tap for mid-summer 2013 in the States. It currently appears that USA Baseball will try to schedule at least a couple of next summer's games in big league stadiums, with venerable Fenway Park, new Yankee Stadium and also DC Stadium all being discussed as potential venues.
Team Cuba – for all the celebration here this week in Haarlem – definitely now has some issues to confront and problems to solve before the heavy challenges that will comprise next spring and summer's international calendar.
An on-going issue is the continuing "defections" of a small but disturbing number of potential young national team stars. (I will write about the Aldemis Díaz saga in my next article for this website.) Although the Cuban offense – headed by Cepeda, Despaigne, Abreu, Castillo and Gourriel – remains as strong as any from past "golden" eras, the opposition pitching has also been significantly elevated.
Cuban sluggers will need more practice outings to adjust to top pro hurlers and one obvious acknowledgment of this fact is the "friendly" series now on tap for November in Chinese Taipei. While the Taiwanese need those games to prepare for their own WBC qualifier later the same month, the series will also be a crucial tune-up for the Cuba squad. This is especially true since the team will now not appear (as once hoped) in the February 2013 edition of the MLB-affiliated CBPC Caribbean Series.
And finally there is an issue concerning the health of Cuban pitching. While the Red Machine mound corps has certainly not collapsed of late, it is clearly thinner than in either the recent or distant past. No dominant closer has yet been found to replace Pedro Lazo in his prime; Yadier Pedroso has been tested in that role and has so far fallen somewhat short. Freddy Asiel is currently the most solid starter but Vlad García, Dalier Hinojosa, and Odrisamer Despaigne have been spotty at best and no one has yet proven the equal of Norge Vera or Adiel Palma.
Most crucially, there is an obvious absence of tested hard-throwing southpaws in the current arsenal. With the loss of promising Aroldis Chapman and the early collapse of Michel Folch – as well as the eventual fade of Yulieski González – Norberto González has had to carry the entire load in the portside department.
Norberto was used seven times in Haarlem, the first time any pitcher has appeared in every game of a tournament that has now celebrated 25 renewals. And Norberto is now aging; Haarlem could well have been his final stellar moment. Somewhere Victor Mesa and the Federation brain trust must locate enough fresh arms to stand up against the potent major league bats certain to be displayed next spring during WBC III and it might take a true miracle for them to do so.
—–
(*) Peter Bjarkman is author of A History of Cuban Baseball, 1864-2006 (McFarland, 2007) and is widely recognized as a leading authority on Cuban baseball, both past and present. He has reported on Cuban League action and the Cuban national team as senior writer for www.BaseballdeCuba.com during the past five years and is currently writing a book on the history of the post-revolution Cuban national team.