Direct Donations Spark Hope and Controversy in Havana after Tornado
Civic mobilization efforts continue and have become more effective with people posting on social media, sharing more critical cases that still haven't received donations.
By IPS Cuba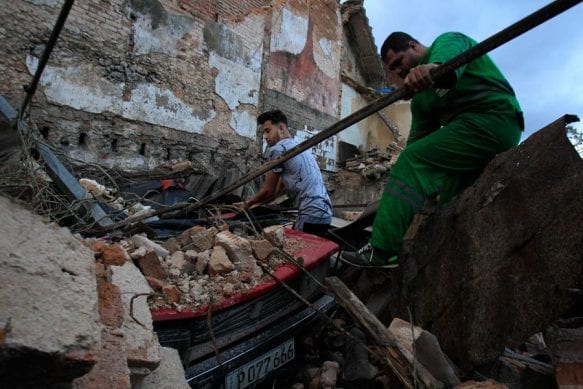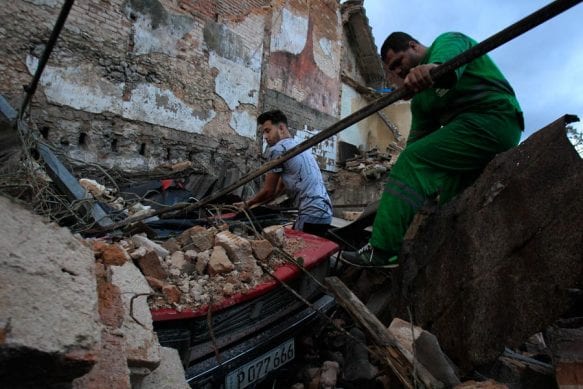 HAVANA TIMES – A group of six university students go back along Los Benavides street, in the Luyano neighborhood, dragging suitcases behind them. When asked what they are doing, they reply: "we're looking for people who have lost their homes, we want to give them some clothes we've collected among ourselves."
Unprecedented in a country where government authorities and legal bodies always centralized aid in these events, a wave of spontaneous solidarity has triggered recovery efforts after a tornado hit Havana's Diez de Octubre, Regla, Guanabacoa and Habana del Este municipalities on January 27th, affecting 1,286 homes.
And, so the debate about civilians' right to give donations in hand and spontaneously mobilize to lend a helping hand in recovery efforts, has reemerged with greater force.
People and organizations, both state and private, with students, the religious sector and artists taking center stage, have gone to damaged areas with bags of supplies, food ready to serve, utensils, furniture and everything else they can collect for families affected.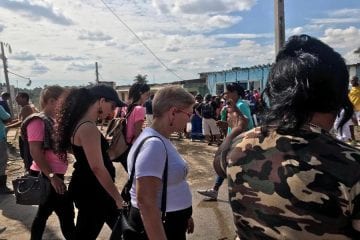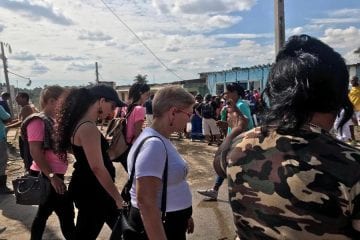 Testimonies from people who were able to go and carry out their humanitarian work and come home with the gratitude of those they helped have flooded social media. However, these contrast with other posts in which people mention local authorities' incomprehension about these initiatives.
The most widely shared post on social media and most talked about out on the street is one written by Zenaida Romeu, the director of the Camarata Romeu, on January 31st. She says that she and her group of young musicians were stopped by municipal authorities from giving out donations in a Regla neighborhood.
Romeu writes that she went looking for the most badly-damaged areas on January 30th, "we were always coming across people who pointed out families in the most critical situation… We calmly went to each place and left whatever we felt they could use and needed the most."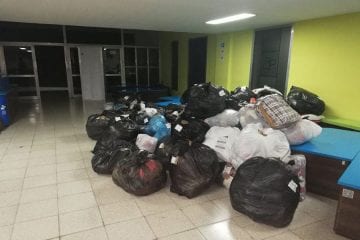 However, soon after, they were "banned from continuing on with our individual and quiet donations" and were surrounded by police officers, at the request of local authorities, the well-known Cuban musician explained, who also shared photos.
The director of this prestigious women's orchestra asked why this humane and altruistic act of solidarity was stopped and said that "nothing happened to provoke that dehumanized response."
Another account of reservations about these initiatives was shared by internet user Gilda Nunez, who supported young workers at a private business in her community, sharing out cooked food.
Omitting the name of the establishment, Nunez wrote about the obstacles that these young people faced, who were finally able to hand out food, water and soft drinks to 200 people affected in the area between Guanabacoa and Regla, under the authorities' watchful eye.
Nevertheless, she said that the group was not allowed to hand out the clothes and toys they had collected.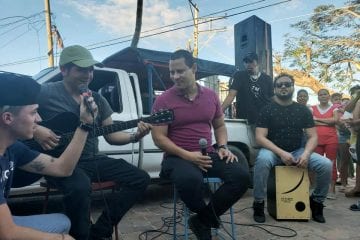 Some Facebook comments, including one written by Jorge Gomez, based on his daughter's account, have labeled these claims that they were unable to hand out donations as false and "a complete distortion of the facts."
Government TV channels reported that warehouses in different points over the city had been opened and both legal and natural persons could hand in donations so they could be systematically handed out. Managers of these warehouses stated that everything would be transported to areas in need as soon as possible.
A thousand ways to lend a hand
There are so many different ways to reach out to those affected. "My daughter's dentist has some friends who lost their home. I gave them some things, directly," Yaquelin Marrero from Vedado said.
Other people left clothes and personal hygiene products at Havana University's Communications Department, which will be handed out by the authorities.
[pullquote]
How to help children affected?
The Center of Psychological Orientation and Attention, run by Havana University's Psychology Department, has disseminated a manual "How can we help children after the tornado?", with guidelines on how to help them recover psychologically, after the emotional trauma they might have suffered as a result of the meteorological phenomenon.
The text recommends that they resume everyday activities, especially attendance at school and day-care centers, and that if these have been destroyed, then a neighborhood classroom be improvised, where a teacher or trained individual summons children to come and study for at least half a day, as losing this time at school disorganizes them mentally and exposes them to danger.
It also explains the need to talk to them, to give them confidence, and it advises that protected spaces be created where they can play with other children, and that they express their emotions with coloring pencils, crayons and pieces of paper so they can "get out" all of their disturbing emotions.
[/pullquote]
"It's best to coordinate aid because this is how we do things here," a government official stated.
The a+ Espacios Adolescentes Center called to carry out a collection and in their press release stressed that "any contribution counts".
State-run organizations have joined them, such as Radio Habana Cuba and the National Center for Sex Education, activists from the Iberoamerican and African Masculinities Network and even foreign companies such as the Dutch company Womy.
Artists such as Waldo Mendoza, Alain Daniel, Telmary and Habana Sana announced that they would donate whatever they collected from their fundraising concerts to people who suffered as a result of the tornado. Other leisure activities will also be kept running to hand over these funds to recovery efforts.
The national baseball team (who will now go and play in the Caribbean Series, based in Panama) also lent a helping hand collecting rubble and accompanying people to the Jesus Maria neighborhood.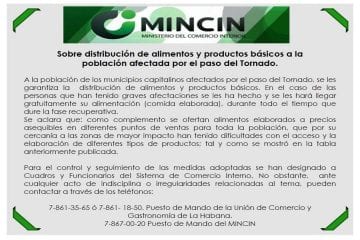 Donation collection initiatives include others by private businesses such as Artehotel, Aire de Fiesta, Finca Calunga, the Michel Marabal studio/gallery, Juanky's Pan, Clandestinas clothes store; as well as some Catholic churches, including the San Juan de Letran church, and evangelical churches.
According to Havana's city authorities, over 112,000 square meters of waste have been collected in areas hit by the tornado, with over 600 support teams being dispatched to help local services, from other provinces too.
Displays of solidarity have come from all over Cuba. For example, volunteers donated blood in Villa Clara for those who sustained injuries from the tornado.
Sensitivity towards animals
Concern and aid hasn't been limited to humans who lost their homes and belongings.
"There is so much damage and people living in affected areas are experiencing a great crisis, just imagine the animals. We are counting on every one of you to come with a pot of food for animals in need," was the call that Cuba's group for Animal Protection (CEDA) made on February 3rd.
CEDA, along with the Supporting and Moving Stray Animals (ATAC) group (who have been helping to rescue and treat animals for parasites for 14 years), believe that "it's a good time for everyone who wants to, and hasn't yet, to donate food, clothes and personal hygiene items."