Doctors Who Don't Return to Practice in Cuba
By Mabel Olalde Azpiri (Progreso Semanal)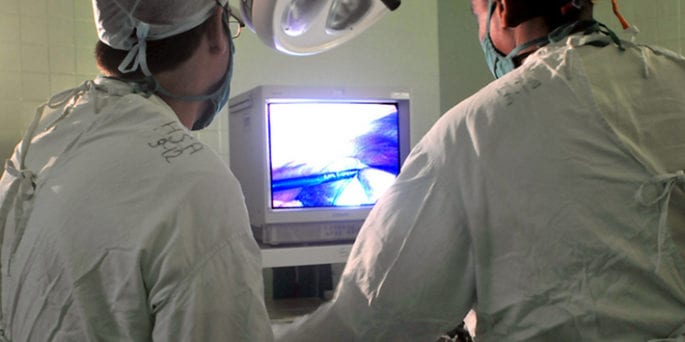 HAVANA TIMES — In March 2015, Alioth Guerrero received a grant to attend a congress in Colombia. While there, he found out about the opportunities that other Latin American countries offer those who want to study doctorate degrees.
When he came back to Cuba, he mentioned it to his professors and began to think about the idea more seriously. After analyzing the opportunity with his family, he applied for a doctorate in Mexico. He received a place on the PhD course and the grant he needed.
"I made sure it had to do with what I was working on here, so that I could come back and continue once I finished… And that's when catastrophe hit!" On December 1, 2015, the Cuban government decided to once again restrict some foreign trips abroad by specialist doctors.
At that time, the new immigration policy announced in 2013 was already in force. Neverthless, for cardiologists, surgeons, renal specialists, pediatricians, gynecologists and others, regulations established in Decree Law 306 from 2012 were put back into effect.
Two months later, the Public Health Ministry (MINSAP) had announced that it would allow every doctor living abroad to come back and form a part of the National Health Service again, including those who had even left international missions. Even though this measure is still in force, Alioth won't do this for now.
"Forget that! Look, let me explain: I applied for a PhD again and I would finish in 2020. If I join the Cuban health service again, I would be regulated again and that's something hard to accept. If tomorrow they stop regulating us, I assure you I would return (after the doctorate)."
He is 32 years old and he has a son. After graduating, he became a family doctor and then studied a specialist degree at the Cuban Neuroscience Center. According to MINSAP's Annual Statistical Report, he was one of the 15 doctors who worked in neurophysiology in the entire country in 2015.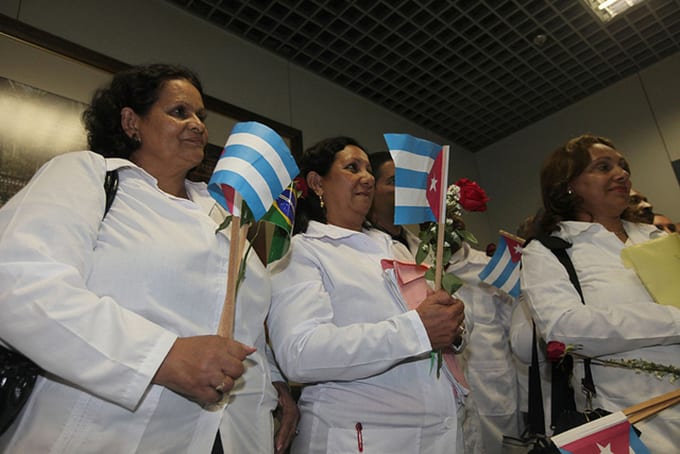 Alioth says that when students start studying medicine, nobody gives them a document where they state whether they agree to the immigration laws they must comply with after graduating.
Another doctor, a general medicine specialist, recognizes that if this clause existed, he would have probably studied medicine anyway. "This has always been my dream." But he adds: "nobody explains to you that you become a government pawn once you enter the field." This internist was the best in his graduation class of 2009. Today, he lives in Colombia.
Don't tell me doctors left
"When we started studying our degree, we knew what the deal was, but things change and people know how to deal with this," the doctors says, just like you get to know specialists in family medicine. "More and more students are studying and leaving the country as soon as they graduate."
Talented people seeking better living conditions and jobs isn't anything new, nor is it exclusive to those born here in Cuba. In 2007, developing countries lost between 10% and 30% of their highly-skilled staff.
Latin America was the region where the greatest growth of skilled immigration was recorded from 1990 to 2007, with a 155% increase. In 2013, Mexico was the country in this region with the highest number of highly-skilled migrants out of the Organization for Economic Co-operation and Development's (OCDE) member states, who are now mainly in the United States. Mexico was also the country with the highest number of migrants in the world in 2004, followed by China and India.
What's alarming in the Cuban case is what has happened in recent years. The exodus of professionals has reached up to 40% of the staff in areas with highly-skilled professionals such as the Pharmaceutical and Biotechnology Industry.
Having studied a Masters in Economy and now a professor at Havana University, Emith Nunez summarizes what is happening in nearly all of Cuba's sectors: "skilled personnel don't see their years of study reflected in their wages." With regard to the migratory regulations for specialist doctors, he stated: "That's not a solution. The solution to the problem is creating the right incentives to prevent this brain drain of human capital that the country has taken great efforts to train."
According to the Salvadoran expert in international development and public policy Afif Khoury, "it's right that a person with these skills doesn't want to resign themselves to poor pay and being professional stunted." While he accepts that skilled migration is inevitable to a certain extent, he also believes that "there are initiatives that countries can adopt so that this brain drain isn't so detrimental."
"On the contrary, if professionals are belittled and aren't given the conditions they need to get ahead and face restrictions on their trips abroad instead, then the situation will most likely get worse."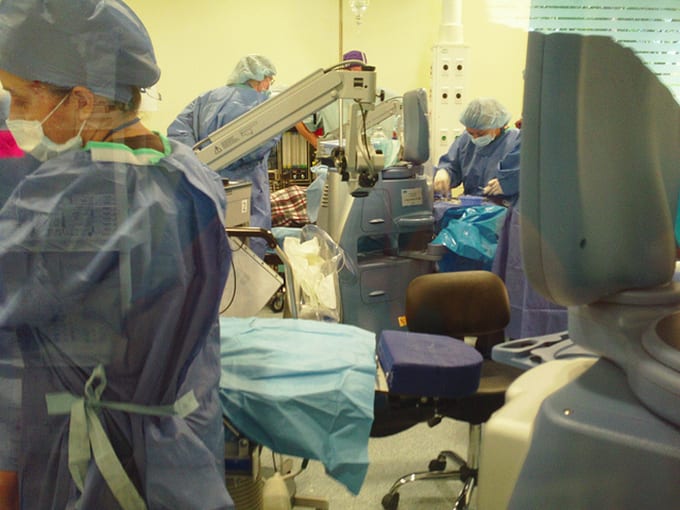 The idea is to prevent irreversible losses. For example, a solution such as strengthening cooperation networks between scientists and professionals in the exile community could bring concrete opportunities to promote the return of knowledge and resources to their countries of origin.
"At the end of the day, the problem doesn't lie with the citizens with these skills, the problem is that they don't have the right opportunities to apply them," he concludes.
The doctor says that his wings were clipped, that the decision to leave was made easy for him. "If at 27 years old, I had become a specialist, I wanted to study another speciality, a diploma… I like to think, to apply scientific approaches. That's why I chose this speciality of rare diseases because it's the most complete."
Ever since he became a specialist in 2013, he has working at a secondary care hospital where he was a resident doctor and also a professor. His superior, a general doctor, told him one day "that I wasn't there to apply science, that I was just there as part of the workforce. When I applied for and got my place on the degree for my second speciality, he didn't let me go because according to him, it wasn't in the hospital's interest. Believe me, that was the end for me. I got really depressed."
When the internist asked to take leave in 2014, the new migration law was already in force and, as he left before December 7, 2015, "I don't have any problems leaving now (if I visit), that's why I don't want my name to be published."
"I will come back if things change and we doctors have the status we should."
The day the new regulations were announced, Alioth had already spent over 1,000 CUC, according to his calculations, in getting his documents and immigration redtape legalized. Many friends in similar situations suggested he leave sooner, like them. He decided to follow the procedure that the resolution outlines. "I didn't need to go running off as if I were doing something illegal."
When he asked for permission to travel, "they asked me who I thought I was because I had looked at PhD programs and grants of my own accord." The degree began and Alioth didn't get there in time to enroll on the course.
Later, they let him travel to a Clinical Neurophysiology Congress in Mexico, which he had been invited to on an all-expenses paid trip, but MINSAP's International Relations Department informed him that he couldn't travel using his normal passport.
Finally, once he received his official passport and visa, "they forced me to sign a document that said that if I didn't return within the period stipulated, they would consider me a defector. So, I'm here. They turned me into a defector. You would have to be very masochistic to go back."
"With regard to wages, what can I say," Alioth continues. "I used to earn 1,538 CUP (75 USD) and I used to spend all of that on the kid's diapers."
Ever since the pay rise in 2014, the highest salaries second degree specialists and doctors with two specialities received were 1,600 CUP (80 USD), and a percentage was taken from this as their social security contribution. The Cuban economist Humberto Perez explains that in order to cover basic needs at today's prices you need at least 900 CUP.
If you compare Cuba's economic indicators with those of any other country, the first thing you need to bear in mind is something that another economist, Pedro Monreal, has baptized as "the mother of all of the country's economic distortions": the fact that 1 CUC = 24 CUP for the Cuban people, while for legal state entities 1 CUC = 1 CUP. National statistics are based on "the illusion of an official exchange rate" where 1 CUP = 1 CUC = 1 USD.
Knowing that a C specialist doctor's income at the Hospital Civil de Guadalajara was approximately US $2,700 per month in 2015, you could say that a specialist doctor earns 1.7 times more in Mexico than they do in Cuba… if the abovementioned illusion were real. But to be specific, a specialist in Mexico earns 40.5 times more than a doctor with similar qualifications does in Cuba.
However, that's not all… a family doctor in Chile earns double his counterpart in Mexico, while the same earns five times what a Chilean family doctor earns in Luxembourg. In the US, a specialist earns an average of US $89,000 more per year than a family doctor. And like all countries with higher incomes, the cost of the standard basics is not normally proportionally much higher, so the doctor's purchasing power increases.
Alioth weighs up his situation within this context. "Every day, I am becoming more and more convinced that I made the right decision."
"Of course, it affects you a lot, but then you're faced with the same damn dilemma: How do you explain to a patient that you can't carry out a planned operation until a month from now because there isn't a specialist? And, at the same time, how do you explain to a specialist that they can't leave to better their lives or simply live abroad when they aren't being guaranteed what they need to look after their children?"