Dramatic Film about Cuban Exile Premiers at Venice Film Festival
Wilfredo Cancio Isla  (Cafe Fuerte)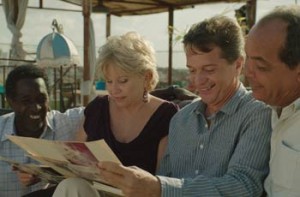 HAVANA TIMES — The world premiere of Return to Ithaca, a film by French director Laurent Cantet inspired by a story written by Cuban novelist Leonardo Padura, will take place at the 71st Venice International Film Festival, to be held from August 27 to September 6 this year.
According to the official program of the Venice festival, the oldest film festival in the world, Cantet's film will be screened as part of the Venice Days section, which includes a documentary about Argentinean soccer great Lionel Messi (directed by Alex de la Iglesia and written by Jorge Valdano) among its 14 selected works.
Days later, following the world premiere in Venece, the film will be screened as a special presentation at the Toronto International Film Festival (TIFF) from September 4 to 14, and as part of the Las Perlas section of the San Sebastian International Film Festival from September 19 to 27.
Based on an episode described in La novela de mi vida ("My Life's Novel" 2001), with the screenplay written by Padura and Cantet, Return to Ithaca addresses the issue of forced exile and the return of a Cuban to his country of birth after a 16-year absence.
Of Love and Betrayal
"It is a very powerful story about love, loyalty, betrayal and exile, told with characters from my generation," Padura told Café Fuerte. "One never knows what will happen with a film adaptation until one faces the public, but I am very satisfied with what I saw and I believe it is going to be a powerful film."
The film, produced by the French company Full House, was shot in a flat roof in Havana's neighborhood of Centro Habana, very close to the ocean drive, at the close of December. The plot of the story encompasses but a few hours of the day, from afternoon to dawn.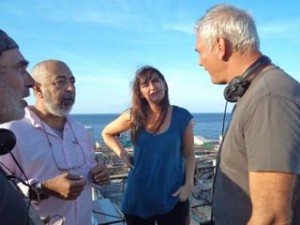 The cast includes top-ranked Cuban actors such as Nestor Jimenez, Pedro Julio Diaz Ferran, Isabel Santes, Jorge Perugorria and Fernando Hechevarria.
"It is the story of a broken generation, a generation marked by disillusionment and frustration. But it is also, and most importantly, a story about loyalty to friends and principles, a tale about survival," Padura explained.
In the film, five friends meet to celebrate the return of Amadeo, a Cuban writer, who has spent a long exile in Madrid. All of the men are pushing 50 and have suffered difficult times. The predominantly festive atmosphere gives way to a sea of tensions that finally explode when the main character reveals the true reason of his trip to Cuba.
Initially, Return to Ithaca was part of one of the stories included in the collective film Seven Days (2011), Padura's first collaboration with Cantet.
"However Cantet considered it such a powerful and promising story that he preferred to put it aside and make a feature film out of it, even if it was a low-budget production," 2012 National Literature Award laureate Padura explained.
More Film Adaptations
Cantet, a celebrity of contemporary French cinema, has directed such films as Human Resources (1999), The Use of Time (2001) and The Class (2008), winner of the Cannes Palm d'Or.
According to Padura, after its screening in Venice, Toronto and San Sebastian, the film will premiere in France, the UK, Italy, Spain, Portugal, Greece and Brazil at the close of October.
The possibility of screening the film at the Havana Film Festival this December has not been discarded.
Padura is currently promoting his most recent novel Herejes ("Heretics"), published by Tusquets and the English and Portuguese language versions of El hombre que amaba a los perros ("The Man Who Loved Dogs").
Everything seems to indicate that 2014 will be a very productive year for the writer in terms of film adaptations of his books.
Psdura signed a contract with renowned German producer Peter Nadermann to take The Man Who Loved Dogs to the big screen.
Padura and his wife, screenwriter Lucia Lopez Coll, have completed the scripts for a series for Spanish television based on four of the writer's first novels, written between 1991 and 1998.